Looking for a way to make that desktop a little easier to manage? Widescreen displays are good, but ultra-wide is the thing being embraced now, offering just a little extra width normally given to movies to make working just that much easier.
There was a time when we were all working in the 4 to 3 aspect ratio. Remember those big clunker of monitors that were close to square, and showed a lot of work, but not a lot of space for movies?
When widescreens started to come into play in both laptops and desktops, the squarer screens gave way to the rectangular 16 to 9 and 16 to 10 counterparts, offering a closer to movie-like aspect ratio with a bare minimum of black bars on movies, and more room for applications.
But the 16:9 and 16:10 ratio we know as widescreen isn't really the widescreen we think it is, and 21 to 9 (21:9) is here to demonstrate just that.
In recent years, there have been just a smattering of TVs released offering this ultra-wide display size, and when movies are run through these displays, there are no black bars at all. In fact, the frames of the TV are the black bars, at least as far as the movie is concerned, as 21:9 is closer to what filmmakers are showing in cinemas.
Monitors have also been given this treatment, though once again, there aren't that many, and for many companies, it's more than just trying to make it possible for regular people to see movies the right way at home, but also a way to make the ultra-wide form-factor even more useful.
In the case of LG's 29EA73, that level of "useful" is coming from a driver the company has released with the monitor, which is called a "productivity split driver."
When engaged, this sets up a series of divisions on your screen and automatically moves the multiple windows you might have open to sit in several configurations.
For instance, you could have a main window on the left and two smaller windows sit on top of each other on the right, have three columns of apps, or even have a window and piece of software running in all four quadrants of the screen.
It's an interesting idea, though you may find it suffers the odd bug here and there.
Plugged into a Mac, as an example, you need to activate an accessibility function that is hidden under layers with the update of Maverick 10.9. That's not really an LG problem, but once you do activate it, you may find that the LG Split Screen viewer doesn't necessarily assemble your windows the way you want, and sometimes may even crash your computer, as we found.
From what we can tell, the LG driver is matching your apps with specific divisions to your screen, and you can let it do its thing by forcing these windows to these specific divisions, or drag and drop the windows into the divisions of your choosing.
This is a quick way to get your windows under control, though it's not without its fair share of problems, because as you switch windows that may or may not be on the screen – such as Twitter or your file explorer – the windows shuffle in and out, changing location and trying to reset where they are.
Sometimes, they'll return to their position, and other times they won't, though.
Ultimately, the driver might be helpful for some, but like an extra display you might already be using, it's far easier to leave the window constraints off and just organise the windows yourself.
In fact, Windows users might already be familiar with the snap function that came from Windows 7 (and is present in Windows 8), and this will likely be as useful as the LG driver, just without the bugs and occasional crash.
Outside of the productivity driver, the screen offers a very wide resolution, with 2560×1080 running best here.
Two inputs can actually be run at the same time, such as a DVI and HDMI or DisplayPort, and the monitor will actually show both devices simultaneously, similar in some ways to the productivity split driver, but only in two columns.
In fact, if you're running multiple windows on the computer it will even squeeze these windows against each other, so you're getting as much out of the inputs as you can. We can see this working well for some, though ultimately, the side-by-side mode will probably only work best when showing a phone screen on one side and a computer on the other.
We spent most of our time with the monitor plugging it in as a secondary monitor to our iMac 27 inch over DisplayPort, and while it worked a treat here, we do think that most people will have to bring down the sharpness.
Out of the box, the sharpness is set to 5, which is a mid range point, but it's still way too sharp for our eyes, and compared to other screens, seems to look more real when pushed back down to zero.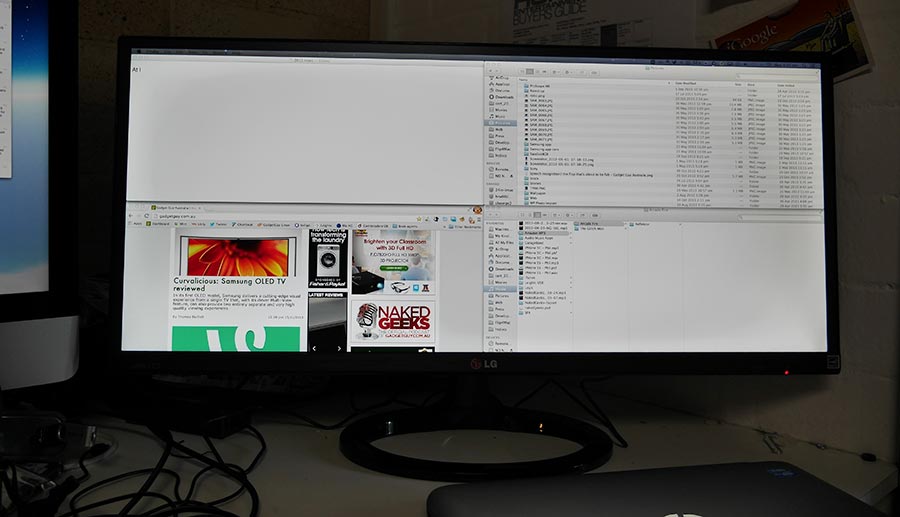 Colours are pretty good from the angles here, and you can thank LG's use of an In-Plane Switching panel for that, with decent colour and contrast across this screen.
LG's placement of controls is also decent, with touch-sensitive buttons sitting below the plastic frame offering controls for brightness, contrast, multiple colour modes, and how you setup the side-by-side input modes.
Overall, the LG monitor isn't a bad screen once you pull its sharpness down, but we'd probably leave its driver alone. Even installed, we found we could assemble our windows better than it could, changing layouts based on what applications we wanted to bring to the front.
At $699, it's not a bad value, putting it $50 more than what Dell manages for its 21:9 29 inch effort, with similar colour and contrast. Both LG and Dell include USB 3.0 ports and functionality, with support for sound, HDMI, DVI, and DisplayPort provided on the LG model.