How much would you pay for your music? Marantz has given us some time with an iPod dock that brings with it a premium wood backing, two 50 watt amps, two 25 watt Class D speakers, AirPlay, oh, and a $1650 price tag.
Arriving in a big box and looking uber-lux, the Marantz Consolette isn't your average dock. You'll know it's designed to be a premium sound system from its massive size, thick wooden backing, clean white speakers, and a base that looks and feels like it was crafted from a block of aluminium.
The iPod dock is designed for the older style of dock connector, but features a small LED screen to tell you what it's doing, and with support for WiFi and wired Ethernet, you can use it without an iPod or iPad resting in the dock.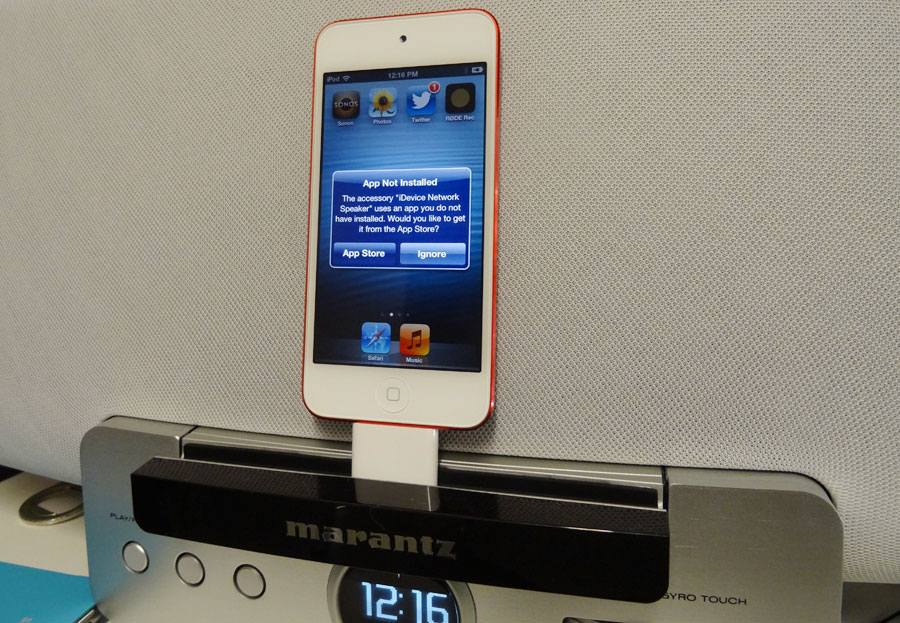 Marantz's Consolette is also an AirPlay speaker with support for internet radio stations, and while iOS is obviously the target platform, Android has an app that can connect to a Consolette on the same wireless network.
Other inputs include a USB port and a line-in port split between left and right channels, with a Kensington Lock port at the bottom, in case you fear the speaker being stolen.
It comes with a remote that is long, heavy, and very well built.
Switching it on for the first time, you'll find the Marantz wants to connect to your network. If you have an iOS device, you can make that a quick process by loading the Consolette app and letting it set itself up.
From there, you can play music over the app, or with any sound app, as the dock acts as one big accessory, which is exactly what it is.
We usually start our tests with something familiar, and for us, that's often Radiohead.
Beginning with "Idioteque," we heard some good balancing, with no harsh highs and a nice but not overly loud pop from the synthetic booms in the bass. Moving it to one of the office favourites, "Everything In Its Right Place" by the same band, the sound across every spectrum was mostly balanced, and the electric sound of Thom Yorke's voice was warm, like listening through cherished headphones.
We plugged in some Black Keys, and threw on the harsh blues mistress that is "Sinister Kid," finding that every vocal and guitar was as clear as the producers could manage, though the bass lacked that heavy oomph we're used to.
Mind you, this wasn't at even half the volume, and it was loud in our offices, so it's easy to see that Marantz's iPod dock could fill a room without any problems.
Jazz is one area where we want our sound to come alive, and for the most part, Marantz's Consolette does us proud. Playing back Vince Guaraldi's classic "Linus and Lucy" remastered from 2012, instruments were clear and precise, and we could hear the separation of the piano, drums, and even the bass making up the sound.
Two tracks of classical were run here, with the Samuel Barber classic of "Adagio for Strings" and a recording of Chopin's "Fantasie Impromptu." Each sounded balanced, with the high volume strings ringing out loud in the Barber piece and the clarity of a lone piano playing each note in quick succession on Impromptu.
We took it back to some classic rock for our last track on the Consolette, with some Rolling Stones and the magic of the remastered best of collection that is "Grrr!" A favourite of members here, "Brown Sugar," and everything was specifically clear and distinct, from Jagger's vocal, the sax, and the guitar, bass, and drum work.
While our hands on wasn't as long as we would have liked – it never is when you value sound as much as we do – we do have some issues with the app.
It's pretty clear that Marantz is trying to make the app look just like one of its high class amps, but it just comes off looking poorly spaced, especially in comparison to other apps.
There's also a built-in music player inside the Consolette that allows you to select songs to play in a list, but we should point out that the more you select and move songs, the more anything being played will be interrupted, with occasional glitches.
We're not sure why Marantz felt it necessary to include a playback system in the app, though, especially one that doesn't do anything remarkably better than Apple's built-in music app. Rather, we'd have preferred to see an app better designed for the iPad's larger screen, as opposed to one you're forced to blow up using the "2X" button.
Testing the playback over AirPlay, we found a few delays here and there, but it's also interesting to note that using the Consolette app won't always send the music to the iPod dock. Just like Apple's built-in Music app, it features a "send to" button, making you select the Marantz as an AirPlay speaker.
Once you do it will work, but once again, because it's AirPlay, the playback will work through the stock Music app, offering you no compelling reason to use the Marantz app instead of your regular music player.
Those of you with devices based on the Lightning dock connector from Apple's iPad Mini and iPhone 5 won't like that you'll be forced to use a dock converter, but it does work well, and Marantz has been kind enough to give the docking port a bit of leeway for movement, so you're not likely to snap the port off.
It'll likely be iPad users who won't like putting on their iDevice, as the thinner design of the iPad makes it a little difficult to put the tablet on cleanly the first time. Once you've made the connection a few times, no worries, but the first few times, you'll likely struggle making the connection. You'll also need to remove any covers to fit Apple's tablet.
Bluetooth is also missing from the equation, making it difficult to use the Consolette wirelessly without a Marantz app installed. This means Android phones and tablets have to rely on the app connection (unless DoubleTwist is used with AirPlay), and other ecosystems can't even touch it due to a lack of having an app. This means you, Windows Phone and Blackberry people.
There's also the problem of start-up, which takes roughly thirty seconds, even though there's no reason why it should. You'll watch the dock go through four levels of checks, and only then when it's completed them can you play your music. Perhaps it's something that can be fixed in a firmware patch.
The real question, however, is whether it's worth the $1650 price tag.
We're not sure we'd pay that much for this Pod dock, especially with what feels like an underdeveloped application, but it's certainly a warm and reasonably balanced iPod dock.
Most people know that louder sound often feels closer, and that's easily true here, but even on lower volume settings, the Consolette sounds pretty close to being there. Marantz has 99 points of volume, too, so where ever you are, you'll find there's enough sound able to be pushed out of the Consolette for which ever room in your home it's going in.