Samsung has been spending a lot of time in phones, tablets, and home audio, and now it's time to see what the company is doing with cameras, as we go exclusively one on one with the NX30.
The next camera to be launched by Samsung certainly comes with its fair share of specs, and aims to encourage anyone who wants a more capable mirrorless to give Samsung a go, packing in a 20.3 megapixel sensor, ISO range up to 25600, up to 247 focus points, up to 9 frames per second shooting in either RAW or JPEG, Full HD video support, creative modes, optical image stabilisation, a flash, hot-shoe for external flashes, and more.
A 3 inch Super AMOLED touchscreen is also included that can be positioned at various angles, and a 100 percent field of view viewfinder is built into the camera with the ability to work top down, too.
From the first play, Samsung has certainly put some effort in with the design, taking the familiar protruded grip on a camera body, but slimming down everything else.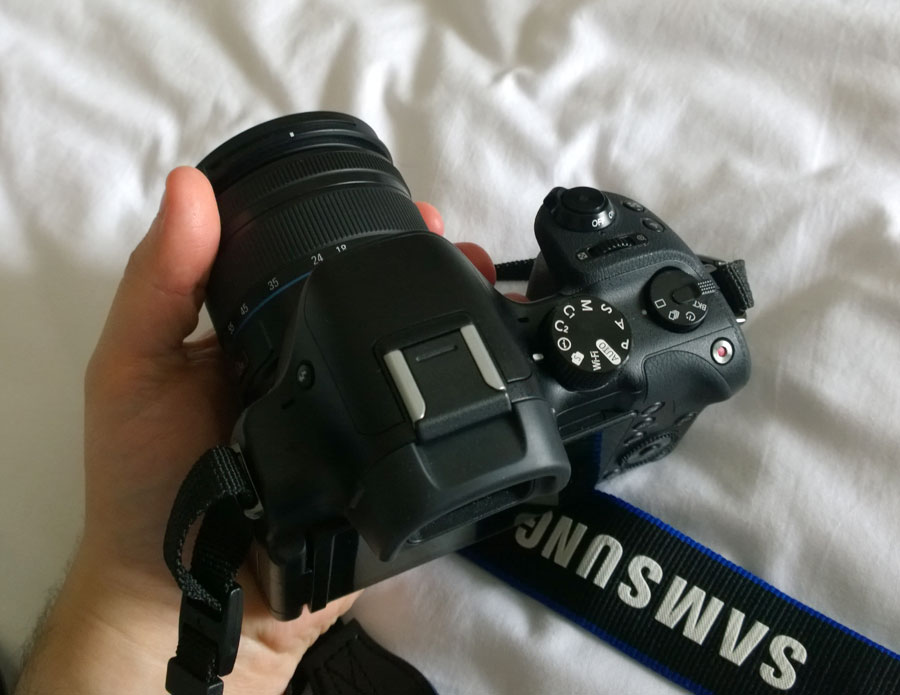 The work here is very noticeable, and while you can still hold the camera comfortably in the palm of your hand, cradling with your fingers, the other other way of holding — gripping with the right hand and hoping for the best — feels very firm and stable, which should bode well for beginners.
Stick the camera in your hand, though, and your thumb and forefinger will make their way around the controls.
Where your forefinger goes, there's the shutter button sitting atop a power switch, surrounded by a control wheel, and two buttons acting for metering choice and WiFi. Behind this are your mode wheels, with the big one letting you jump easily between manual and auto modes, and shooting speeds.
Then you have a neat selection of buttons and a flat control wheel with a directional pad underneath next to the screen, which pulls out and can be articulated in various directions. And even though there are buttons on the side, Samsung has provided an OLED touchscreen to use here, too.
Samsung's "I-Function" concept is here too, making it possible to change shutter speed and aperture, not to mention ISO, while simple holding the lens.
So you have a few options at your disposal, but the real question is, how does it play?
Not bad would be where we'll start from, and move from there, as the NX30 feels more like a tightening of the design and technology the company has been using in its cameras.
Provided the camera is paired with a decent lens, the image quality appears to be pretty good, with sharp details, solid colour recreation, and a good assortment of controls for the modes on offer.
Up close on JPEG mode, there's a fair amount of clarity, though we suspect the firmware will be tightened the closer the camera gets to full production, which will likely deliver just that extra hint of sharpness photographers will pixel peep for.
Out of the box, we're a little surprised to see the 18-55 from the NX300 paired here, which seems a little under-classed for this camera, and is basically like including a bottleneck in the box.
Testing it, you'll get decent shots from that lens, but it would be more in the owner's interest to match the NX30 with something a little more substantial, such as the 85mm f/1.4, the 60mm f/2.8 macro, or the new 16-50 f/2-2.8, the latter two we tested on this trip.
Not only does the lens quality feel better suited to the NX30 for images, but also the build, which is far less plastic on these bigger lenses, and makes you feel like you're holding something substantial.
On the mode side of things, there's your typical assortment of manual modes, such as Aperture, Shutter speed, Program, and Manual, as well as scene and auto detection modes, plus a WiFi mode if needed to share between devices.
Two custom modes are also available, and while these are great for pairing specific colour settings, they also allow you to set specific settings for starting points when you switch into the mode, with the inclusion of ISO, aperture, shutter speed, and focus type. Drive speed, however, is handled by the wheel on the top of the camera, so regardless of what mode you setup, you can always switch into single or burst modes.