Last year may have been the year of the 4.7 and 4.8 inch phones, but 2013 will be all about the not-quite-phablet size of the nicely rounded 5 inches, and Sony has shown us the first, heading to Australia in March or April.
Set to be the flagship phone for Sony this year, the Xperia Z is a long black monolith of a phone set in high quality materials.
Glass covers the handset on each side, with a 5 inch Full HD 1920×1080 screen on the front, a display that just oozes quality and looks spectacular, thanks to the screen being 441 pixels per inch, over 100ppi higher than the "Retina" panels used in Apple's iPhone 4s and 5 handsets.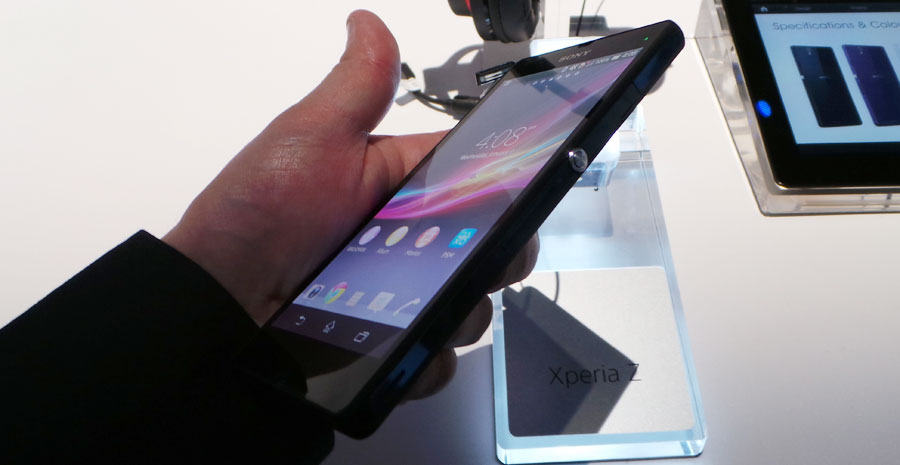 The body is 7.9mm thin, making it quite svelte, and while the design felt a little blocky, it comes across as a very well-built phone, with a certain strength that we don't see in many handsets.
Adding to this, the glass is strengthened while the handset is rated for levels of water and dust resistance, with Sony even going to the trouble of showing the handset dipped in water and still working at the Consumer Electronics Show.
While we don't think it would be great to go diving with, Sony's people did tell us that this handset had similar levels of water resistance to the Xperia Go, a phone we threw into a tank of water last year only to see no harm done.
Android will, of course, be the operating system that Sony uses here, a continuation from previous Sony and Sony Ericsson smartphones, and this handset will launch with Android 4.1 "Jelly Bean," with the latest version – 4.2 – set to arrive shortly after release.
More than just a big screen in a premium design, Sony Mobile's John Featherstone gave us a tour of some of the camera additions, which take advantage of a new sensor called the "Exmor Rs" which aims to turn the Xperia Z into the best smartphone camera on the market.
Sony tells us that this sensor comes straight out of its compact cameras, and while the megapixels have been increased to 13, now features increased low light sensitivity for better images in the dark, while also making the Xperia Z the first smartphone capable of capturing High Dynamic Range (HDR) videos in real-time.
There's also an increased reliance on Near-Field Communication, the wireless technology that popped up in nearly every mobile phone we looked at last year, and in pretty much every Sony handset in 2012.
With this technology, Sony is embracing more than just wireless phone-to-phone file transfers, making it possible for TVs to play back what's on-screen from the phone without wires, send music from the mobile straight to a wireless speaker, or backup the Xperia's photos and files straight to an NFC-equipped hard drive.
Even if you don't plan on grabbing a wireless NFC hard drive, you can still upgrade the storage in the Xperia Z thanks to the inclusion of a microSD slot, something we didn't quite expect in the handset, which should allow you to add up to 64GB of storage to the total amount inside the phone, which will likely be between 16 and 32GB.
Inside the handset, Sony is using a 1.5GHz quad-core processor alongside 2GB RAM, which as we've proven time and time again tends to make all the difference with a speedy Android experience.
Sony hopes to improve on the battery experience too, with a "stamina" mode which aims to make the standby time better by up to four times by shutting down apps that aren't doing anything when the screen is off, something Android doesn't tend to do natively.
High mobile speeds will also be capable here, with 4G LTE also thrown in for good measure, and though we're not quite sure which telcos will be signed up for the launch of this handset, Sony's people tell us that there are already some big names which will be launching it. With 4G on-board, we suspect this means Telstra and Optus, since these are the only two major 4G providers locally at the present time.
All up, the Xperia Z looks like an impressive little machine that should launch in Australia very soon. Between the connectivity options, lovely screen, and simple and elegant design, it could check all the boxes for a lot of people in the market for a new handset.
Leigh D. Stark traveled to CES as a guest of LG Electronics Australia.