I have now been using the Dyson V11 cord-free, handstick vacuum cleaner for two weeks. The verdict – subtle but substantial improvements, evolution, not revolution – over the V10, as you would expect from a science/engineering driven company.
The Dyson V11 is the annual evolution of the cord-free handstick vacuum cleaner. One can only presume that there was a V1 somewhere and a Dyson engineer saying, "Well this is the worst stick vac you will ever buy from Dyson."
That statement is not at all meant to be disparaging. Never buy V1.0 of anything, but you think they would have got it right in V2.0 – let alone 6, 7, 8, 9 and 10. In fact, Dyson handstick vacs started at version DC1 (Dyson Cyclone) to 62 becoming the V6 version in 2015. And they are still tinkering! And yes, they got it right!
We have seen this with its next-gen fan/heater/purifier, I suspect we will see a new Dyson Supersonic hairdryer 2.0 soon, and more. You must keep over 1,000 engineers and scientists in business.
The Dyson secret sauce
Sir James Dyson and the company bearing his name produce vacuum cleaners, haircare, air treatment, hand dryers and lighting. Let's not forget the top-secret electric car development. Or the annual Sir James Dyson International Design Awards to inspire the next generation of design engineers and perhaps help Dyson embark on new directions.
The secret sauce as far as I can see is: (Check out the thousands of patents held here)
DC powered digital motor that can scale up or down to fit a car to a hairdryer.
Developing battery technology is key to portability in vacuum cleaners to electric cars
Application of the Coandă effect and aerodynamics in designing things to use airflow effectively like its fan/heater/purifier and Supersonic hair dryer
Understanding of the Cyclonic effect in designing bag-less, fade-free vacuums
Beginnings of robotics and automation in relation to household appliances
And the application of electronics for sensors and control
So, while you can buy Dyson knock-offs, that may or may not infringe patents, to use Matt Damon's memorable Martian movie quote, "We are going to have to science the shit out of this." That is Dyson.
Eye-wateringly expensive or it that the real cost?
The most common exclamation is, "Up to $1250 for a vacuum, $700 for a hair dryer, $800 for a fan, tell him he is dreaming." But people, especially well-heeled Asians and Aussies, do buy Dyson products in ever-increasing quantities and from what I can tell are very happy with their purchases.
I admit to initially being a sceptic, after all, Godfrey has stick vacs from $95. Let me tell you I pored over its most expensive Hoover and Shark brands. Now I know the paradigms to look for (battery life, bin capacity, suction, airspeed, filter effectiveness/cleaning, electronics, accessories, and build quality). They are not even remotely a patch on the Dyson.
The Dyson V11 has more science it is than put a man on the moon. There are whiz-bang circuit boards and sensors everywhere. There sure ain't any of those in the cheap stick vacs!
The only one that gives Dyson a run for its money is the LG A9 Master (review here) that has two hot-swap batteries with simultaneous charging. It is a 2018 model (refreshed in 2019 and yet to have a review) and is more comparable to the Dyson V10 series (review here). Friends have bought the LG specifically for the dual battery feature are wrapt, and it's quality and accessory levels are up there with Dyson.
The same goes for its $499-699 Supersonic hair dryer (review here). GadgetGirl has used hairdryers for a long time (age withheld?) and within six months her hair had regained its lustre and fullness as new hair replaces old damaged hair from too hot hair-dryers.
I could go one about its fan/humidifier/purifier but suffice to say that if you can afford Dyson, it will give you a superior experience over cheaper products. Those that join Clan Dyson usually stay there as lifetime service is standard.
Review: Dyson V11 Absolute Pro (Dyson online exclusive gold colour)
Website here
The range uses the same base handstick – it is just the aluminium pipe colour and accessories that differ
Torque Drive – $1099 for the new combo Torque head with seven accessories and purple tones
Absolute – $1199 for the Torque head and eight accessories (includes Mr Fluffy soft roller cleaner head) and blue tones
Absolute Pro – $1299 for the Torque head and eleven accessories and gold tones
Dyson also still sell the V10 Animal+ for $999 (V10 review here) but while there are over 80 changes to get to the V11 – V10 owners need not contemplate hara-kiri yet. You can get it for $899 at the Good Guys.
Getting a little long-in-the-tooth and using far older technology is the V7 and V8 series ($399-799) and while these are good value, I would find it hard to recommend them to a true Dyson clan member.
In the box – Dyson V11 Absolute Pro
Full-width high torque direct-drive (has its own motor) for all floor types. Good edge cleaning
Full-width direct-drive soft roller head a.k.a. Mr Fluffy, for hard floors and leaves a slight sheen
Mini direct-drive head for small surfaces like stairs, car interiors, upholstery etc
Combination tool with brush and Velcro – for air vents, car boots etc
Crevice tool for skirting boards
Mattress cleaning tool – damned dust mite poo
Soft brush and Velcro pad for upholstery and dusting
Stubborn dirt brush (stiff bristles)
Flexible wand tube for handheld use
Wand extension and a 'cob-web remover.'
Metre-long alloy wand
Wand clip for two accessories
240V charger outputting 30-45V at 1.1A (use with or without the dock)
Wall mount drop-in dock
And the Dyson V11 cleaner with gold accents
This is the most comprehensive accessory pack I have ever seen. Will you use them all? Yes, and the wand clip for two accessories is a great idea. Use a shopping bag to store and tote the rest.
Mounting and storage
Will you wall mount it? I am of two minds. I guess if I had a discrete area with a convenient power point (they don't usually put power points in cupboards), I would use it. But I find it just as easy to break it down and store it in a hall cupboard – the longest part is the wand.
More power
Each iteration has more power – be it in suck or brush power. The V7 has 76% more brush power than the V6. The V8 increases battery life by 25%. The V10 changed from a vertical to a horizontal barrel design offering 20% more power than the V8, 40% bigger dust bin and a whopping 25% more battery run time. Get the drift.
But we are here to review the Dyson V11 – I can't wait to see the V12!
Comparing it to the V10 it is a little bigger and heavier (3.05kg vs 2.67kg), has 20% more suck and bigger battery capacity (3600mAh vs 2600mAh). The most interesting feature is the addition of an LCD screen and an idiot button (auto) that works with the new high-torque motorised head to maximise battery life.
If you saw the V11 and V10 side-by-side, it would be hard to tell, and all the accessories are backwards compatible so that may help decide which version you upgrade to.
Test 1: A 65m2 apartment with 15m2 tiled floor and the rest a commercial short pile carpet and a large plush floor rug.
With the 2018 V10 set on medium suck with its direct drive cleaner head, it can vacuum the whole area in about 15-20 minutes and nearly exhausts the battery. Recharge time is under four hours.
The 2019 Dyson V11 'smarts' don't begin to kick in for a few vacuums. Those smarts revolve around telling you how much battery time you have left based on past use. We tested on Auto with the high torque motorised head (replaces both the V10 direct drive cleaner and Mr Fluffy heads).
In week one at the start it said 60 minutes remaining. After about five minutes of vacuum on auto (carpet) that had gone down to 48 minutes. After 15 minutes vacuuming, it said 27 minutes left (total 42 minutes).
In week two at the start it said 40 minutes remaining. After the same 15 minutes of vacuuming, it said 25 minutes left. (total 40 minutes)
So, in this test compared to the V10 lasting around 20+ minutes with the older direct drive head we expect 40+ minutes from a full charge.
Why?
First, the V11 has a 3600mAh versus 2600mAh battery – 38% more capacity and takes recharge time up to just under 5 hours.
Second, it has a new high-torque head and intelligence to vary the speed and suction for each surface.
We tested the torque head on manual settings on carpet – Low, Medium and Boost. Low ran for 60 minutes, medium for 40 minutes and Boost for 5 minutes. Obviously, the Auto setting favours low to medium speeds in a typical house.
Test 2: A home with a mix of a large shaggy room-sized rug, polished timber floors, two tiles bathrooms and sisal style carpet in three bedrooms. Approx. vacuum area 150m2 and vacuum time close to 45 minutes.
Here we compared the V11 with the incumbent LG A9 Master with two different motorised heads (hard floor and carpet) and two swappable batteries. Both can charge concurrently – one in the A9 and one in the dock.
The LG using two batteries lasts about 45-minutes. It does a great job, and we emptied the .44 litre dust bin twice (.88 litres).
In week one the V11 (fresh from its 65m2 apartment test) showed 42 minutes at the start. After five minutes it had upped that to 48 minutes. True to its word it completed the task and still had five minutes remaining (total 48 minutes).
In week two the V11 showed 48 minutes at the start, 42 minutes at five minutes and 5 minutes at the end (total 48 minutes).
So, the V11 with its new battery, single high torque head and all its smarts lasts about the same time as the LG A9 with two batteries. And we emptied the .76 litre dustbin about 1.5 times – showing it collects about 20-30% more detritus.
Test surfaces with the high-torque head
To test suck efficiency, we set the V11 on auto with the high torque head and ran it over the area just cleaned with the LG A9. It filled about 20% of its dustbin. In a later test, we ran the LG over the same area as the V11, and it picked up a minute amount. The V11 has much more suction power, and I repeat the LG A9 is a V10 competitor.
The new high torque head is an all-in-one with considerable intelligence constantly feeding back to the motor and battery.
On polished wood floors, it was efficient at detritus removal but lacked the polishing ability of 'Mr Fluffy' that leaves a slight sheen.
On tiles, it is as efficient collecting detritus as the older V10 direct-drive head.
But there is one area that can slow it down – shaggy rugs.
High Torque may be a misnomer confusing motor speed with torque (power). On carpet, tiles and timber flooring it spins up nicely and adapts to each surface at 360 times a second – it calls this Dynamic Load Sensor (DLS). You can tell its spinning more slowly on low resistance floors and faster on the carpet.
Well, it choked on a this 'shaggy rug' that you could probably lose a small child in. While the LG A9 was fine on turbo mode and ploughed through, admittedly exhausting the battery, the V11 needed help.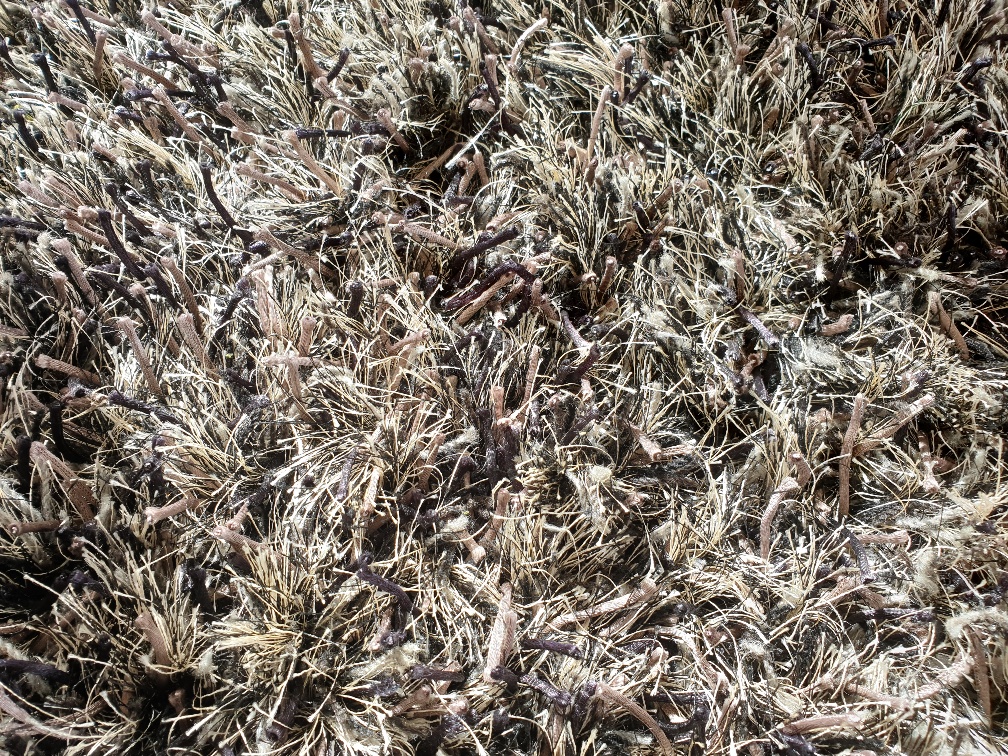 Using the boost setting was OK, but the Torque motor was struggling. Fortunately, we had the older V10 direct drive, energy-sucking head and on maximum setting, it powered through exhausting the battery in seven minutes.
Unfortunately, we have only had two weeks to test but here are our findings (compared to the V10)
The new battery is larger, lasts longer (45-60 minutes with the torque head) and takes an hour longer to charge (around 5 hours). The V10 gets around 20 minutes on medium with the direct drive head
The bin capacity of .76l and the slide to empty is the same as the V10
It is 400g heavier (body only) and the new handle angle helps distribute the weight a little better
Both the V11 and V10 remove 99.97% of dust particles down to 3 microns. It also removes smoke!
The V11 has about 20% more suction than the V10
The new battery and smart technology means fade-free suction from 100-0%
It can get noisy at 85dB on Boost – otherwise around 70-75dB
Is it a corded canister replacement?
Absolutely.
The convenience factor alone – no cord and a lot less weight. Use it at will!
That means you use it more often to do smaller areas or tasks. It is great for removing ceiling cobwebs, car interiors, steps etc. Or as a handheld to clean up small areas.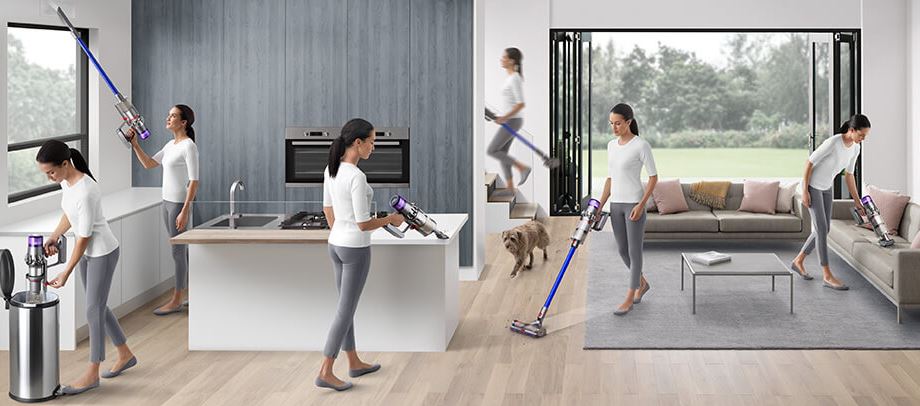 The suction factor – it outperforms and out sucks quite expensive, snob brand canister vacuums.
Maintenance
The LCD tells you if you need to clean filters – and it's very easy to do so. Just run the filters under water and dry.
It will also tell you if there is a blockage and how to clear it. Forget sucking up bowling balls as it will tell you it is blocked.
Batteries should last 500 recharges – at once a week that is ten years. In practice, they do lose the ability to recharge fully you need to replace it when it doesn't hold a charge. That is fairly easy – just undo three Philips head screws. No prices are available yet but expect to pay around $200 for a genuine replacement and Dyson will dispose of the old one if asked.
Beware that you cannot use cheaper third-party battery packs in the V11 due to the high level of sensor, electronics and battery circuitry integration. To do so would make it no better than a V10.
GadgetGuy's take: The Dyson V11 is impressive but so was the V10
Evolution, not revolution and I suspect there is a lot more than will happen with this handstick format in the V12, V13 etc.
One thing is for sure – handsticks are now officially the only way to go. Lighter, more powerful and more convenient – almost makes vacuuming a pleasure instead of a chore.
As I said earlier go to Godfrey and look closely at the stick vacs. Don't be fooled by a bowling ball suction trick – that will burn-out a non-intelligent motor quick-smart.
Then pop into David Jones, JB Hi-Fi or the GoodGuys and spend some quality time with the Dyson V11. You may initially regret paying more, but you will never regret the quality and performance.
Oh. an if you want the Gold Absolute Pro it is exclusive to Dyson.
Positives
Sucks big time and is smart enough to know how much to suck – more than any other handstick
The Torque head replaces Mr Fluffy and Mr Floppy – convenient
The LCD is a first and far more useful than LED indicators
Auto mode is idiot proof
You remember quality long after price is forgotten
Negatives
Little heavier and longer recharge than the V10