These days, more and more schools are requesting that students, especially in advanced or accelerated classes, 'bring your own device', or BYOD.
This means the school expects the student (or rather, their parents) to supply a capable computing system. Sometimes, a tablet or Chromebook might suffice, but increasingly, the expectation is that students bring a full-spec Windows laptop. For BYOD requirements, a student laptop needs to have Wi-Fi compatible with the school's network, and enough power to run web-based applications such as Google Classroom.
Students engaged in advanced classes or focusing on STEAM (Science, Technology, Engineering, the Arts, and Mathematics) will also need a laptop with a webcam for distance learning – always important these days ­– a powerful CPU, and ample onboard storage for projects. They'll need that space, not just for documents, but also for file-types including video, high-res images, and audio.
Of course, almost any laptop can provide this level of power, but when it comes to a school environment, a BYOD laptop needs something more: durability. Life at school (and even at university) is HARD for a laptop. Materials need to be tough, and if the device has specialised shock- and drop-proofing, even better.
Choosing the right spec for BYOD
Selecting a laptop for a BYOD student can leave you fraught with indecision. After all, you're worried that the machine will get lost, broken, or fouled up with viruses and malware; that's life at school for a PC.
What's more, a laptop purchased for a late primary or early high school student is unlikely to last the full six or seven years of their remaining school career. Even if the laptop itself survives, technology will move on, and much more powerful (and cheaper!) PCs will be available by the time today's Year 5 students reach Year 10. The needs of senior high school and uni students are also much different to those of Year 6 and Year 7 kids.
Choosing a spec for younger students
Most primary schools in Australia rely on school-supplied tablets and Chromebooks, but if your student is enrolled in an Opportunity Class or similar extension program (or just has a very techy teacher!) they might have the option – or requirement – to bring a proper laptop.
Most high schools don't require BYOD for Year 7 and Year 8, but again there are exceptions.
So, what's the best spec for the younger student? It makes sense to keep budget front-of-mind since these students will mostly be using Google Classroom and doing basic word processing and image work (with some light STEAM tasks).
The focus should be on a laptop that combines high durability and solid performance, with prices starting from under $500.
For this budget, you can expect hard drive storage of 128GB, and a choice of Intel Celeron processors, which is powerful enough for school tasks.
More budget buys lighter, more robust and less battery-hungry solid-state memory and Intel Core i3 or AMD Ryzen 3 and above CPUs.
Just because these types of machines are affordable doesn't mean they don't last. Some laptop ranges are designed specifically with students in mind, with features such as rubber bumpers around the edge (to deflect knocks), and non-slip designs so there's less chance of it suddenly flying off the desk. You can look forward to 3-5 years of heavy use out of these sorts of laptops – though the student will need to treat their computer with a basic level of respect!
Choosing a spec for late high school and uni
By the time students reach Year 10, they should have an idea of where their education is going. Some won't need a laptop so much, but students who get heavily into STEAM subjects, and choose the more advanced or difficult electives for their HSC, will benefit from upgrading to a more powerful and capable laptop. Ideally, this machine will last them into early university, too.
For these more advanced students, extra laptop features are a must. For a start, a 10-point touchscreen with pen input helps with a range of STEAM-based learning. These laptops are usually called '2-in-1 convertible' devices, as the screen can fold all the way back and the laptop can function as a tablet.
Priced from $1500, these sorts of laptops focus on performance, and many support the new Intel EVO platform which offers Intel Core i5 or i7 CPUs for lots of power, and Iris Xe graphics at the higher end. Models that fall into the AMD camp will offer the Ryzen 3, 5, and 9 series, supported by Radeon graphics.
At senior school level, many students must carry multiple heavy textbooks in their backpack, so weight and portability are important considerations in a BYOD laptop.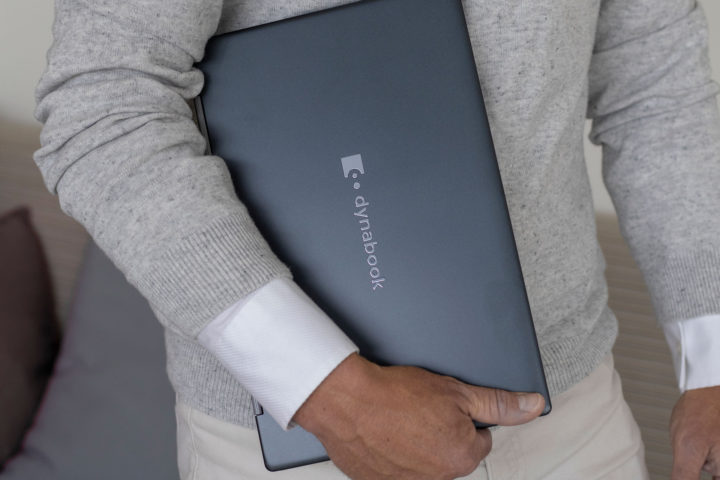 Anything that's a smidge over or under a kilo is a good choice, and some may provide a light but strong metal or magnesium alloy chassis to improve durability. Still, a shell case accessory will offer an extra level of protection for these featherweights.
Upper high-school students typically use their computers in every class, making battery life more important than in junior years. A laptop the uses solid state, rather than HDD storage, can offer up to 10 hours operation between charges, according to some manufacturers, but real-world use generally means it's about half that.
Security for BYOD
Using a laptop – or any computer – online is always fraught with the possibility of something nasty happening. Antivirus software is the first line of defence, but in a school environment, security challenges can be even more intense.
For even better protection, look for a device that includes security at the hardware level as well. Biometric authentication methods, such as fingerprint or facial recognition, enables quick and secure login, and reduces the risk of password leaks.
Durability and reliability for BYOD
Let's face it: if you send a laptop to school, it's going to get dropped. Hopefully not too badly, but it's far too easy for a slim PC to slip off a desk, or find itself hurled into the corner inside a not-especially-well-padded school bag!
But even the most careful student still uses their BYOD laptop heavily. Lots of keypresses, lots of opening and shutting the lid, lots of recharging (especially partial recharges), and a display logging hundreds and hundreds of hours – usually at full brightness!
Look for models that include features that protect some of the more… shall we say… basic forms of damage that a laptop can suffer. Spill-resistant keyboards are a good start, while rubber bumpers (think, a defensive 'ring around the edge of the laptop) can do a lot to absorb knocks and short drops, and a metal chassis will provide greater resistance to knocks and bumps than a plastic casing. And of course, components like hard drives and CPUs should be shock-rated. Check manufacturer websites to evaluate the rigour of product testing, and read consumer reviews to get a sense of how brands compare for long-term durability.
Warranty for BYOD
As much as we can rely on tough materials and clever design, things can still go wrong – after all, it's likely a BYOD laptop will be subjected to situations and stresses no adult has ever thought of!
So, a robust and generous warranty is obviously a big part of choosing the right BYOD for you. It's industry-standard practice to offer a full-year warranty that covers a lot of aspects of normal laptop use.
However, for BYOD, it's worth keeping an eye out for better warranties. Look for brands that offer a three-year warranty on its products, which for many BYOD laptops might as well be the same as a lifetime warranty (especially for younger students). After three years, you'll be ready for an upgrade.
Read GadgetGuy's review of the Dynabook E10-S for younger students, and Dynaboook Portégé X30W for upper high-school students.