Last year, at least two major camera manufacturers decided to integrate digital cameras and Google's Android operating system to create a smart camera, a new device that could send photos online without needing to plug it into computers.
More camera manufacturers are expected to jump on the Android OS bandwagon this year, and while we don't quite know who will be releasing, given the success of the Samsung Galaxy Camera last year, it's pretty much a given.
If you already have one of these, you probably already know about the instant Instagraming and fast Facebooking on offer, but how can you make an Android camera even better?
Bring batteries
When it come to cameras, two batteries are definitely better than one. While that's true of any camera, it's doubley true of the Android breed of camera.
Android seems to be a little more intensive to batteries than a regular camera, probably due to the higher resolution touchscreens and advanced connections, such as 3G, WiFi, and Bluetooth built in.
On our trip to the Consumer Electronics Show in Las Vegas, our Galaxy Camera pack consisted of two batteries, and from how often we were using it (for live-blogging the whole thing), the batteries would last around four or five hours. Since then, we've seen that the more things you do on an Android camera, the worse the battery takes a hit.
Thankfully, batteries aren't too expensive for cameras anymore, and a quick search on Google found batteries for both Nikon and Samsung models costing at max $40, with some as low as $15.
Online backups
While regular cameras need to be backed up at a computer, Smart Cameras can be backed up over wireless networking and 3G.
With a simple link to Dropbox, Box.net, Google Drive, or any number of other cloud storage solutions, images and videos can be quickly backed up to a place online, so you don't have to wait until you're home to put those photos in a safe place.
Post-process to go
If you don't need to bring as many computers with you, that's probably a good thing. We've tried taking the Samsung Galaxy Camera out on trips without an iPad, tablet, or laptop computer, and have found the few Android options out there for easy photo edits actually make it worthwhile.
Google's Snapseed is one such app, providing a free tool for cropping, rotating, colour conversions, and more options for the retro film look than Instagram can manage.
Depending on the camera you're using, Snapseed may not load in the whole size, with the limitations set to just under three megapixel at the time of publishing. Snapseed will reduce the size for you, sure, but be aware that the image you process from Snapseed may not necessarily be your entire thing.
Lithic is another neat app capable of processing your photos in a very different way.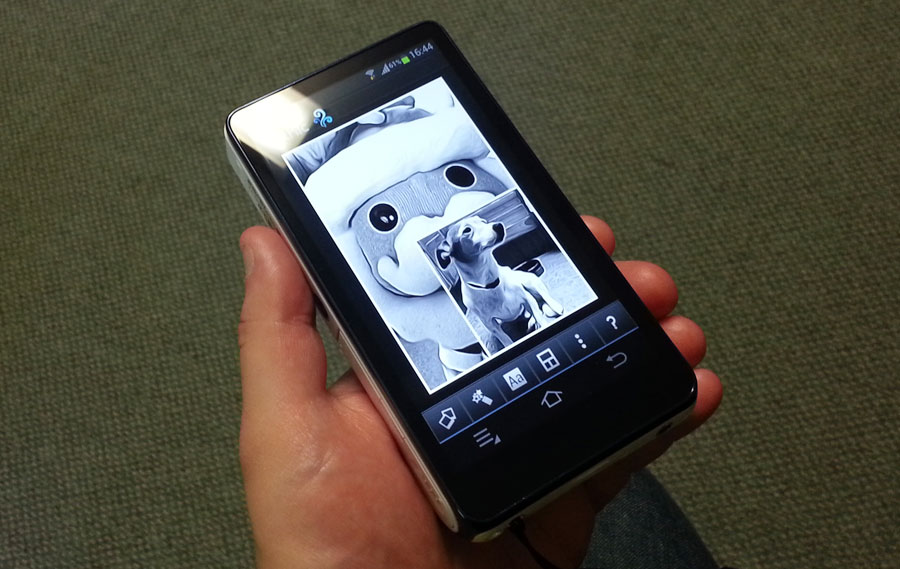 If you're a fan of comics or the stylisation in the movie "Sin City," this app processes your photos to look like they're stuck inside the comic universe. It's not the same type of processing that Snapseed offers, but it's a very fun app altogether.
Photo Editor is another freebie offering curves adjustments and some filters, but then there's always the classic: Photoshop Express.
Adobe has yet to bring the ever useful tablet friendly Photoshop Touch to smartphone devices, but this app offers you the basics – cropping, brightness, contrast – and a few filters, too.