Slide to unlock: making the iPhone lockscreen
The next thing we'd do is replace the lockscreen, as Android doesn't normally look like an iPhone here. Every handset is different, so we can't give you an exact idea to what this looks like for all devices, but trust us.
That's an easy fix though. We can make one of those "slide to unlock" screens quite easily.
For this to work, you'll need to grab WidgetLocker Lockscreen, an app that'll set you back around $3.
This app turns your lockscreen into a widgetised homescreen, effectively allowing you to add your own slider, a clock, and any other widgets you want to that screen you'll see when you pick the phone up from standby.
Install this, run through the guide to see how it works, and then get stuck into it. Making the iPhone-style screen is fairly easy, and we've included some nifty pictures to help out.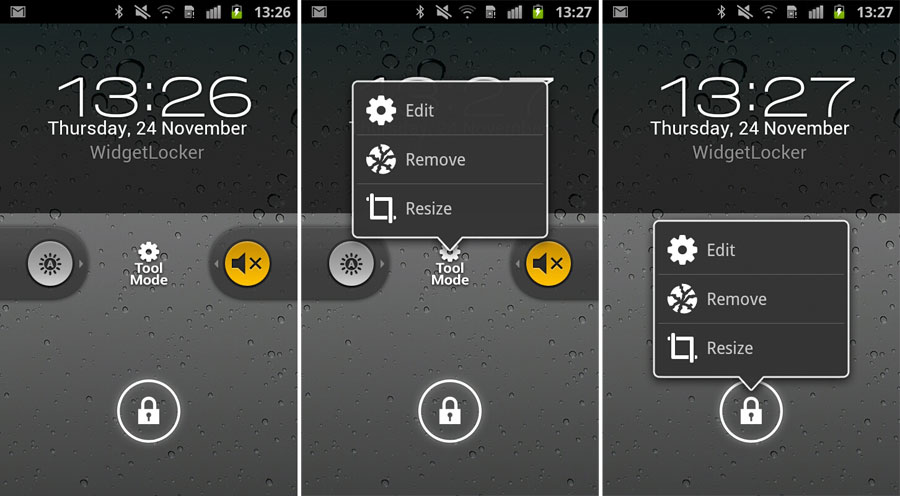 To start with, hold down on the icon labeled "Tool mode". A menu will pop-up with "Edit", "Remove", and "Resize".
Click the remove button and the tool will be removed. Now hold down on the lock icon and hit "Edit" when the menu pops up.
We'll now get to choose what sort of lockscreen we want. Press the section seen as "Theme [ics]" and when the menu comes up, choose the iPhone setting.
Once you've done this, you'll see an iPhone lock slider with an arrow at each end. To make it more like an iPhone, we need to get rid of the right arrow, so put your finger on the right arrow and swipe it to the left.
We've now selected that arrow and can remove it from the slider. To do this, press "Disabled". Now hit done and you'll find you have an iPhone unlock bar.
We need this just a bit smaller though, so hold down on it with a finger and select "Resize", dragging the arrows on the top down so it's thinner and pressed against the bottom of the screen.
You're almost done with this part.
Now, we're going to edit the clock on the top. Hold down that section and click "Edit". Once the edit screen pops up, scroll down and check "Show battery percentage", scrolling down a little more so you change the "Owner info line 1" so nothing appears.
Once this is all done, hit the back button on your phone. Finally, hold the clock section one last time and select "Resize", making it thinner and dragged all the way to the top.
You're done! You can click either the back or home button on your phone, and WidgetLocker will save your settings. The next time you bring your phone back from standby, you'll have an iPhone lockscreen.