HP returns to the gaming sector with a new laptop aimed at giving hardcore game lovers something new to pine over. Does it work, and is the Omen a sign of things to come for HP?
Features and performance
Gamers need computers too, and if the idea of a fast gaming machine without the bulk grabs your interest, 2014 is your year.
Dell and its Alienware brand have been cooking up new hardware, as have Razer and Acer, and now it's time for HP to show what it has been doing with the release of the Omen, a new breed of gaming laptop from a brand not known for them.
We've seen plenty of HP laptops this year, mind you, but none of them have been focused on games, and with Steam turning into a hotbed of activity and poised to take on next-gen gaming networks like Xbox Live and PlayStation Network, there's more reason than ever to look back into PC gaming as it makes its return to the scene.
HP's effort in this is the Omen, a sleek black aluminium machine boasting high-end specs in a body barely weighing a little over two kilograms (2.28kg to be exact), packing in a 15.6 inch Full HD touchscreen and a smattering of high-end specs, starting with the Intel Core i7 quad-core 4710HQ Haswell chip, which is standard across all the variants.
Either 8 or 16GB of RAM is standard depending on the model, as is a solid-state drive, with either 128, 256, or 512GB in the machine. There are no HP Omen models relying on conventional moving part hard drives, and you won't find an optical drive in the unit either, making it a fairly lightweight machine. Windows 8 runs on the machine out of the box.
NVidia's GeForce GTX graphics arrives on the machine, too, with the 860M graphics processor paired with either 2GB or 4GB RAM, while HP makes use of Beats for the speakers on the machine.
Ports are reasonably varied, and you'll find four USB 3.0 ports, one Mini DisplayPort, one HDMI (1.4), and a headphone microphone combo port (headset), as well as the AC adaptor port, all of which are found on the back of the computer. An SD card slot can also be found, but this slot is located on the right side.
There's a metal hinge made in silver with faded blue accents, almost as if it were an exhaust pipe, and this connects the machine to a 15.6 inch Full HD In-Plane Switching touchscreen, with a Full HD camera sitting above the frame.
The HP Omen 15 weighs a little over two kilograms, and measures 15.5mm when closed, and starts at $2199 in Australia. but the model reviewed by GadgetGuy was the top-of-the-line edition, priced at $2999 with the inclusion of 512GB SSD, 16GB RAM, and an Nvidia GeForce GTX 860M with 4GB RAM.
Those specs alone are a good — excuse the pun — omen for the machine, so we're eager to take the Omen for a spin and see what it can do.
From the box, though, you can see HP has put some effort into this machine, providing a trapezoid of a box that really does look unique, and basically sets the scene for the computer inside.
When you open it up, you'll see what we mean, with a similarly trapezoidal machine that looks a little like a spaceship, but obviously isn't.
In previous gaming computers, it's been clear that gamers are looking for a different experience, and the body of this laptop shows that this isn't your regular black or beige box, with HP going for something flashy and yet quite eye-catching, a metal trapezoid box that looks very playful and different from every machine out there, like a monolith from "2001: A Space Odyssey," except here for your gaming privilege and pleasure.
Switch it on and you'll find a clear 15.6 inch screen ready to serve you, and some very fast innards spinning up and booting into Windows.
Performance on the Omen is mostly good, with a fair amount of speed offered when we loaded up our test games of "Far Cry: Blood Dragon" and "Civilization V," among others. You'll find the quad-core Intel Core i7 and 16GB RAM help the system move along quite nicely, and HP has ditched the conventional hard drive altogether in this unit, helping the system to not get slogged down by the moving parts of a regular old hard drive.
As a result, there's enough storage in the top-end model we played with, running an impressive 512GB solid-state storage, though lesser units start at 128GB, so you'll want to keep that space clear and install only the games you want.
That said, the combination of high-speed innards helps to make running games a fairly pleasurable experience, with only a hint of lag, though we did have some games crash on us, an issue we're attributing to the games themselves.
Over to one area that needs to be strongly considered when building a computer made for gaming, and that's the keyboard and mouse, because if you're going to play some serious games on a machine, you better hope you don't have to plug in an external device or two.
On the Omen, you'll be delighted to know an external keyboard and mouse aren't requirements, with a comfortable keyboard with enough travel to recall the great keyboards we've seen this year, and even a generous supply of six custom keys ranged P1 through to P6.
HP has even made the trackpad extra-wide, though that won't likely be a strong contender for big games playing, outside of strategy and the like.
If you're playing a first person shooter, we'd suggest using the external mouse as it's just not likely to be fast enough. That said, it does the job, and we didn't find any huge amounts of lag as we pressed the WASD keys and controlled the trackpad, though it's surely not as comfortable as can be with a proper mouse.
We even like how all the ports are found in one place, and while not all will like the location of these being at the back, it at least will be useful for those who like to keep the cables out of sight.
Rear ports mean a desk can be tidier, and the plugs can be quickly removed if you plan on taking a laptop out with you
Overall, HP's Omen is a solid entry for gaming, and like the other major competitors in the gaming PC space — Alienware and Razer — it even comes with some glitz, with LEDs under the speaker and keys that can be changed to match your mood.
Think of it as a basic version of what the Alienware machines do, with a slight amount of colour coming out of where the backlighting would normally be on the keyboard, and pretty much any colour choice for that. There's also some colour under the speaker grills, colour that can pulse based on speaker beats, as well as some colour lighting out of the rear vents.
But we did say it was basic, and while HP has been generous to include this sort of cosmetic nicety with software to let you change the colour at the WASD keys, across the keyboard, speakers, and power button, you'll find it's missing under the trackpad and comes with no custom profile colour modes of its own, leaving you to define them for yourself. Whether you will or not is totally your call, but it's something that would have been handy.
The screen is mostly a positive, too, providing a Full HD touchscreen that can be a little reflective, but does at least offer a seamless experience for Windows 8, supporting gestures and proper touch control, as well as boasting very impressive angles.
In a reflective environment, you'll find the glare can get a little irritating, but provided you close a blind or two — or play in the dark — you should be fine with the level of brightness and glare.
We've said "mostly a positive" though for one particular reason: refresh rate.
While HP has provided a fairly decent screen, we originally saw flickering on both the Windows desktop and inside games, while the technical setup of Windows and subsequent games offered the low refresh rates of 40 and 60Hz.
These low rates meant we could see flickering, drawing our attention to the flicker in games, which was still noticeable when we dropped the resolution to 1600×900, though not quite as obvious.
Fortunately, there's a fix, with HP releasing a BIOS update in the weeks since the review was originally published, so this problem is now gone, a positive thing, though we're not sure how this made it out of HP's factories without this being spotted. Still, it's fixed, so if you're having problems and see it the way we first did, there's a patch waiting for you from HP.
One negative is the battery, and while the specs are high, the life is low, with up to four hours of life when you're not doing much — you know like writing, web surfing, emails, and so on — and substantially less when you happen to be doing something a gaming machine is made for.
Like gaming.
That's not good, and while it's a powerful beast of a machine in a relatively thin and light form-factor, you'll likely want to stay plugged in all the time to make this machine fly, which is such a shame given what it can do.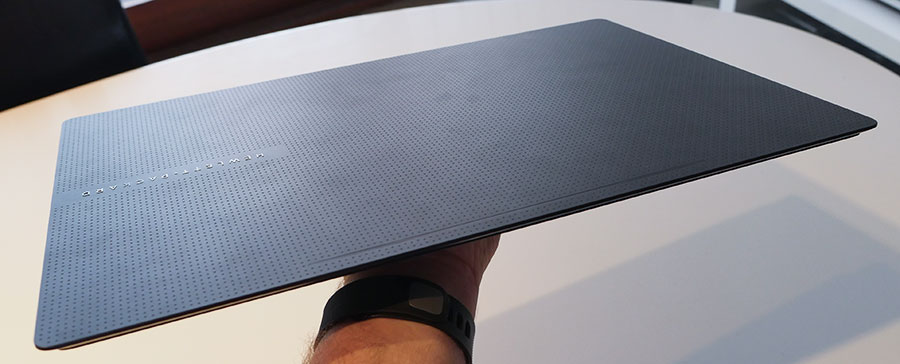 This laptop is also a fingerprint magnet, because while the anodised aluminium makes the HP Omen feel like a solid piece of kit, it also picks up the prints and doesn't let them go.
Touch the lid, the inside, and even the bottom, and even though you'll see a pretty textured surface on the outside or a simple panel on the inside, the clean and otherwise minimalist look tends to look a touch dirty once the oil from your fingers shows up.
It's a shame, too, as it's one beautifully designed machine, with HP finally sticking it to Alienware and providing something of a competition in the gaming department. There's more personality than the slim black MacBook-inspired design of the Razer Blade, and the angled edges of the Omen make it look more like a spaceship than even Alienware's extraterrestrial references can nod to.
But it's a spaceship you can touch, and it won't let go of your digits after they've finished touching them. Not at all.
Conclusion
We haven't seen HP enter the gaming space for quite a while, not since the computer company acquired Voodoo a few years ago and came up with the "Blackbird" gaming machine, which it retired some time after.
And yet here we are with a new machine, and one that bodes well for an HP returning to high-end computing.
In our tests, the HP Omen 15 proves itself as a decent option for gamers yearning to be different from the throng buying Alienware, Razer, and the like.
There are still some things HP could do to improve the machine, with a better battery life and a screen with less noticeable flicker, but if you're stuck to the desk and are lucky enough not to see the refresh rate issues (or consequently, if HP fixes them), the Omen is definitely a machine worth taking a look at.
UPDATE (January 19): HP has issued a fix for that refresh rate glitch we mentioned, and with a BIOS update, the issue is now gone. As such, we've updated this review to reflect the changes, bringing the star rating from 3.5 to 4 and including a few lines about the refresh rate issue originally being there, as well as the fix that HP has supplied.
Lovely premium build quality and feel; Unique design; Specs made for gaming, with options for 16GB RAM, 4GB graphics, and 512GB SSD; Speakers that go the full depth of the body; Full HD touchscreen; Massive spacious touchpad and great keyboard with nice travel; Six mappable function keys found on the laptop; Ports are all in the same place (the back);
Mediocre to pointless battery life: four hours if you're doing very little, and even less if you are, or roughly one to two hours for anything fun; Fingerprint magnet;