There are quite a few Ultrabook computers out there that feature a thin and light design, but lack the touchscreen that Windows 8 works well with. HP is here to show those manufacturers a better way, however, with the $999 Pavilion TouchSmart 14 Sleekbook, a laptop with a long name that could go a long way for customers interested in an all-rounder that's light on your load.
Features
The first Windows 8 machine we've seen from HP with a standard Intel Core processor, the HP Pavilion 14 might resemble an Ultrabook at first, but is something different, likely because "Ultrabook" is trademarked by Intel.
Rather, this new Pavilion is called a "Sleekbook," offering a similar thin and light design to an Ultrabook, but doesn't have to stick to Intel's specifications as to what warrants the designation of "Ultrabook."
That said, the insides of this computer aren't drastically different from what normally sits inside the rough-$1,000 section of the Ultrabook market, and thus includes, a 1.8GHz Intel Core i5 processor, 4GB RAM, two USB 3.0 ports, one USB 2.0 port, HDMI, Ethernet, SD card slot, webcam, 3.5mm headset jack, and no optical drive.
While those specs put it close to being an Ultrabook, it also has something in common with the touch-enabled Ultrabooks, as HP has included a 14 inch multitouch display supporting the HD friendly 1366×768 resolution, with the graphics taken care of by Nvidia's GeForce 630M graphics chipset partnered with 1GB of graphics memory.
Unlike other thin and light machines, though, there's a big hard disk to use, with HP relying on a 1 terabyte conventional drive.
Wireless is pretty standard for a laptop here, and you can take advantage of 802.11b/g/n WiFi, as well as Bluetooth.
Performance
While plastic has been chosen as the material across the board for this Pavilion, it's not a bad design altogether. For the most part, this is a thin machine, though it doesn't exactly challenge either the Apple MacBook Air, Samsung Series 9, or Toshiba Kirabook, three machines which set benchmarks for slim laptops.
As far as the mouse and keyboard goes, the inclusion of a touchscreen means it's possible to type or use the mouse with either.
We'll tackle the former first, and over in the keyboard, it's not a bad effort from HP. The physical keyboard is a touch light, but there seems to be enough travel here to satisfy us, more so than many of the Ultrabooks we've seen.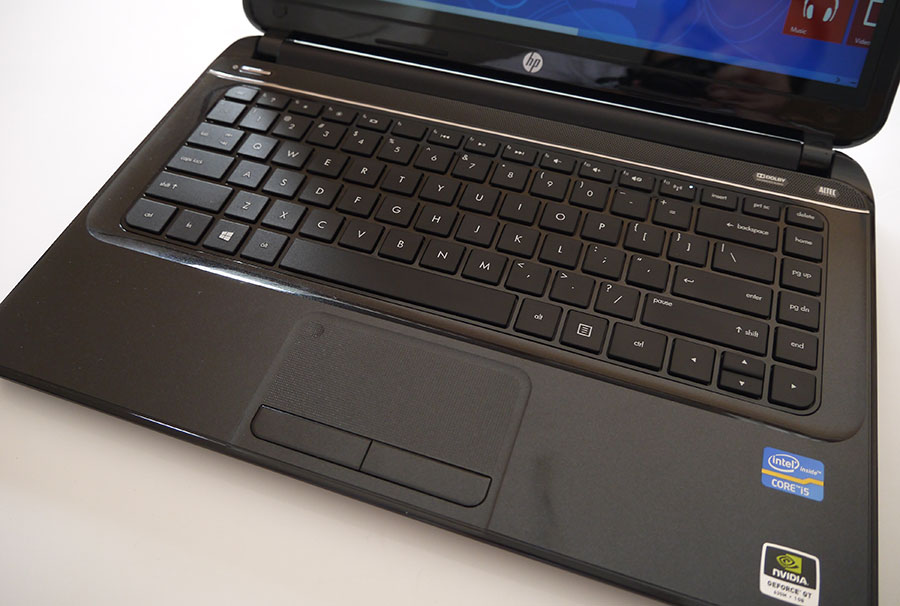 The keys don't exactly have a satisfying click, or not the type we're used to, but the keyboard performed better than we expected, and a decent spacing led to an overall lack of mistakes.
You can also use the touchscreen to type if you so choose, but the hinge isn't the most stable on this screen, and typing will shake it. With results like this endured during regular typing, you can imagine how much movement actually goes on when you type directly on the screen.
If you have no problems with that, the screen is actually very responsive, receptive to touch in a way that would make this panel perfect for a tablet, even if the screen won't flatten in this incarnation.
HP's choice of mouse here is a touchpad built into the plastic wrist-rest of the laptop with a physical grid pattern on it, no doubt to discern itself as being different from the plastic below the keyboard.
With an actual textured pattern here, it's easy to work out where the mouse is for those people who still haven't become accustomed to a fully touch interface. One interesting part of this touchpad is a small dimple in its design which when double tapped switches the touchpad off, normally a function reserved for one of the function buttons at the top of the keyboard.
Here on the touchpad, it makes a lot of sense, though for first time users could prove confusing. At least it means there's no chance of accidentally switching it on through the top keys.