HP has already had a few machines out in 2014 for us to look at, and here we are with a new Ultrabook, promising good looks, good speed, and a screen that goes above and beyond the typical trend for current thin and lights.
Features
A new Ultrabook for a new generation, the HP Spectre 13 takes the Intel Ultrabook standard and puts some spins on it, making it a computer HP is proud to call its own, while still providing enough features to make it a solid Ultrabook competitor to everything else already out there today.
First is the screen, and for that HP is providing a 13.3 inch QHD screen, providing the higher-than-Full HD resolution of 2560×1440 and showing off 220 pixels per inch, ever so slightly under the PPI of an Apple MacBook Pro 13 with a Retina-grade screen.
Next is the keyboard and trackpad, which appear more spacious than some of its competitors, and with a power button up top next to the screen hinge, making it harder to press than those relying on a power button in the regular keyboard design.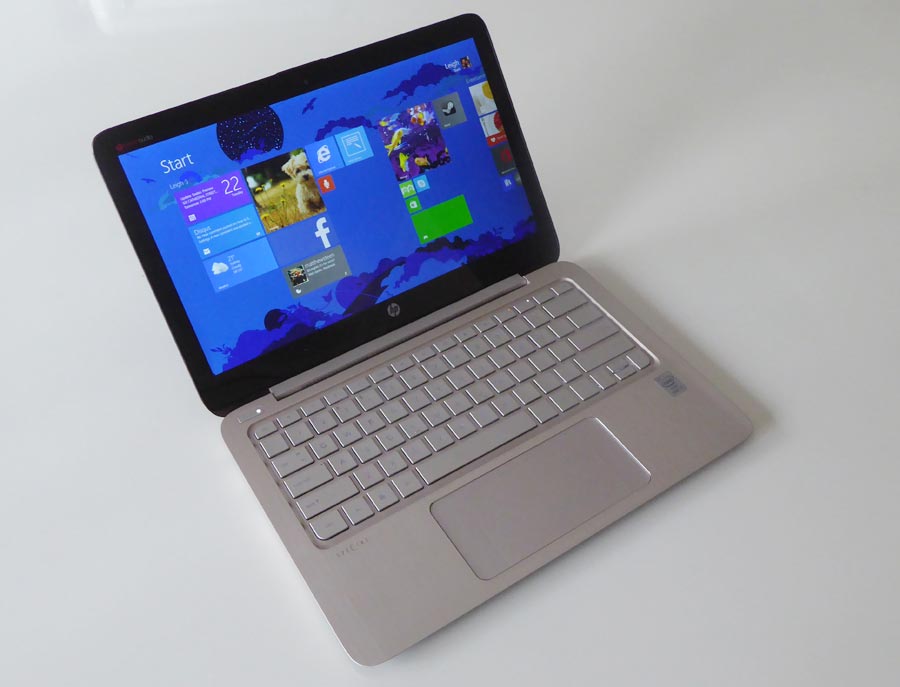 Under the keyboard and trackpad, you'll find a fourth-generation Intel Core processor clocked at 1.8GHz and sitting in the Core i7 set of Intel chips, (i7-4500U). This is paired with 8GB RAM and a 256GB solid-state drive, with all of this encased in a metal body.
Wireless connectivity is handled through 802.11 a/b/g/n, though sadly there's no 802.11ac on this laptop, with WiFi accompanied only by Bluetooth 4.0. No NFC here either, nor is there a wired Gigabit port, making the lack of 802.11ac a touch more disheartening.
Ports are an interesting bunch, with two USB 3.0 ports, a single HDMI, a single mini-DisplayPort, a full-height SD card slot, and then the obligatory headset jack and AC power port.
A webcam sits up top, and a microphone and stereo speakers are also included with support for Beats Audio provided.
The battery is built into the laptop and not removable.
Performance
HP seems to take pride in its designs, and that's a point that is clear on the Spectre 13, with a brushed silver aluminium body and a brown brushed metal lid, both of which look excellent today.
This isn't just another clone here, with the silver metal looking very premium and flagship, while the brown of the top coming together in a way that looks both professional and different, and certainly won't make you be just another person with the same old metal Mac.
In the hands, that excellence in build quality is noticeable with a durable and solid design that feels sturdy.
At around 1.6 kilograms, it's not the lightest 13 inch you're likely to come across, but it still doesn't make too much of an impact on the back or shoulder, keeping the power inside of a unit that is thin enough for most people, and solid enough for everyone else.
Open up the Spectre and the first thing you'll be greeted to isn't the lovely shiny metal keyboard, or the brilliantly bright screen — seriously, we'll get to that in a moment — but rather the ridonkulously big trackpad, and holy crap it is massive.
We're used to the wide and spacious trackpad Apple uses on its laptops, with glass underneath, but HP's Spectre 13 touchpad is in a totally different ballpark, measuring 15cm diagonal, or close to 6 inches in the terminology we're all using for our smartphones.
It's massive, with two obvious control zones on the right designed to help you get used to the side-swiping gestures used in Windows 8, a move that virtually no other manufacturer relying on Windows has tried, and should help to give people an idea of where the charms are on the modern touch-centric edition of Windows.
Multi-touch gestures are also support here, with two-finger zooming, rotating, and right clicking, as well as the three finger drag down to close an app. HP even provides a gesture chart in the box to help you get accustomed to the new way Windows works.
Add to the massive trackpad the excellent keyboard, which has a real firm and solid click to the keys, and reminds us of the sort of keyboard Apple and Lenovo use on their respective laptops. There's enough travel for the keys, and every time you press one down, the spring isn't enough to make you stop typing mid-way through your next word, which is tremendous for people who aren't slow typists.
We wouldn't dismiss using this keyboard to type a book on or two, or even a review, and we should know: we've written one or two of the first, and quite a few more of the latter.