HTC didn't quite nail 2015's flagship phone, so can the 2016 one turn the company around?
Specs
First up, let's deal in the specs, because finding out what is inside this phone is just as important as using one, that way you know what you're dealing with.
In the HTC 10, you'll find Qualcomm's Snapdragon 820, a four-core processor clocked up 2.2GHz and running on a 64-bit architecture, which is also paired with a whopping 4GB RAM and 32GB of storage in Australia. If 32GB space isn't enough, a microSD slot is provided to expand on this.
Google's Android 6.0 "Marshmallow" arrives on this phone out of the box, equipped with the latest incarnation of HTC Sense, which the HTC says is more scaled back than previous versions.
You'll find a couple of cameras here, too, with a 12 megapixel "UltraPixel 2" camera here, which is HTC's fancy way of saying a sensor with a larger pixel size, designed to let more light in when you're taking photos. The pixel size on this rear 12MP camera sits at 1.55 micrometers, and this is matched with a low minimum aperture of f/1.8, laser autofocus and optical image stabilisation.
On the front, HTC has equipped the previous generation of UltraPixel technology, leveraging a 5 megapixel image on a 1.34 micrometer pixel-sized sensor, with its own f/1.8 aperture and optical image stabilisation (OIS). Both cameras are capable of recording video, with the front-facing getting Full HD 1080p video, while the back can handle 4K Ultra HD, capturing the audio in 24-bit if needed.
And that 24-bit audio side of things is one HTC wants to talk about in the HTC 10, with this phone arriving with "Hi-Res Audio certification", an on-board amplifier and digital-to-analogue converter, three microphones with noise cancellation, and support for Dolby Audio. As has been the case on the previous HTC One phones, HTC's BoomSound stereo speakers are included, though the position of one has been moved, with one speaker sitting on the front at the top, while the other sits on the very bottom edge, set up as a tweeter at the top and a woofer at the bottom.
Connections are pretty standard for a flagship device, so expect 802.11a/b/g/n and 802.11ac, 4G LTE supported at Category 9 (450Mbps down and 50Mbps up as a maximum), Bluetooth 4.2, Near-Field Communication, DLNA, GPS with GLONASS, Miracast, and a USB Type C port for charging, data transfer, and video output.
One new connection type has presented itself on the HTC 10, with this phone the first of its kind to get Apple AirPlay support, meaning you can send audio to a device supporting Apple's streaming technology.
All of this sits under a 5.2 inch LCD, providing a resolution of 2560×1440 or "Quad HD", and delivering a pixel clarity of 564 pixels per inch, over 200 higher than that of Apple's original Retina-grade number. The screen is protected with a slightly curved variant of Corning's scratch-resistant Gorilla Glass.
On to the casing, and you'll find a solid aluminium body here, holding in two physical buttons, with the volume rocker sitting above the power button along the right edge.
Three soft buttons sit under the screen on the front, providing a back, home, and multi-task button, with no tactile feedback for the back or multi-task, while the home delivers haptic vibrating responses and a fingerprint sensor.
Ports are fairly standard for a modern Android smartphone, especially one released in 2016, and you'll find a 3.5mm headset pin ejectable trays for the microSD and nanoSIM slots on either side, and a USB Type C port at the very bottom of the handset.
The battery on the HTC 10 is rated at 3000mAh and is not replaceable.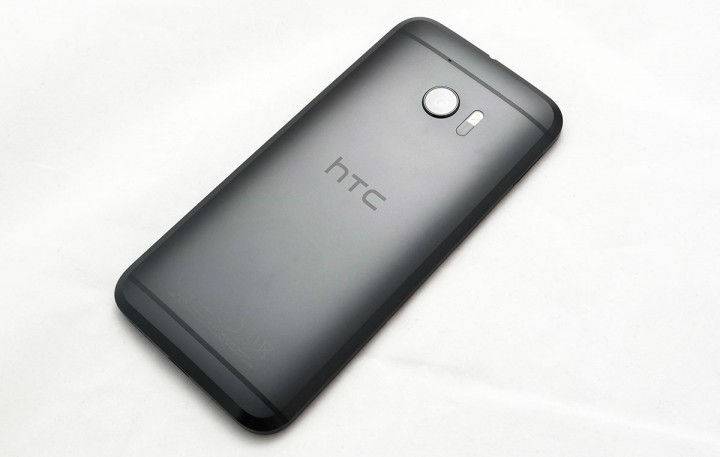 Design
HTC has always had some good ideas with regards to design, and as the first company to really embrace metal one-piece bodies, we've come to expect some good stuff from the brand.
The One M7 from 2013 was lovely and the One M8 from 2014 was a beautiful metal phone that was just hard to take your eyes off, but last year's One M9 (2015) really dropped the ball, and heavily too: it was a bit of a clunker, with a solid two-tone metal body that felt heavy, almost as if you were carrying a beautiful brick.
And it was beautiful, but it wasn't comfortable, while the design started to be tapered and tailored to someone looking more for bling than minimalism. At least it looked like an HTC, though, because it's important for a design team to inject their personality in the device.
This year, the HTC 10 is a rather curious effort in that department simply because it looks a little like the lovechild from an odd relationship between an Apple, a Samsung, and an HTC, with elements that seem both familiar and foreign, simply because you know them — we all know them, and we see them every day — but they don't feel like they belong on this device.
Take the front, for instance, with a long slit of a speaker. Gone are the dots that made up the BoomSound speakers, of which there used to be two on the front. That was actually one of the best features about the previous three generations of HTC flagships, and it's still technically here, but it's not the same, with one speaker moved to the bottom of the device and the only one left up top now a slit like that of the iPhone.
And if you look at that top, it looks kind of like an iPhone, albeit a slightly smaller take.
Then there's the bottom, with soft buttons that have returned, a move that HTC says it has done because customers wanted it.
Who are we to complain? Frankly, we could go with either, but soft buttons can give you a sense of familiarity, helping you to recall where to leave your fingers when you want to press back or start the phone up if you're holding it at the bottom of your hand.
But what's with the softened rectangular home button in the centre of the panel, HTC? That looks like it has been taken right from Samsung.
About the only part that doesn't really exude any other company is the back, and it's quite clear looking back on the previous One phones that this is HTC's design language, with a soft curved arch on the rear and antenna lines that are clear and pronounced.
That stuff on the front, though, that's not the brand, and feels like the company doing a bit of a "me too" and trying to see if it can incorporate the best of both worlds, because both Apple and Samsung are dominating the marketplace as far as phones go, and this feels like an attempt to capitalise on that.
It does look very thin, something HTC has turned into a bit of an illusion since the edge is thin but the body still curves off at the back, raising that 3mm thin edge off the table but keeping the thickness at around 9mm. It's a neat trick, but one your jeans pocket will still acknowledge in the positive.
At least the body is made from solid metal, so that's nice, because with chamfered edges and a different in metallic texture, you can at least be assured it fits nicely in the hands, even if it is quite smooth and a touch slippery, though that seems to be a certainty in modern phones.