Mobile World Congress is on overseas, and that means it's time for mobile news. We've already had a dose of Samsung this morning from the event, and now it's time to see what HTC has in store for people keen for a new mobile.
And this year, that new HTC will be called the M9, or "One M9" to be precise, as HTC keeps its "One" moniker around for another year, but keeps the model variant in to make the naming convention a little easier to recall.
For those unsure of what the "M" means, the 2013 One was called the M7 in tech circles, the 2014 One was known by M8 if you looked at what sat in parentheses, and this year's is the M9.
So what's different about it?
For starters, there's a new processor, as HTC takes the road commonly travelled by handset manufacturers with the very latest chip, upgrading to the octa-core Snapdragon 810, a 64-bit processor running two quad-core sections with four cores at 2GHz and four more at 1.5GHz.
Google's Android 5.0 "Lollipop" is also here, and HTC knows all too well that Android tends to have a preference for a solid amount of memory, with that sweet spot being roughly 2GB. As such, there's 3GB here to deal with any excess, and storage set to 32GB, though this last part is upgradeable with microSD.
Most of the connectivity options are pretty much left unchanged, with WiFi 802.11a/b/g/n/ac, DLNA, Near-Field Communication, GPS, HDMI running over MHL 3.0 via a microUSB port, 3.5mm headset jack, and 4G connectivity, though Bluetooth has been updated to the latest variant, Bluetooth 4.1.
The screen remains pretty much the same, with a Full HD 1080p 5 inch display here. While this will still offer close to 441 pixels per inch in terms of viewing quality, it's a shame to see no major updates here, especially as Samsung closes the gap with more pixels per inch in its Galaxy S6. 
There's also a reliance on that metal body from last time which we hear has had some refinements to make it "jewellery-grade", though what that means we're not entirely sure. That said, it's still a body made totally of metal, with what we're told are "mirror-polished" sides.
So much for using that selfie camera for checking how you look.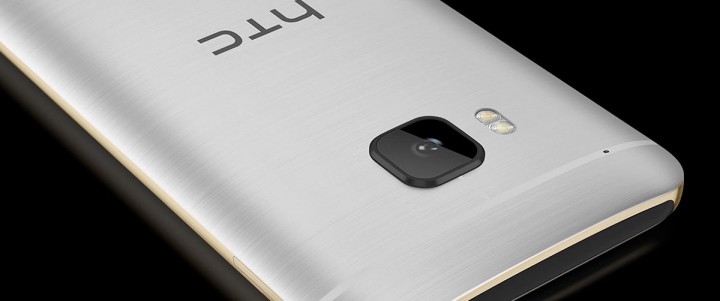 Speaking of selfies, cameras have always been an important part of the HTC One make-up, and we're seeing a slight change in direction this year.
For the past two years, HTC has focused on its Ultrapixel low-light technology for the back camera, even switching to a dual-camera setup for last year's One M8. This year, that focus is gone, with the 4 mega— sorry, Ultrapixel technology appearing on the front-facing selfie camera with an f/2.0 aperture, while the rear camera grabs a 20 megapixel sensor with an aperture of f/2.2 and 4K Ultra HD video capture.
Interestingly, HTC is also relying on sapphire lens covering here, meaning the camera should be well protected if the phone takes a tumble.
One other feature for the phone grabs us, and that's the ability to play back 24-bit audio, as HTC joins Samsung, Sony, and LG with this feature. HTC does support BoomSound speakers, mind you, and they're here too, with Dolby Audio employed, too.
"HTC has built its reputation on challenging expectations in the mobile industry," said Cher Wang, Chairwoman at HTC. "The HTC One M9 accomplishes this once again with stunning elegance and design, combined with smart features that help bring your world to life, connecting you in a deeper way to the things you consider most important."
"So much more than just a phone, the HTC One M9 is an extension of who you are."
Neither pricing nor availability are known for Australia just yet, but we suspect this won't be too far from April, given Samsung is focusing its own flagship on a release for that time.