It hasn't exactly been HTC's best kept secret, but the news is finally out, and HTC's new "One" flagship for 2014 will keep the name from 2013, but change nearly everything else.
A new handset for a new year, HTC is a little late in announcing the star device that will take on phones from manufacturers such as Sony and Samsung, both of which announced new devices a month ago at Mobile World Congress in Spain.
Still, the time has come for HTC to tell the world what it has been planning, with the company doing that overnight in New York, and giving us a briefing before hand.
"The whole philosophy hasn't changed," said HTC's Head of Product Marketing for South Asia, Darren Sng, adding that HTC's goal was "to make it simple." Now with a new year dawning, the company plans to "make the phone even simpler."
First up are the specs, and those are right on par with pretty much everything else you'll be seeing from any other manufacturer this year that doesn't have its own chip production plant. There's Qualcomm's most recent revision of the Snapdragon chipset, the Snapdragon 801 clocked at 2.5GHz, with 16GB of storage and — in a first for the HTC One handset — the inclusion of a microSD slot capable of expanding the memory with a 128GB microSDXC card.
All the typical connections are included, with 802.11a/b/g/n/ac WiFi, Bluetooth 4.0, Near-Field Communication, infrared, and of course 4G, though HTC has updated that last one to support Category 4 (Cat4) LTE connectivity, with support across both TDD and FDD LTE, which means it will work on any 4G network in Australia, including Telstra, Optus (TDD support there), and Vodafone (Cat4), which is good since we're told all carriers will have the handset.
The battery is apparently up to 40 percent better than last year's HTC One, with a 2600mAh module that you cannot remove, though it will charge to 80 percent in under an hour, similar to the RapidCharge technology found on Lenovo's laptops. We're told an "extreme power" mode is also coming, making it possible for the phone to survive on standby for ten days, though you can't use your phone much in order to make this work.
All of this sits under a 5 inch Full HD screen, protected by Corning's third-generation Gorilla Glass technology, with support for knocks to bring the handset back from standby (similar to what LG used in its G2 and G-Flex handsets), while swipes will also bring the phone back from standby directly into different modes too.
The camera has also changed slightly, with a revised and redeveloped Ultrapixel camera, which HTC claims can bring in as much as 300 percent more light than a sensor on a competing device like the Samsung Galaxy S4. The new camera technology on-board makes it possible for some super quick camera speeds, with one second for the camera to launch, a third of a second to focus, and what we're told is no shutter lag. Need a lot of pictures at once? There will be an 11 frame per second burst mode.
But it's not just the new sensor that does it, and HTC has brought in a second camera lens that sits above the regular one on the back, a camera that takes additional information to let you get depth information, with the HTC One handset able to determine the difference between the foreground, background, and more, and let you focus after you've taken the photo, similar to what Lytro engineered with its Lightfield technology.
We're told its completely different from what Lytro used, which is hardly surprising given the HTC One isn't as deep as a Lightfield camera, but HTC plans to let you do similar things, defocusing and refocusing when you want to, as well as adding effects. You can add a colour filter to the background, and then do something else to the foreground, or even add seasonal effects, such as snowflakes or falling leaves, with the camera foreground-background difference engine able to determine when the effects should pass behind the subject.
"The most popular camera phone in the world is the iPhone [5S], and we think we will trounce this," said Sng.
Technically, the Ultrapixel size hasn't changed, though, with 4 megapixels still shot by the HTC One, the new One that is, which will apparently be a higher quality 4 megapixel sensor than the one used previously in the 2013 HTC One.
That could be a downside since 4 megapixels isn't much against what its competitors will offer, though HTC has changed the front camera dramatically, shifting from the 2 megapixel in last year's phone to a 5 megapixel in the new one, resulting in some of the highest resolution selfies you can find. It's actually kind of strange to find a front-facing camera have more megapixels than a rear camera, but the sensors are dramatically different, so neither camera is really in the same league as one another.
Beyond the camera, you'll find louder BoomSound front facing speakers, which HTC says is up to 25 percent louder with more detail and clarity present thanks to new amplifiers. The home screen experience has changed too, evolved thanks to the latest version of HTC's Android overlay, Sense 6, with colour coded applications and a better and enhanced version of Blinkfeed, while an "easy mode" will also be present for those who, well, like to take it easy.
All of this sits in a body made from one piece of metal, and this appears to be an evolution of what HTC made last year. The design is more rounded, and definitely firm. You can try twisting it, bending it, or force it to creak, and it just won't, with the full metal wrap unibody feeling absolutely solid, and helping to make metal one of the primary material of the HTC One's construction.
"When you hold it in your hands, you realise it's just a work of art," said Sng.
Hands on with the handset and Sng isn't far off, as the new adopts the brushed metal look that Samsung has occasionally dabbled with on its plastic Galaxy S handsets, but fixes the formula by using metal. It's a tad slippery, but it feels really lovely, and reminds you of that first time you picked up an iPad or MacBook Air and realised that, yes, gadgets really do work well in metal.
One thing isn't changing much, and that's the name, with "HTC One" still here for 2014. Officially, the name will be "HTC One" with the "M8" moniker, since that's the code for the 2014 edition, but it's a name that could confuse some.
But we think we get why: the 2014 HTC One feels less like a totally new phone, and more like a perfection of everything HTC was trying to achieve last year. The body is firmer, the specs are faster, the camera is better, and all up everything feels tighter, but rather than be a new phone, it's just the company's way of perfecting last year's device, which was for many — us included — one of the best smartphones of the year.
We do like one of the extra features HTC has added this time around, though, and that's support for a flip case that can be used while the flip is closed.
HTC's own flip cases for the One (M8) will have small holes drilled into them, but when used with the One handset, you'll actually be able to swipe and used parts of the handset through the flip case, protecting the screen while you use the handset. HTC has made the interface uber-geeky for this to happen, dropping the on-screen graphics to something more akin to 8-bit graphics, with pixelated phone and weather icons, but it could make it a really good option for people who love keeping their screen void of fingerprints and scratched, and still letting them use the phone.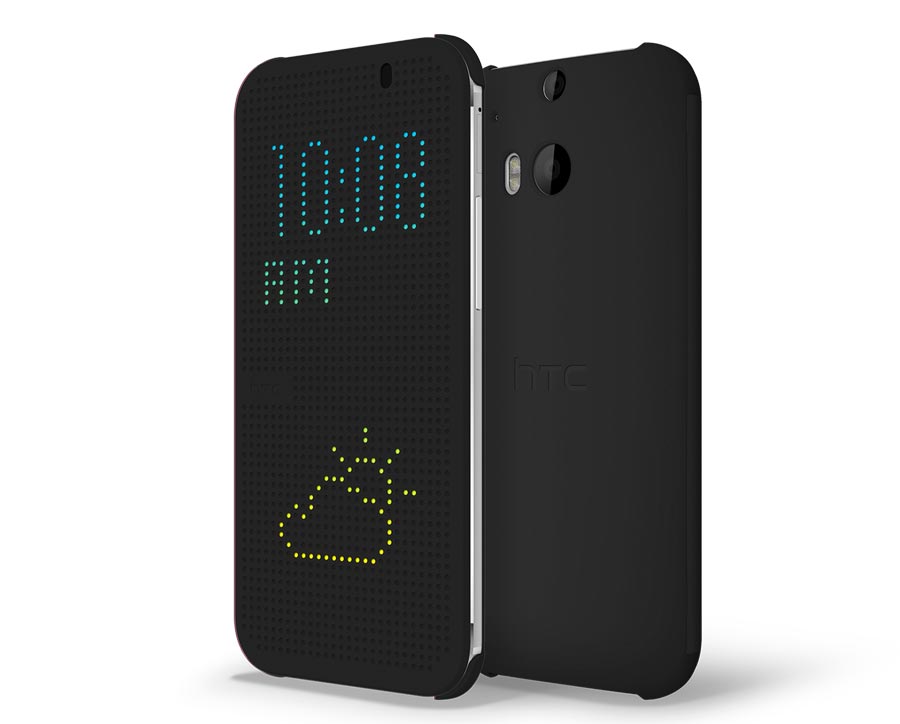 While no one was looking, we did have a bit of a sticky beak and run the new One through a quick benchmark, scoring an impressive 26947 in Quadrant, which tells us this is one fast little smartphone, and should go the distance easily for the next year, if not two.
If the phone is holding your interest more than models from competitors, its launch is pretty soon, with a release date of April 1st (no fools here), and made available across every major network in Australia (Telstra, Optus, Vodafone). Outright pricing is also available, with the phone coming in at $899.