The first Windows Phone 8 device from HTC, the 8X is the company's flagship model, bringing with it a high-speed 4G connection, anti-slip coating, and a balance that makes it feel like an awesome piece of kit upon first glance. Does it live up to its feeling?
Features
HTC's only 4G Windows Phone 8 device for the year, the 8X is the company's best chance to fend off any consumer desire for a 4G Windows Phone, of which there are a few, including the recently reviewed Nokia Lumia 920.
Each handset is different, understandably, but thanks to the control Microsoft has exerted on the Windows Phone operating system, there are some obvious similarities.
Most of these can be spotted if you open it up, as this flagship phone sports the exact same processors and graphics chip as what was in the 920, with the dual-core 1.5GHz chip, Adreno 225 GPU, and a serving of 1GB RAM.
Connectivity is much the same, with 4G LTE being served up on the cellular and modem front, and WiFi 802.11 a/b/g/n handled over dual-band, alongside Bluetooth 3.1 with A2DP, GPS, Near-Field Communication, and a microUSB port for sending data to and from a computer or charging a device.
Outside of these specifications, things change, as the Windows 8X brings with a completely different design, screen size, display resolution, chassis, and set of cameras.
Unlike the Lumia 920 with its 4.5 inch 1280×768 screen, the HTC 8X features a 4.3 inch 1280×720 HD screen managing a Retina-busting 342 pixels per inch, all of this protected by Corning's second-generation Gorilla Glass.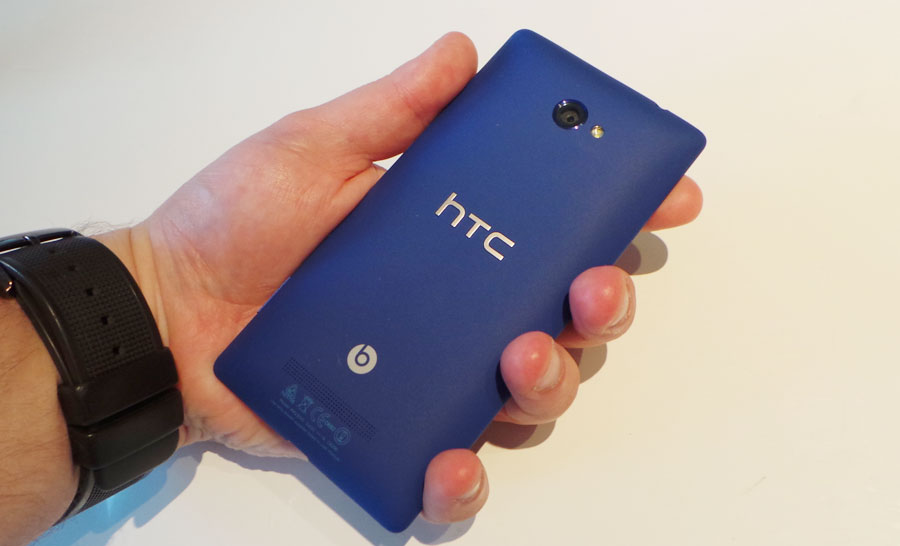 The design is totally different from Nokia's offerings, managing a smaller body still made of plastic, but treated in a stiff material that's there to increase grip, completely different from the slippery surface found on Lumia.
HTC's cameras aren't the same either, going with the identical 8 megapixel resolution on the back, but sticking a 2.1 megapixel module on the front with a wider field of view for the lens, designed for making better self-pictures, also called "selfies."
The HTC Windows 8X only comes in one configuration, with 16GB storage built-in and no microSD storage. The battery sits at 1800mAh.
Few physical buttons exist on this handset too, pretty much the norm these days, with a power button up top, and everything else on the right side, including a volume rocket, and a camera activation and shutter button. The three soft buttons of Windows Phone are here along the bottom, too, with back, Windows home, and search all supported.
The microSIM card slot sits just above the volume rocker, and can be ejected with a SIM ejector tool, while the 3.5mm headset jack sits on the very top near the power button.