It can be hard to discern the difference between flagship phones these days, but HTC is hoping to sweeten the deal with a focus on design, sound, and camera quality to make its 2016 phone the best of the bunch.
There's no doubting that mobile buyers are certainly spoiled for choice when selecting a phone these days, what with the likes of Apple, Samsung, Sony, LG, Huawei, Oppo, Motorola, Microsoft, and a few others fighting for a piece of the action, squabbling over your hand in an effort to be your device of choice for the next year or two.
HTC has been in that running for a long time now — longer than most, thanks to its Windows Mobile smartphones — but in the past year or so, the brand has dropped a peg or two.
That's a shame, too, because up until 2015, the company was producing some solid phones with great features few could match. It was practically the first company to build an aluminium phone, and it was the first smartphone maker to increase the size of camera sensor pixels to let in more light.
It even managed to help its customers do away with the Bluetooth speakers thanks to loud "BoomSound" stereo speakers, something no one saw coming and is still seen as one of the better inclusions for a smartphone to date.
We loved the HTC One M7 in 2013 (left), and the One M8 in 2014 (middle), but in 2015, things got a little boring, and HTC played it safe when it came to smartphones with the One M9 (right).
"2015 was a challenging year for HTC," said Ben Hodgson, Country Manager for HTC Australia and New Zealand. Despite this, Australia's head honcho for the major phone company promises to be different.
"The claims that we'll make are bold, but we honestly believe we have the most advanced phone on the market," he said.
And here it is, the phone that will make those claims: the HTC 10.
Forget the "One" branding, and move past the "Desire" because that one sits in budget and mid-range territory now.
Rather, HTC's latest phone is just the "10", and it is essentially a complete reinvention of the HTC flagship phone.
That's not a small comment, either, because while you might automatically assume new phones are a minor bump in design and spec, for HTC, the 10 is about getting smartphones to the point where they can be a thing of both power and beauty.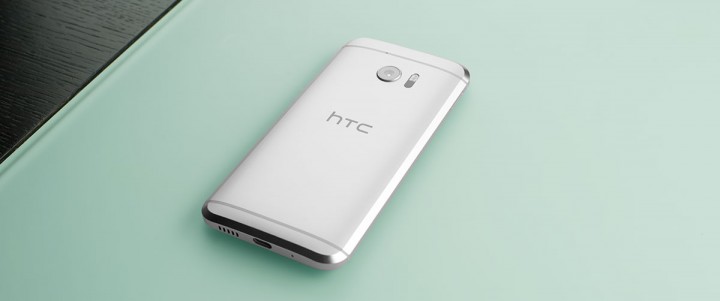 For starters there's the grunt, and for that HTC has turned to the Qualcomm four-core Snapdragon 820 processor clocked up to 2.2GHz and paired with 4GB RAM and 32GB storage.
Google's Android 6.0 "Marshmallow" runs on this phone out of the box with some minor improvements from HTC Sense, though that's an area HTC is keen to talk about, scaling back on the interface and culling the extraneous apps you normally get, so you don't get two web browsers or two audio apps, but just the one, with Google supplying those.
MicroSD can expand the storage if need be, with support for up to 2TB cards, mythical as they may currently be, and the HTC 10 will also support a technology called "Flex storage" which will treat the both the phone's storage and the card as the one drive, letting you take advantage of the full amount for apps and games, while also making the whole system a little more secure thanks to encryption.
Connections for the phone are pretty solid for a flagship phone, with 802.11a/b/g/n/ac WiFi, Bluetooth 4.2, GPS, Miracast, DLNA, Near-Field Communication, and Category 9 4G LTE supporting up to 450Mbps download speeds, but you'll also find one new one and one surprise, with USB Type C used for charging the phone and getting data and video out — that's the new one — while the surprise is support for Apple AirPlay, something we've not yet natively seen on an Android phone.
Cameras are also fairly high end, with HTC bringing its "UltraPixel" technology to the new phone, boosting the tech to UltraPixel 2 on the rear 12 megapixel camera, while the front gets 5 megapixels of the original UltraPixel technology.
Worth noting, though, is that jumping from the HTC One M9 from 2015 to the HTC 10 for this year has meant a drop in megapixels, with a reduction from 20 megapixels to the aforementioned 12. Despite this change, the pixel size has increased and the aperture range has gone up, with more light let in to the tune of 136 percent.
That's a result of an improved sensor, a more light friendly piece of glass, and even some special sauce on the part of optical image stabilisation, which HTC says makes it one of the best cameras in a phone to date, a fact that the DxO sensor analysis backs up with a rating of 88, on par with the Galaxy S7 and S7 Edge.
"We're pretty confident we're deliver the best camera experience," said Thomas Dexmier, Marketing Director at HTC in Australia.
The front-facing camera running at 5 mega— sorry, UltraPixels — makes gets the optical image stabilisation treatment, too, meaning any excess hand movement should be countered, also assisted by a wide 86 degree lens.
Video capture can be grabbed in 4K Ultra HD as well as the Full HD side of things, and the audio can even be recorded in 24-bit, which is definitely a first on the smartphone side of things.
And because you get 24-bit audio capture, you also get 24-bit high-resolution audio support, meaning if you buy 24-bit lossless audio, it will work on this phone, and do so with the assistance of 24-bit DAC and headphone amp, which HTC says can even adapt to your ears thanks to a "personal audio profile" that can be tuned to your sense of hearing, ideal if you hear bass better on one side of your head than the other.
A surprise is also in the box, with 24-bit in-earphones included here, offering a little more value that could let you hear more than your regular pair of el-cheapo earbuds or earphones.
And all of this sits under a 5.2 inch display protected by curved 2.5D Corning Gorilla Glass. The screen here is pretty high-end and exactly what last year's HTC flagship should have offered, delivering the Quad HD resolution of 2560×1440 and a pixel count of 564 pixels per inch, 200 higher than the iPhone 6S.
The screen speed has apparently been tightened up, making for what HTC claims will be a faster experience when using the phone, while physical buttons have been brought back to the device below the screen, delivering a fingerprint sensor that is also a home button, flanked on each side by a back and multi-task button.
Finally, there's that whole "beauty" side of things, and for the HTC 10, you can expect a metal body with chamfered edges and two textures, offering a shiny edge and more of a matt finish on the back delivering what the company says is a "sculpted by light" concept.
The thickness is interesting too, with an obvious edge of 3mm amidst a curve back to give off the impression that the device is thinner.
"I'm confident this is the best HTC smartphone we've ever produced, and we think it's going to resonate well with HTC customers," said Ben Hodgson.
We won't say too much ahead of a review, but there definitely things that grab attention with this phone, specifically because the features appear to be pretty well-rounded for taking on the competition and providing a bang-for-your-buck smartphone, even from the first glance.
In particular, we're intrigued by the camera which boasts the largest sized pixels of any of the smartphones and some pretty solid speed, delivering a camera-on time as quick as 0.6 seconds and allowing would-be smartphone photographers to capture images in RAW and 4K videos with 24-bit audio.
The 24-bit side of things is definitely interesting as is the inclusion of a DAC and headphone amp, but even something as basic as 24-bit in-earphones grabs us, simply because phones usually arrive with terrible earphones, and HTC is promising something better in the box.
It's also pretty, albeit a little derivative — kind of like what would happen if Samsung and Apple merged on the front, while delivering full HTC on the back — though the package does appear to be pretty solid on the whole, so the company may well be able to pull it off in a great way.
We'll know soon enough, though right now pricing and availability has a bit of a question mark on it for concrete dates and times.
Currently, HTC Australia is saying we should be able to expect pricing in the coming weeks, with availability in May. Telstra has already chimed in to say it will be ranging the HTC 10, and we'll let you know any other telco when we find out.
For now, if you were looking at updating phones, you now have one more in the mix, and are totally spoiled for choice.