Mid-range phones aren't known for being thin or having great mobile speeds, and budget phones even less so, but a new phone from Huawei appears to buck that trend, especially with a $320 price.
Features
A new value packed phone for people keen to get the most out of their mobile provider, Huawei's Ascend G6 aims to deliver the mobile web at blazing speeds, but not expect you to shell too much out of your wallet.
Inside this phone, you won't find one of Huawei's own home-built chips, with the company switching to the Qualcomm Snapdragon 400 chip, a similar chip to the one HTC used in its One Mini last year, though Huawei is relying on a quad-core variant clocked at 1.2GHz, different to the dual-core 1.4GHz version HTC used.
Memory on this handset clocks in at 1GB RAM, while built in storage sits at 8GB, with a microSD slot available to expand this considerably. Graphics are handled by the Adreno 305 chip, and Android 4.3 "Jelly Bean" runs on this handset, with Huawei's Emotion UI overlay for Android provided here.
Connection options are handled through 802.11b/g/n WiFi, Bluetooth 4.0 with A2DP, Near-Field Communication, GPS, and Category 4 4G LTE, making download speeds as high as 150Mbps possible (telco permitting). A wired port is also provided in the form of a microUSB port, the way you charge and transfer data to the handset.
Cameras are also here, with an 8 megapixel shooter on the back with an LED flash accompanying it, while the front facing camera comes in at 5 megapixels.
Covering this technology is a plastic casing measuring 7.9mm thick, weighing 115 grams, and supporting a 4.5 inch In-Plane Switching (IPS) screen running the qHD resolution of 960×540, which itself shows a pixel clarity of 245 pixels per inch.
Ports and buttons are limited on this handset, with a 3.5mm headset jack on the bottom left, the microUSB port at the top, and three soft buttons sitting under the display, supporting back, home, and menu options. Physical buttons can also be found on the right edge, with a volume rocker sitting just above the power button.
The rear cover of Ascend G6 is removeable, showing the microSD and microSIM slots beneath, as well as the battery, which is built into the body and cannot be removed.
The battery is rated at 2000mAh.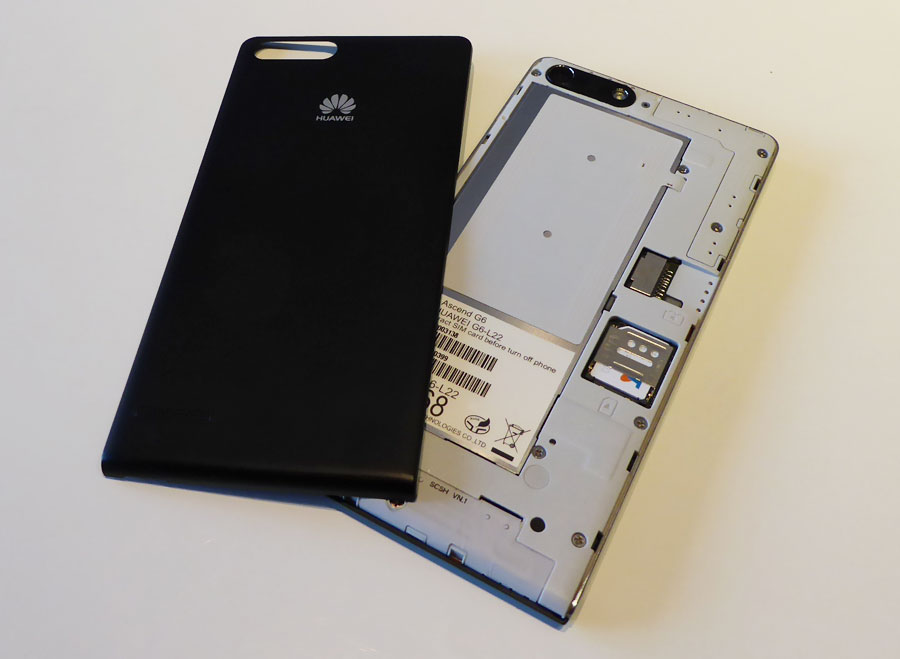 Performance
Huawei has found some successes with previous phones, usually in the mid-range area, but the company doesn't always connect great design with great technology.
Take the Ascend P2, for instance, which had a ho-hum design but some excellent speeds for the $504 price. And then there was the Ascend P6, packing in a design that slimmed the body down to 6.2mm, but missed out on the 4G connectivity.
But the benefit of releasing all of these models is that Huawei can merge them to create new products, and that is more or less what the company has done with the Ascend G6, a slightly-more-than-budget smartphone that borrows from the style set out in the P6 — as well as the cameras used in that model — and matches it with some high-speed mobile connectivity seen in the P2.
Take it out of the box and you'll find a phone that looks very similar to the Ascend P6.
We're not really surprised, and the naming convention gives it away — from P6 to G6 — but there are some differences. Most notably, there's a plastic casing, skipping out on the aluminium used in the P6 and going with something a little less exy.
Despite this change, the simple bar phone look is retained, with a smooth and circular end that won't help it stand up by itself on a table or desk, but still manages to look sleek and modern in today's world.
The shift to plastic has also changed the sturdy design from the P6, but it's still strangely comfortable, and is easily one of the lightest mobile handsets we've felt all year, with a balance across its 115 grams that just works.
We're still not huge fans of the 3.5mm headset jack at the bottom of the left edge, though.
It's an odd location, because while the bottom works for pulling the phone out right side up, the side seems like an odd place to have your headphone connector come out at, and depending on the pair of headphones you're using, this could look totally fine, or absolutely stupid.
Moving onto the handset, you need to switch it on, and the button placement has been nailed, with an obvious location on the right edge that's easy to grip.
When switched on, the phone will spring to life and show Huawei's Emoton UI, the company's very own interface to Android that brings with it a look merging that of iOS and Android. We'll get to more about this later, but just as it was when Huawei introduced it on the Ascend Mate phablet, the feel of this interface is less about stock Android, and more about the constantly sliding menu system that Apple uses in its devices.
That said, it rarely gets in the way, letting you make phone calls, text friends, email, surf the web, be social, and more or less use the phone the way you want to.
Using the phone to surf the web and watch videos, you'll find the Ascend G6 to be excellent in this regard, as its 4G modem just does a tremendous job.
Testing it on Telstra's Category 3 4G network (because only Vodafone supports speeds of up to 150Mbps on Category 4 at the time this review was published), we found speeds as high as 80Mbps, which isn't too shabby for the cost of entry.
We'll also give credit where credit is due, and Huawei totally deserves it for the battery in the Ascend G6.
Given the size of the cell, it is very impressive that our testing revealed a day and a half of life was possible, reaching near to the end of two working days.
That means if you use your phone a little less than our several push accounts do, and don't surf the web as much or are as heavy on social networking, music services, phone calls, and the like, you'll see two days of usage on the Ascend G6 without a problem.