Fancy a big phone with a huge price? Huawei may have the handset for you, and it may even have a leg up on quite a few of its colossal competitors.
Features
Huawei's latest handsets is the Mate 7, a big phone that joins Huawei's "Ascend" range of phones, and aims to deliver a phone for people who value the word "value," and who demand quality but don't necessarily want to fork out the high prices many smartphones ask for.
As such, the Ascend Mate 7 relies on home-grown technology that can deliver similar specs to the big phones, with a Huawei oct-core chip made from two quad-core bits of silicon, pushing out processor speeds of 1.3 and 1.8GHz, similar to what Samsung does with its chips in Galaxy Tab products like the Galaxy Tab S.
This is paired with 3GB RAM and 32GB storage, though microSD can expand this thanks to a very unusual microSD slot that you might be able to take advantage of, but we'll get to that shortly.
Google's Android 4.4 "KitKat" arrives on the Ascend Mate 7 out of the box, decked out with Huawei's Emotion UI version 3.0, an Android overlay designed to look like it's had a sprinkling of Apple's iOS applied to it.
Connections for the Ascend Mate 7 arrive in the form of 802.11a/b/g/n WiFi, Bluetooth 4.0 with support for A2DP and LE (Low Energy), as well as GPS, Near-Field communication, and 4G LTE working over Category 6 technology making download speeds as high as 300Mbps with the technology also compatible with Category 4's 150Mbps technology, too.
Cameras look to be fairly reasonable, too, with a 13 megapixel rear camera found on the Mate 7, while a 5 megapixel front-facing camera is there for selfies. For video capabilities, you'll find that both the front and rear cameras can handle 1080p Full HD.
Huawei has also done something interesting with the SIM card slot, or rather "slots" as we should say, providing access for two SIM cards with the Mate 7 using either a microSIM tray and/or a nanoSIM tray that sits inside of the microSD tray.
Because of this dual-card tray, you'll find you can have a rather unusual set of combinations, with a microSIM and microSD working in the phone, a microSIM and a nanoSIM, or just a nanoSIM and no microSD, making it a handset with a rather unique set of connection options, and one that may affect how you upgrade the memory of the handset.
It also arrives with a fingerprint scanner on the rear side of the handset for unlocking the smartphone.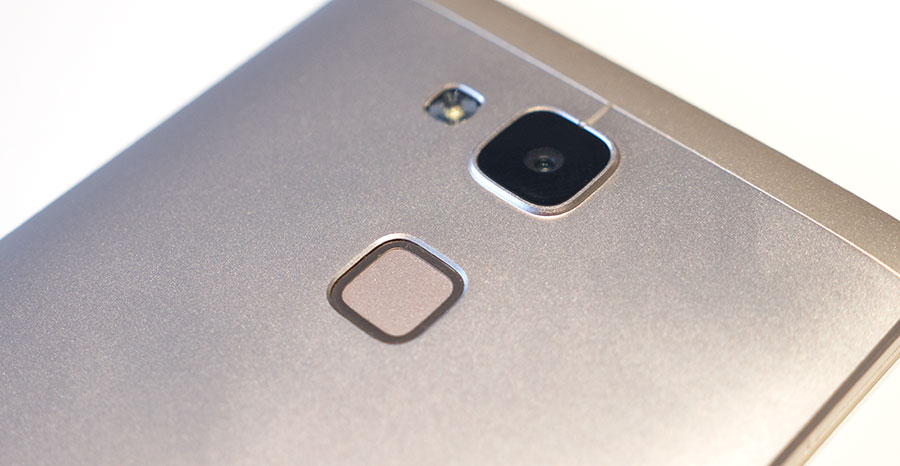 All of this sits under a 6 inch In-Plane Switching (IPS) screen sporting the Full HD resolution of 1920×1080, and relying on a pixel clarity of 367 pixels per inch, a little over 40 higher than what the iPhone 5S and iPhone 6 display.
The chassis for the body is also mostly metal, as Huawei relies on aluminium for 95 percent of the phone, the rest generally being the glass covering the screen, with Corning's scratch-resistant Gorilla Glass 3 protecting that display.
Finally, there's the battery which sits at a large 4100mAh and is not removable.
Huawei also includes some rather interesting inclusions in the box, such as an already-applied screen protector, a flip case with an NFC-enabled window cover, and a microUSB to microUSB converter for charging other devices from the phone itself.
Performance
Phablets or "tablet-sized phones" aren't liked by everyone, but if you love the idea of a big phone, you know what you're looking at. In this part of the market, Samsung reigns supreme, practically creating the section with its Galaxy Note devices, and joined later on by Sony with its Xperia Z Ultra, HTC with the One Max, and even Apple with the iPhone 6 Plus.
But before most of those players joined Samsung, there was Huawei.
Chinese manufacturer Huawei actually entered the phablet space before many of the others with a product called the Ascend Mate, which Australia has seen one of the two versions released. Back when these were released (Mate and Mate 2 smartphones), the Mate was more of a mid-range option to Samsung's flagship entry, providing a big screen to people who wanted that, but not necessarily the pen or the high specs Samsung was providing.
This year, though, the Ascend Mate is a different beast: it's actually premium.
Forget the plastic, because Huawei is thinking metal. Don't think slow with 3G, think fast with 4G. And then add a bunch of other things you wouldn't necessarily expect a not-quite-Galaxy Note to have, such as a fingerprint scanner, Category 6 internet, two SIMs, a 13 megapixel camera on the back and a 5 megapixel camera up front, and a whole load of customisation options for making Huawei's operating system yours.
There's even a case with window in the box, and a converter to make the microUSB charge and data port into something you can plug standard USB drives into.
The features are packed into the Ascend Mate 7, they really are. Now, is it any good?