The Mate 20 Pro is the latest in this tech giant's quest for world smartphone dominance. It has a smartphone in every niche from value to flagship. And oh, what a flagship!
The Mate 20 Pro is the best flagship of 2018 by quite a margin. We suspect it will remain so for some time to come. Well, at least until the 2019 flagships arrive and frankly, they have much catching up to do. Let alone introduce as many innovations as Huawei has.
Update: HUAWEI Mate20 Pro Wins "Best Smartphone" at Mobile World Congress Barcelona 2019

The HUAWEI Mate20 Pro was named the "Best Smartphone" in recognition of its powerful performance, outstanding camera system, long battery life, innovative charging solutions and striking design. This coveted accolade serves as a testament to Huawei's leading technologies and its commitment to delivering the best products and user experiences to consumers around the world.
GadgetGuy uses a well-developed and robust paradigm to avoid the temptation to compare Huawei with Apple
Well, the latter is a closed iOS ecosystem, so it is not fair to compare with Android anyway. We use paradigms to ensure the absence of brand bias. We are 100% independent, we don't charge for reviews, and we abide by a strict Journalist Code of Ethics. We are not bloggers paid to write reviews!!!
Let's just say that the Flagship paradigm has been fine for every comer to date including Apple's iPhone XS/Max.
That was until the Mate 20 Pro added several innovations like three rear cameras; two AI neural processors; a 7nm System-on-a-chip; huge 4200mAh battery, fast Qi wireless and mains charging; in-screen fingerprint, dual-band GPS; and a morphing User Interface to make it easy to set up the phone as pure Android, Apple and Samsung 'like'. That is clever and makes it easy to switch.
I am sure Huawei engineers and designers all sat around a table with the aim of bettering every other smartphone and in the process added true innovation. I am in awe of what the Mate 30 Pro will bring. Huawei has set the pace, and it is nice to see it leading instead of nipping at the heels of good old US ingenuity.
We are not just talking about hardware innovation.
OPPO's Find X pop-up cameraphone is a great example of that. Alternatively, as an extension of a smartphones use – Lenovo's Motorola Z series and Moto Mods is a wonderful example of lateral thinking applied to solve multiple problems.
Think back for a moment. When did we see real smartphone innovation that didn't involve gimmicky animated emojis? No, the Huawei Mate 20 Pro stands well out from the crowd in software and hardware.
What is the Huawei Mate 20 Pro?
A luscious 6.39", 3120 x 1440, 19.5:9, a HDR10/+ screen with an in-glass fingerprint reader
7nm Kirin 980 dual AI super system-on-a-chip
Blazingly fast LTE Cat 21 modem
6GB RAM, 128GB storage, nm card expansion
Dual 4G SIM slots
Leica Triple rear camera with a 40MP main snapper
Huge 4,200mAh battery with fast Qi wireless and USB-C charging
Android 9 and EMUI 9
IP68 water resistance
$1,599 in midnight blue or black
Australian website here
The purpose of any review is to find out where the compromises are and if they are deal breakers. Spoiler alert – this phone could be selling for a few hundred dollars more, and it would still be well ahead on points. And, if budget is an issue the Mate 20 version (image above) is $1,099 and has a few acceptable compromises.
In the box
Handset Mate 20 Pro LYA-L29

USB-C Earbuds and mic
40W Fast Charger 5V/2A, 9V/2AS or 10V/4A
USB-A to USB-C cable
Protective clear plastic bumper cover
USB-C to 3.5 mm headphone DAC adapter (to get over no 3.5mm audio port)
The first impression
I am a bloke. I tend to buy big black phones. The midnight blue, however, is most appealing so consider it over the boring black.
OK, there is the Notch (I am not a fan of notches – ruins the symmetry) that contains a 24MP, 3D Depth Sensing camera. Huawei cleverly offers to turn the notch into a black top information bar. And it has one of the world's first in-glass fingerprint readers – invisible!
The back has an upper-middle, 2×2 square camera with a slight bump to protect the three lenses and the flash. I found that position far more useful and less prone to finger intrusion over say the Apple and OPPO top left camera placement.
Huawei says the Hyper Optical glass rear finish is to increase grip and reduce fingerprints – it works far better than straight Gorilla Glass.
On the right below the volume rocker is the power/lock key. If you are not careful you can press the lock key instead of the volume rocker – that is why it is red.
On the bottom are a dual sim and dual mics. At the top are a mic and good old-fashioned IR blaster.
That is it for this gorgeous 87.9% screen-to-body-ratio phone. It has a distinctive flagship look and feel about it.
Buy in Australia or you will regret it for two reasons
We issue the standard warning that you must buy the genuine model with Australian firmware as it works on all Australian Carrier LTE bands and can make a 000 call without a sim.
The dual sim model number is LYA-L29, and the single sim is LYA-L09. From what we can find there are about a dozen variants certified for different countries and carriers. Don't buy if the model number starts with H as these are for specific Asian markets.
The second reason is the alleged spying. Huawei is a Chinese company. It is bound by law to comply with the wishes of the Chinese Government for all business it does in China. That is why it makes different versions for different countries.
Huawei respects the wishes and the laws of any country it operates in. There is no legislated requirement by the Australian government to access user's phone calls or metadata unless authorised by a specific legal warrant issued on a case-by-case basis. In that case, the Telco's have that information anyway.
As a consumer, I am satisfied that the Mate 20 Pro Australian model is as safe to use as any other brand of smartphone.
People in sensitive government, law enforcement, military or critical utility provision should use a smartphone appropriate for their security levels.
Setting it up
It is a typical Android setup. You can avoid Google entirely if you wish. EMUI has non-Google equivalents of mail, calendar, camera, cloud and more. These are all competent apps and may address a certain degree of Google spying paranoia. On the other hand, you expose that information to Huawei, so I will leave that decision to you.
You can select a traditional app drawer (all apps shown on a pop-up screen) or all apps on the homepages. The latter is easiest to organise.
Optionally setup passcode, fingerprint and face recognition and you are away.
The Huawei PhoneClone app copied all information from the Samsung Note9 and apart from re-entering a few passwords it was painless.
Screen
6.39", 3120 x 1440, 538ppi, 19.5:9 aspect ratio

AMOLED 8-bit colour, 100% DCI-P3 colour gamut, HDR10/+ and Dolby Vision compliant
87.9% S-T-B-R with Notch (notch can a 'black bar')
Notch houses the selfie camera, IR flood illuminator and IR camera and notification LED
Screen protection level is not specified but understood to be Gorilla Glass 5
Everything looks gorgeous. The edges are gently curved (like Samsung Galaxy S9); the viewing angles are excellent; colours are accurate and the colour temperature is adjustable from normal to vivid and everywhere in between; and there is no colour shift when viewing off angle. Daylight readability is superb, slightly better than the Note9.
It uses a PenTile matrix (as does the Samsung Galaxy S9/+ and Note9). What that means is two smaller green pixels to every red and slightly larger blue pixel.
In tests, we achieved over 500 nits typical brightness and 660 nits maximum auto. It is a bright screen. Huawei claims 100% DCI-P3 colour gamut. Grey-to-grey response times are around 4ms – good for gamers.
The lower-cost Mate 20 uses a WRGB (plus white pixel) IPS LED/LCD screen and has a smaller teardrop notch as it uses different facial recognition. We have not reviewed this device, but it should deliver very good brightness and contrast. It too is HDR10 certified.
Screen resolution defaults to 'smart' for battery saving. That means it can adjust from 3120 x 1440 to 2340 x 1080 and 1560 x 720 depending on battery life.
There are a few interesting screen options as well: display carrier name, network speed, and hide the notch. The only thing I miss it display battery percentage, but it shows on the always-on display.
Being OLED, it has an always-on display option. It is not very customisable but will show date, time, battery percentage, and step count. While not mentioned it should be Google Daydream VR compatible too.
Performance
Processor
HUAWEI Kirin 980
2 x Cortex A76 Based 2.6 GHz
2 x Cortex A76 Based 1.92 GHz
4 x Cortex A55 1.8 GHz
GPU
Mali-G76 MP10 with GPU Turbo 2.0 for games
RAM
6GB LPDDR4X (fastest available)
128GB UFS 2.1 600MBps (106GB free)
Nano-Memory (nm) card to 256GB using hybrid dual sim slot.
Huawei designs the Kirin silicon for its phones as does Samsung and Apple. This allows it to customise that to its needs and in theory, should give it an edge. Unlike Qualcomm, it does not sell Kirin processors to others.
But, that also means that Huawei must tune its EMUI for both Android and the silicon whereas Qualcomm and pure Android are symbiotic. Our initial tests show that EMUI 9 is doing a fine job at that.
The Kirin 980
Huawei's own Kirin 980 is a very interesting eight core chip. (You can read more here). Unlike the typical big/little ARM setup it has bigger/big/little cores and can precisely adjust the power needed to the application. In idle it can shut down to one core to preserve battery. The design includes dual neural processors to provide higher AI capabilities. What it calls 'malleable' on-demand power to perform AI tasks.
Raw horsepower tests indicate it is between 10 and 30% faster than the Qualcomm 845 for the same tasks, but a better comparison would be with the yet-to-be-released 7nm Qualcomm 855. Compared to its predecessor, the Kirin 970 in the P20 Pro, it is 134% faster, 88% more AI efficient and 58% more power efficient.
Using GeekBench 4.0 tests it scored 3,390/10,318 for single/multi-core. To put that in perspective the eight-core big/little Samsung Galaxy Note9 scores 3718/9026. RenderScript (video performance) tests put it at 12,173 over the Note9 at 9,324.
It offers the fastest processor and more AI function than the current Qualcomm 845. That is not to say Qualcomm's 7nm 855 won't be as good when it's released, but for now, Huawei makes the world's fastest Android chipset.
We did not test games performance, but it has GPU Turbo 2.0 mode that means supporting games achieve at least 60fps.
Memory
Nano-Memory (nm) cards are the same size as a sim – 40% smaller than a microSD. There is logic in that as it allows the use of a smaller, space-saving dual sim carrier. Toshiba makes these in 64, 128, 512GB sizes and a 128GB is about A$88. It offers 90MB/s read which is perfect for 4K video recording. At this time, it is only for external storage. Time will tell if nm is a wise move and if it is comparable in cost to micro-SD.
In our battery load test (over seven hours at 100% load) it reached a temperature of just over 40°. Mind you; it is unlikely you will be processing at full load for seven hours in your pocket!
Comms
Comms
Wi-Fi AC, dual-band, Wave 2, Wi-Di Miracast. 1.733Gbps capable
BT
5.0, BLE, SBC, AAC, aptX, aptX HD, LDAC and HWA Audio
USB
USB-C 3.1 Gen 1 5Gbps
OTG to 2TB
Huawei claims up to 1733Mbps with a suitable router that supports 160MHz. With our reference D-Link AC5300 router, we achieved over 1.2Gbps at 2 metres. Moving to five metres, it was 867Mbs, and at 20m it was 480Mbps. This is like the Samsung Galaxy Note9.
Bluetooth 5.0 is a welcome addition with all manner of high-res audio DACs – it is time the old SBC was retired. Our reference Sony Bluetooth ANC WH-1000XM2 sang sweetly with LDAC high-res. A pair of older Sennheiser PCX-550 lapped up the aptX. I even ran the later off the USB-C port with a UBS-C to Micro-USB adapter, and the Mate 20 charged them as well!
Sound
Earpiece speaker and concealed USB-C bottom speaker for stereo

32-bit/384kHz Hi-Res Wireless Audio

Dolby Atmos
3 x noise cancelling mics
USB-C to 3.5mm DAC adapter
IR Blaster
The first thing I noticed was, depending on ringtone, it can be very loud up to 85dB.
Its earpiece speaker is loud and clear. The other is a down-firing speaker built into the USB-charging port that uses the space as a resonance chamber. Huawei's logic is that you don't listen to phone speakers for hi-fidelity and it does a great job anyway even with a USB-C cable inserted.
It has Dolby Atmos for both the speakers and headphones (Bluetooth and cable). You can optimise this for movies or set it to auto.
Maximum music volume was 75dB, and naturally, it lacked any real bass. But via the reference headphones, it was spectacularly good. Even the UBS-C buds supplied are not too shoddy but lack that 'depth' of over-the-ear headphones.
FreeBuds – are free. Only if you buy quickly and pick up a free Huawei 15W QI wireless charger too.
These look very much like Apples AirPods which I think look dorky.
They support AAC (no mention of aptX or HD) and have a 20Hz-20kHz frequency response. In our tests are slightly light on bass but have clear mids and treble. They are touch enabled. For buds, they are pretty good.
I did like the infrared detection that can sense when you are wearing them and when they are in the USB-C charge case. They have four mics for clear conversation and some noise reduction.
Other
In glass fingerprint recognition – up to five prints

3D face unlocks within .5 seconds

Pin unlock uses six digits

Dual GPS (L1 + L5 dual band)

NFC for Android Pay

Phone Manager: cleanup, battery settings, blocked numbers, Virus scan and mobile data usage.
In-glass fingerprint recognition is excellent and fast. 3D Facial recognition was excellent and fast even when wearing a hat and sunglasses. It only unlocks the phone – it is currently not used for any other purpose.
Fingerprint recognition and NFC are great for Google Pay.
It has L1 + L5 dual frequency ultra-precise positioning GPS system for 4m accuracy. For most, the usual 10m accuracy is fine, but this gives an edge in in-car, turn-by-turn navigation.
Battery
4200 mAh TUV certified

Wire Charging: 40W HUAWEI Super Charge – 70% in 30 minutes

Wireless charging: 15W HUAWEI Wireless Quick Charge

Reverse QI charging uses the phone as a charging pad for other Qi phones
4,200mAh is plenty especially when the OLED screen and 7nm processor are energy misers.
Reverse charging is a novel party trick. It allows you to use the Mate 20 Pro as a charging pad for emergency top-ups of any Qi phone or device.
Consider that the iPhone 8/X series have 7.5W Qi charge and this is twice as fast.
At first, it shows 71hrs left in normal mode and 220 hours in battery saving. But after week's use, the AI kicks in, and it says 36 hours under my usage patterns, 57 hours in power saving mode and 220 hours in ultra-saving mode.
In GeekBench 4 at 100% load, it lasted 7 hours and 47 minutes. An FHD video loop at 50% brightness in aeroplane mode lasted just over 14 hours!
Recharge time using the fast charger and cable supplied was just over one hour (yes it was 70% at 30 minutes). Similarly using a 15W Belkin Qi fast charger, it takes just over three hours – this is very good. Even a Qi 5W charger can get it to 100% overnight.
It is a true 2-day phone – perhaps more as AI kicks in and manages battery use.
4G/LTE (Dual Sim version)
Cat
Cat 21 for 1.4Gbps download and 200Mbps upload (depends on carrier and aggregation)
LTE
Bands 1, 2, 3, 4, 5, 6, 7, 8, 9, 12, 17, 18, 19, 20, 26, 28, 32, 34, 38, 39, 40.
All we need in Australia is 1, 3, 5, 7, 8, 28, 40.
Sim
Dual – both can be 4G, but one is for hybrid nm card storage. The second sim slot does not have band 32
Other
VoLTE and VoWiFi on each sim (depends on carrier)
HD Voice
As good as it gets. Dual sims mean you can have your normal number and use the second for a work number or pre-paid data plan.
Missing is 3500Mhz band 42. One day this may become a global roaming data channel. Optus and NBN both have trials at this stage. Samsung Galaxy S8/+/Note or later, LG V30+, Sony Xperia XZ and Apple 8 or later support it. A list of LTE bands by country is here.
Regardless this is a true world modem and at Cat 21 (up 1.4Gbps download) exceeds the that of the Qualcomm X20 Cat 18 (1200Mbps) modem found in Snapdragon-based 845 smartphones. In a 4-bar Telstra test, it regularly achieved 700Mbps. It can also display the network speed on the screen.
Operating system
Android 9.0

EMUI 9.0
Phone clone hassle-free smartphone switching and transfer

Wireless desktop mode (like Samsung Dex) using industry standard Miracast and DLNA.
A perfectly fluid Android experience with three UI options so it can feel like an iPhone, Samsungesque or Android 9.
To be fair EMUI 9.0 is not as polished as Samsung Experience but it is not bad. Compared to its predecessor it has had a substantial makeover – simple! Huawei claims its performance will not deteriorate saying it will be 95% as fast after 18 months of typical use.
Build
Colours
Black or Midnight Blue
Build
Metal frame and toughened glass (type not stated) on front and back.
Rear glass has a slight texture to increase grip and reduce fingerprints
Dimensions
157.8 x 72.3 x 8.6mm x 189g
IP Rating
IP68 water and dust proof rating up to 2m for 30 minutes
Mate 20 has an IP53 rating and a headphone jack
What's missing
We are unsure of glass protection standard

New nm memory card is non-standard

FM Radio
None of these are remotely deal breakers.
Camera
Rear Camera 1
Primary
40MP RGB f/1.8, PDAF+Laser Focus, HDR, Dual tone LED flash array
OIS, EIS, AIS, Variable Aperture
4K@30fps with AIS (AI stabilisation)
Rear Camera 2
40MP RGB f/1.8, PDAF+Laser Focus, HDR
Rear Camera 3
8MP RGB telephoto f/2.4 OIS.
Selfie
24 MP RGB, f/2.0, 26mm (wide), fixed focus, HDR, Portrait mode, 1080@30fps
It has a 'triple' Leica Summilux rear camera with dual Image Signal Processors in a 2×2 square format. We are in the age of 'computational' photography where the lens captures details and the smarts (Kirin 980) post-processes to give the best picture.
The triple camera setup is very similar to the P20 Pro. Gone is the signature mono sensor (P20 Pro DxOMark here). Huawei says that its new RGB sensor can extract the details usually provided by a mono sensor.
Previously I found the P20 Pro's AI to aggressive for my 'colour tastes' – not so with the Mate 20 Pro. Colours are as natural as the original. Yes, you can make a dull day sparkle too if you want to.
40MP is huge and will capture far more detail. The 40MP also pixel bins (quad-Bayer filter) by default to produce a 10MP image using the best pixels. You can select 40MP if you wish. I went with pixel binning (like the Google Pixel 2/3) and let AI do its thing.
PADF and Laser focus means better moving shot capture. It supports RAW and JPEG saving.
The three lenses can provide a 3X optical, 5X hybrid, 10X digital zoom and an ultra-closeup macro as well.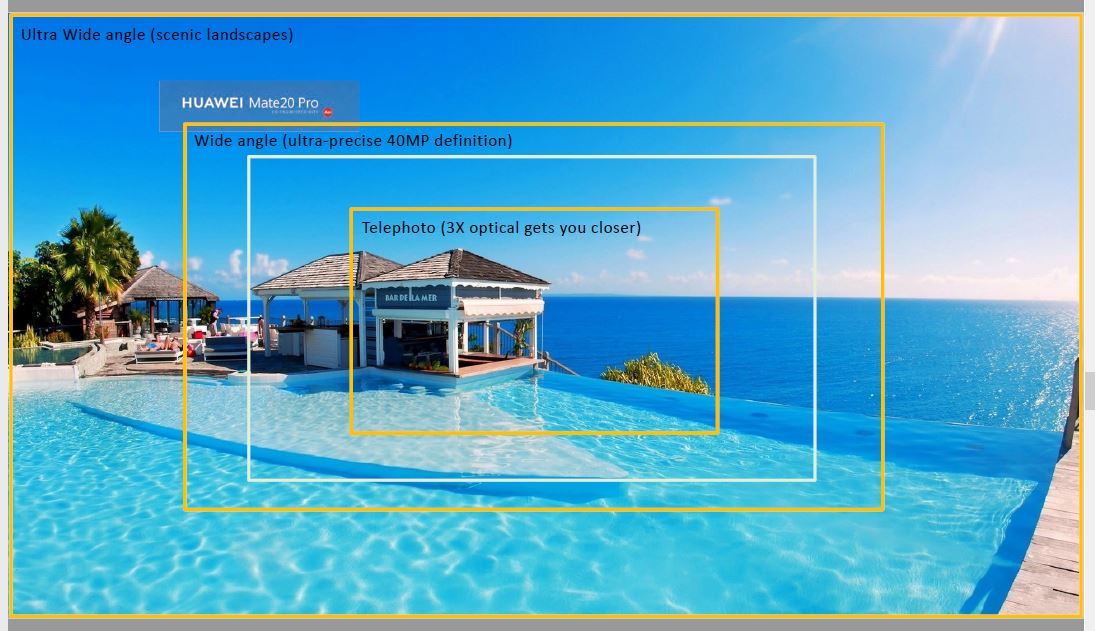 Given the massive data that this setup can capture it is no wonder, Huawei needed to invent a superchip to process it. According to the Kirin 980 specs, it can process image recognition of up to 4,500 images per minute. It also has post-processing HDR manipulation and well, all the bells and whistles a 'pro' could ever imagine.
Artificial Intelligence
I did not have much time to play with the AI so here is a brief overview.
AI camera assistant guides you to the best shots possible. This is in the Photo section of the camera app. You can access the camera from the lock screen by sliding the camera icon up.
Other modes include Pro, Aperture, Night, Portrait, Video, and More. In the More area, there are some shooting options that are on the gimmicky scale.
These include underwater shooting (the phone has an IP68 rating), filters, light painting, monochrome and HDR features.
HiTouch. This is a new icon in the top-left corner of the camera app. It works like Google Lens. If you press two fingers on the screen, you'll get information about anything on the screen that it recognises.
Similarly, HiVision uses the camera to recognise what it sees and provide more information. The onboard database has details on landmarks in 15 countries and 10M artworks. You can even point the camera at food to get an estimate of the calories, and it can tell the difference between, say, a large and a small apple or a whole or half-eaten pizza.
It recognises more than 1,500 scenarios and 25 categories. The upgraded AI-powered photography now can segment different objects and scenes in one photo. Colours, brightness and contrast are adjusted automatically and precisely, just like fine-painting a photo, with perfect balance.
HiAI can process photos taken at an angle, straighten them and use OCR to convert them to an editable PowerPoint presentation.
Thanks to the 3D camera, you can use Huawei's Qmoji which first appeared on the Nova 3.
Is it the best camera?
Dedicated camera reviews state that it is! In the Mate 20 Pro's case, it has triple Leica lenses, dual image signal processors, Kiron 980's immense AI post-processing capabilities and the right combination of lens apertures. Yes, it is the best smartphone camera today. It is pretty well idiot proof.
It takes the sort of images you could not even with the P20 Pro. It has achieved the right balance between actual optics and processing power.
Daylight, outdoor performance
The colours are 100% accurate yet have a richness, not oversaturation to them. There is amazing detail in the shadows (under the jetty) and no pixelation even when blown up to A3 size. For the outdoors shots let the AI do its thing and you will get great shots every time.
Indoors office light performance
Spectacular detail, if anything a little too realistic. Colours are 100% accurate. We did not play with aperture mode that changes the fixed aperture to a simulated f/0.95-f/1.6 range. It is mainly for still art types of shots in low light.
Low light performance
The best low-light shot wringing every last lumen out of a dark room yet capturing good colour and details. There is a night mode coming that turns night into day.
Selfie
Subject separation is excellent, and bokeh is now available in circles, hears, swirl or discs. Portrait lighting allows post-processing to add different light effects – also excellent. Beauty effects are also available.
But the lens is fixed focus, so it's important to keep the lens about 600mm (arm's length) from your face. AI does a great job compensating anyway.
Panorama
11136 x 2944 pixels producing a 2.98MB file. No stitching and no jerky movements.
Macro
You can shoot at 25mm from a subject to get spectacular close-up results.
Video
The video is maximum 4K@30fps but includes EIS in all modes. Its 4K video is good in all light conditions but not the best we have seen. On the other hand, 1080@30fps is the best we have seen. There are a few too many options from choice of lens and even sound bit-rate.
GadgetGuy's take – Huawei Mate 20 Pro
As of this moment, it is the best Android smartphone bar none. Huawei has done everything right!
I wanted to find fault – not because I am a knocker in any way (perennially glass half-full) but because during testing it seems just too perfect. Well, there are no deal breakers!
I do not want to take away from the excellent Qualcomm 845 based Samsung Galaxy S9/+/Note9, Google Pixel 3/XL, LG G7/V35+/V40 ThinQ, OPPO FindX/variants, Sony XZ2/variants, HTC U12+ – you will be very happy with them all. But Huawei has taken a quantum leap, and these Qualcomm based devices may not reach Mate 20 Pro level until their Qualcomm 855 models come out next year.
I look forward to seeing what Huawei does with the next generation P series – positioned above the Mate series.
Would I buy one?
I have been a long-term Samsung Galaxy (S5 and Note5 onwards) user since Microsoft f'ed up my cherished Nokia Windows Phone. Wrenching a Samsung from my pocket is hard because until now every flagship lacked one or more essential items – Qi, memory expansion, stylus (in the case the Note) or just that smooth and fluid user interface where everything worked.
The Huawei is practically perfect, its EMUI is 99.9% there, and it offers more than the Galaxy S9+ and Note9 although the Stylus is its USP.
So, the answer is that Huawei has made a worthy alternative to Samsung and has taken the crown for now. This is the first time we have allocated five-out-of-five points. In a world of black slabs and so little innovation, it stands out from the crowd – at least until other brands catch up.
Currently the most powerful processor
Android 9 and EMUI 9 work well with the Kirin 9080 SoC
Great battery and very fast Qi wireless and USB-C charging
Idiot proof camera takes excellent shots under all conditions
Redefines flagship paradigm and then some
The more you use it, the more you will find it can do
We don't know the cost of nano-memory cards yet