The Huawei MateBook X Pro 2020 is one of the best looking 13.9" subnotebooks with a very 'Apple-Esque' Space Grey machined alloy chassis. It is the third generation to use this chassis – when you are on a good thing stick to it.
The Huawei MateBook X Pro 2020 model appears largely unaffected by the US Presidential Edict facing its Android phones. It has Windows 10 and Microsoft's special form of spyware that is ostensibly there to make your Windows experience easier. Yes, Huawei has a PC Manager that can automatically update the device and it too collects PII if you let it.
It has a 13.9" Surface-like 3000×2000, 3:2 ratio screen, Intel 10th generation Core i7-10510U processor and runs Windows 10 quite nicely.
We reviewed the 2019 version and rated it 4.9/5 – close to perfection. This is déjà vu. It has much of the same that made it great, but as we delved, we found some subtle differences. And what a difference one year makes to teh competition.
Australian Review: Huawei Huawei MateBook X Pro 2020 laptop
Website here
Price: $3299 but seen at JB Hi-Fi for $2799
Warranty: 12 months
Design: Clamshell opens to about 150°
Country of manufacture: China
Huawei (Est. 1987) pronounced Wah-wei is a Chinese multi-national making Telco network, 4/5G comms, data centres, and its consumer business with smartphones, PCs and wearables. The US has declared the company's 5G network product a national security threat preventing US companies like Google from doing new business with it.
Screen – EXCEED
It has the same specifications as the 2019 model – 13.9", 3000×2000, 260ppi, LTPS IPS, 8-bit, 60Hz.
Model JDI (Japan Display Inc) LPM139M422A
STBR: 91% – very small bezels
Glossy Gorilla Glass reduces direct sunlight readability
10-point touch – precise
16.7 million colours – an SDR screen
Brightness: claim 450 nits but varies from 492-535 (13%). It is LPTS which means no separate backlight
Contrast: Claim 1500:1 but measures 1653:1 at 180 nits
Colour temp: 6761-6839 – daylight equivalent
99% sRGB (our tests varied between 95-99 depending on brightness and settings)
68% Adobe RGB
70% DCI-P3
Delta E colour accuracy 1.4 (anything below 4 is great)
G-T-G 50ms – a little slow for gamers
Great viewing angles out to about 130° before the colour shift
It is a screen that pops – great colours. It is a shame that it does not have higher ADOBE RGB for creatives as the 3:2 ratio is all about productivity.
3:2 will display an A4 sheet (portrait) or two A4 sheets (landscape scaled). When viewing 16:9 video content, there are larger black top and bottom bars.
It does not support an Active pen (digitiser), but you can use passive capacitive pens and Windows Ink.
When running the tests, we discovered that it is indeed the same panel as the 2019 model – the review unit's panel was made in 2017, so I guess they got a good bulk-buy deal.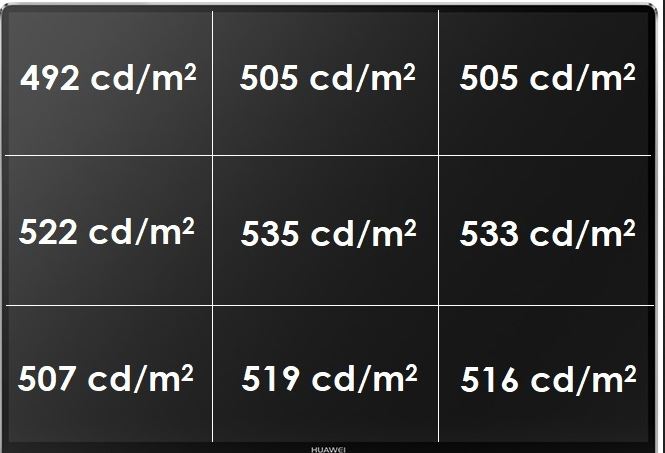 Processor – PASS
Intel I7-10510U 4-core/8-thread 1.8/4.9GHz, 14nm, 10-25W TPD
Passmark: Mains power 7096. (2019 i7-8550U model was 8316)
Geekbench 5 single/multi: 1234/3613
While the raw figures on mains power are slightly faster than the 2019 model, they are lower on battery power. CPU-Z tests confirm it is throttled to 15W TPD on battery.
Noise is 30-38dB, noticeable, but not obtrusive.
Temp under load: CPU 78°, 43° bottom and 45° top although over trackpad deck it was closer to ambient temperatures – the main heat is under the keyboard
Graphics – PASS
Intel UHD Graphics 620 supports up to two external displays over USB-C ALT DP
Geekbench 5 Compute 6238 (similar to an AMD Radeon 89750M)
NVIDIA GeForce MX250 2GB GDDR5 (2019 MX 150 is an average of 11% faster). It switches in when Intel Graphics is inadequate.
Geekbench 5 Compute: 9594 (MX150 is 10132)
This GPU is for battery life limited to 10W TPD – again not reaching its potential rendering speeds.
It handles Adobe Create Cloud and other editing/CAD apps. That is why it is a shame not to have higher ADOBE RGB levels.
Games: Mixed bag – 3:2 ratio and 3000×2000 res, slower frame rates and response times than serious gamers would use.
RAM – PASS
16GB LPDDR3 (2x8GB dual channel 1064MHz). Most 2020 notebooks now use LPDDR4 ram.
SSD Drive: EXCEED
1TB WDC PC SN720 SDAPNTW-1T00-1127 (NVMe PCIe 3.0 4 x lane)
Quite fast at sequential read/write speeds of 3415.99/2827.15 and very good at random read/write of larger files. It is a standard M2.2280, but it is not easy to get to, and 2TB SSDs are too expensive at present.
But it has weird partitioning. Apart from what Windows needs, it has a C: Drive of 80GB and a D: Drive of 858.25GB. I recall that Windows did suggest a separate boot and rescue partition, but it seems such a waste.
There is no micro-SD slot, but with Flash drives and external disks, this is not an issue.
System summary
I have the 2019 MateBook X Pro, and it seems faster! Not by much but as far as I can tell the 2020 model throttles quite severely on battery. It has a maximum TDP of 15W, which means you are buying a 6-cylinder (25W) and using 3.6-cylinders. And the MX 250 processor is an average of 11% less slower.
Having said that it has plenty of power for almost anything and tests are there to reveal useless stats that nerds can fuss over.
Ports – PASS
The 2019 model has a 20Gbps (PCIe 2-lane) implementation of Thunderbolt 3 – the processor choice left it short of PCIe lanes to get any faster. That is my one beef.
But the 2020 model, well it must have Thunderbolt, but there is no symbol nor mention in the specs. WTF?
Well apparently due to US restrictions Huawei could not licence Thunderbolt 3. So, the ports are 'officially' USB-C 3.1 Gen 2 with 'benefits' if you can get the Thunderbolt 3 drivers (and these appear to autoload anyway).
Anyway, for a non-Thunderbolt device, it certainly achieves Thunderbolt 3 speeds on the front-most USB-C port.
USB-A 3.1 Gen 1 5V/2A – handy
USB-C 3.1 Gen 2 (5V/2A)
USB-C 3.1 Gen 2 (err Thunderbolt 3 5V/3A but don't tell Donald that)
3.5mm combo audio
Comms – PASS
Intel Wireless Wi-Fi 5 AC-9560, 2×2 MIMO. But for this money we expect Wi-Fi 6 AX.
It gets 866Mbps at two metres from our reference NETGEAR AX12 router.
BT 5.0 – SBC codec only. Standard Windows fare.
NFC – Yes but for use with Huawei smartphones only for Huawei Share
Huawei Share – Interesting if you have a Huawei smartphone
An NFC-like pad allows you to mirror your Huawei smartphone screen, drag and drop files, edit and more.
Sound Speakers – FAIL
It has quad speakers. Two mid-woofers (not subs) L/R under the sides of the keyboard (towards the front) and two L/R up-firing tweeters beside the keyboard. It is a standard Intel Realtek setup, max 24-bit/48000Hz.
The extra speakers give a reasonably wide sound stage as well as some height, but they lack the 'oomph' of the 2019 model. More on that later*.
Maximum volume from the left speakers was 78.1dB, but the right was only 62dB. We adjusted the L/R balance and averaged 70dB. This is odd. We later found that the Windows audio overrides the Realtek Audio Panel settings – once fixed the volumes equalised aroubnd 70dB – not as loud we we would have expected.
Natively it is a Mid sound signature (bass 'severely' recessed, mid boosted, treble recessed). Its fine for Skype but did not do justice to music or movies.
Deep Bass: 20-40Hz – nil
Middle Bass: 40-100Hz – nil
High Bass: 100 to 200Hz – vaguest hints
Low-mid: 200-400Hz – starting to build from 300Hz
Mid: 400-1000Hz – flat
High-mid: 1-2kHz – flat
Low-treble: 2-4kHz – flat
Treble:4-6kHz – dip to avoid harshness
High Treble: 6-10kHz – a presence but never recovers
Dog whistle: 10-20kHz – gone at 15kHz
* In all respects it is the same setup as the 2019 model with one major omission – no Dolby Audio app or adjustment. Without that, the sound is nowhere as good. I understand there is a hack to install a third-party app DynamiQ that may get more bass. Another casualty of the US Presidential edict.
Lack of Atmos also impacts corded, or BT headphones as you have no pre-sets for movie, voice, music, sports etc.
Webcam – PASSable
It is a .9MP unit capable of 1280x720p stills or 720p video. The pop-up camera sits between F6 and F7 and over-emphasises double chins – I don't need that. It also acts as a privacy switch. Still, it is a good compromise – I would rather have the narrow bezels any time.
There are four far-field mics under the front lip of the keyboard deck that can pick up a voice to four metres away although the Realtek chip only supports stereo mix recording. I suspect their real use is in noise-cancelling for video conferences.
The webcam colours and dynamic range are off. You need to play with HDR and brightness.
Keyboard – EXCEED
Full-sized chiclet. Nice clicky feel, 1.2mm travel and 60g activation – pretty good for a hunt and peck typist.
3 level backlit through keys (very little light flow from under)
120x78mm trackpad is good, but a slightly light touch can mean errors
Mate 2 Dongle – PASS
HDMI 1.4 (max 4K@30Hz)
VGA
USB-A 3.0 5V/1A
USB-C Pass-through power port
Not being picky but its the old 2018/2019 model and it should have been updated to USB-C 3.1 Gen 2 and given 4K support.
Battery – EXCEED
57.4Wh battery and LPTS (no separate backlight) means good battery life.
Charger 5V/2A, 9V/2A, 12V/2A, 15V/3A and 20V/3.25A (max 65W)
Using the 65W charger, you can get 6 hours use with 30-minutes. A full charge is about 1.5 hours.
With a 35W USB-C PD 3.0 – 3 hours.
Using a 5V/3A USB PC 1.0 – 14 hours.
Huawei claims 11 hours web browsing, 13 hours video playback and 15 hours regular work (at 150nits).
Tests
50% screen, 1080p video, aeroplane mode – 12 hours
Netflix FHD Wi-Fi – 10 hours
Full brightness screen on – 6 hours
Full load 100% everything – 2.5 hours
It idles at between 5-12W so if you leave it on the battery will exhaust in 5-10 hours.
Build – EXCEED
Alloy, machined chassis is strong with no bending
304x217x14.6mm x 1.33kg plus charger
Micro bezels
Fingerprint on the power button
Bottom plate removable – battery and SSD replaceable
Great quality build – a keeper.
GadgetGuy's take – Huawei MateBook X Pro 2020 is an update, evolution, not revolution
The 2019 model was class-leading in 2019. It was small, light and sexy.
Since then there have been so many great ultralight notebooks from Dell, Lenovo, HP, ASUS and Acer that it is no longer class-leading – it is part of the pack.
Overall, it's a great notebook but not the one that I originally salivated over. Issues like no Dolby and its slower all around. This is gen 3 – its time for a complete redesign.
Reasons to buy – 3:2 screen, still small, light and sexy but that is it.
Rating methodology
The 2019 model rated 4.9/5, and it was very much a class leader in size, weight and that 3:2 screen. Using precisely the same rating system, this comes in at 4.2/5.
It is not that it is worse than the 2019 model.
But others like the HP x360 Spectre (4.9/5) is the class leader. Lenovo is a contender as well. I love the lightweight HP Dragonfly 4.7/5 (yes we know it has a Core i508365U vPro processor).
Closely following is 2020 Surface group now with USB-C 3.2 Gen 2 – Surface Book 3 4.4/5, Surface Laptop 3 (4.2/5) and the Surface Pro 7 (4.4/5)
The killer is that many others are now Intel Athena certified for small, always-on, all-day notebooks that do all that this does and more.
And it has some issues. It is a tad slower than the 2019 model, video performance is slower and what is with this 'unlicensed" Thunderbolt 3 port?
Lovely design but getting dated
Great screen – but not for professional use
Good battery life but high idle wattage means more recharges
Wi-Fi AC (expected AX)
No Dolby Atmos - you need it
No licensed Thunderbolt 3 (yet it has it)