As if you need a sweetener to buy the world's most advanced smartphone, the Mate 20 Pro, Huawei is throwing in Watch GT as an incentive to buy until 28 February.
The Mate 20 Pro (GadgetGuy review here) holds the crown as the world's most advanced smartphone. Well, that is until Mobile World Congress, 25-28 February where we will see glimpses of smartphones to come. And Samsung is having its Galaxy S10 launch on 20 February, and we suspect Huawei's P 30 launch will be in late March.
Moore's law is a wonderful thing!
Back to the Mate 20. Its rear tri-camera recently scored 109 topping out the DXOMark (with the P20 Pro as well as wide-angle lenses are not judged) ahead of Apple XS Max at 105, Samsung Galaxy Note9 and HTC U12+ at 103, Huawei P20 at 102, and Apple XR and Google Pixel 3/XL at 101.
Sure, we challenge the average user to see the difference in any camera over 100 points. They are all very good, but Mate 20 is exceptional.
What about the Watch GT?
Website here
First, you can't buy it here – so if you want it then buy a Mate 20 Pro between 24 January and 28 February. It is a blatant $399 sweetener to buy the Mate 20 Pro now – and it may just work. International reviews are very complimentary of its 20-30 day battery life, its glorious AMOLED screen and more.
The Watch GT, however, is not part of the Google Android Wear OS stable like Huawei's previous Honour Watch.
It has ditched Android Ware for its own LiteOS, ostensibly to give it the longer battery life. It also means there are no third-party apps (and we don't know if they are coming as yet) so what you see is what you get.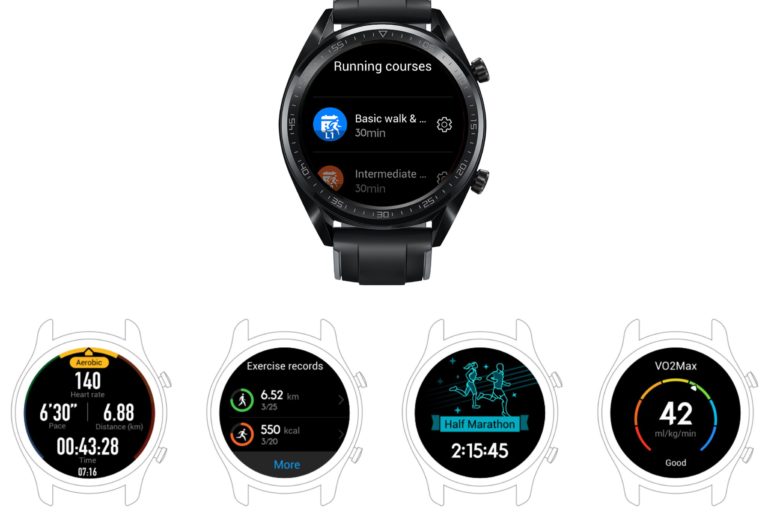 Watch GT – out of the box
Stainless Steel casing with DLC coating (diamond-like carbon), ceramic bezel
1.39" AMOLED 454 x 454, 326 ppi, colour touch screen
ARM Cortex-M4, 2010, 32 bit, single-core, 90nm
16MB/128MB RAM/storage, no card slot
Bluetooth 4.2 (no Wi-Fi or NFC)
Tru-Seen 3.0 heart rate monitor, Accelerometer, gyro, barometer, Magnetometer, GPS, ambient light
Smart coaching
TruSleep 2.0
Smartphone notifications
420mAh battery and two-hour charge (approx.) Claimed typical use 14 days to maximum 30 days. Uses a magnetic charger thimble.
46.4 x 46.5 x 10.6 mm x 46g plus strap
50M 5 ATM water-resistant)
Works with most Android or iOS smartphones
Pricing and Availability
Part of participating Mate20 Pro post-paid plans (6/128GB) available with Huawei's carrier partners:
Optus customers will receive 30GB of data for $74 per month for 24 months, available until 31 March. See more information here.
Vodafone customers will receive 30GB of data and handset for $64.91 per month for 36 months on the Vodafone $35 Red Plan, available until 4 February. See more information here.
JB HiFi is selling Mate20 Pro for $1399 (save $200 from RRP $1599) as part of the promotional offer, available until 28 February. See more information here.
The promotional offer is available from 24 January 2019 to 28 February 2019.
GadgetGuy's Thomas Bartlett is reviewing the watch now.