Samsung may have come up with the phablet, but that doesn't mean it's the only company trying to perfect them, as Huawei brings its new 6 inch wonder to Australia, boasting a thinner design than even Samsung's new model.
If you're unsure quite which type of device you need — phone or tablet — and would prefer a middle ground between the two, your choices are about to get a little more varied.
Already in the past few weeks, you'll have seen the Apple iPhone 6 Plus become an option, and last week, Samsung's Galaxy Note 4 became another, also, but these aren't the last massive phones for the year.
No, they'll be joined this week by a model from Huawei sporting a bigger display than both of the aforementioned phablet players with a bigger battery than both as well.
The new phone is the Huawei Ascend Mate7, the third in Huawei's "Mate" range of phones, a series that has all been phablets so far.
First shown at IFA earlier in the year, the new model isn't just a fresh coat of paint and some new innards, though, with the 6 inch IPS screen sporting a Full HD 1920×1080 display and taking up a good portion of the front, with some of the slimmest left and right bezel you'll ever see.
The body of the Ascend Mate7 is made from mostly metal, with Huawei telling GadgetGuy that more than 95% of the handset is crafted from "a strong aluminium alloy for superior heat reduction" which we'd say is also a play for solid build quality, also.
Under the hood, Huawei is providing its own smarts, going with a Huawei octa-core technology made from two sets of quad-core chipsets, working with either 3GB RAM and 32GB storage, or 2GB RAM and 16GB storage depending on what sort of money you're looking to spend.
Fingerprint technology is also supported with a small fingerprint sensor found on the back of the handset supporting up to five sets of fingerprint records.
And you can expect Google Android here, 13 megapixel rear camera, a massive 4100mAh battery, and a Category 6 LTE modem, making the Huawei Ascend Mate7 the second Cat6 phone in Australia, just after the Samsung Galaxy Note 4, potentially bringing speeds of up to 300Mbps on compatible networks.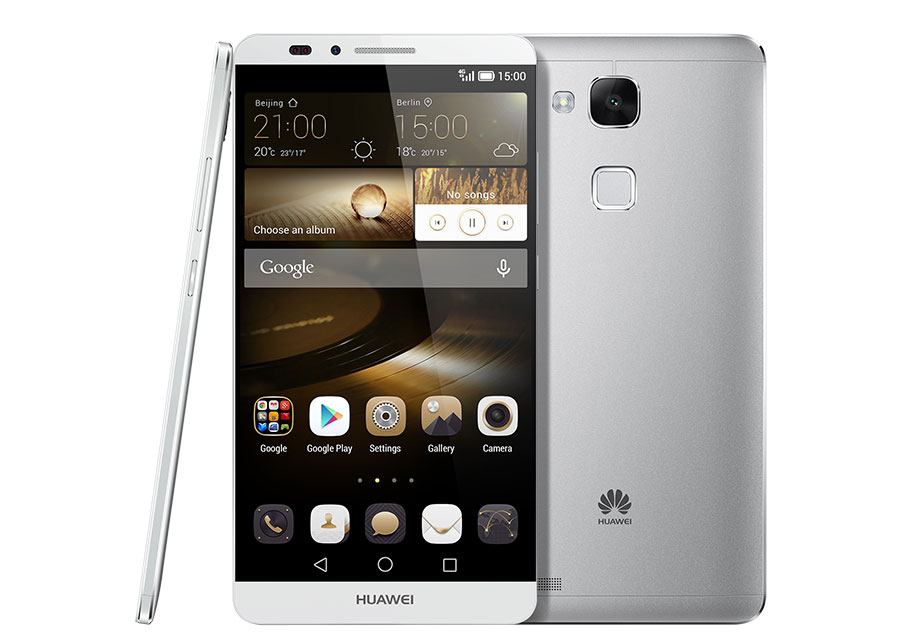 "We are proud to offer one of the fastest and most enjoyable big-screen smartphone experiences for Australian consumers," said Howard Chen, Managing Director of Huawei's Consumer Business Group in Australia.
"Huawei Mate7 leads the big-screen pack with smarter and faster 4G Cat6 performance, impressive battery power efficiency, and outstanding convenience with its superior single-touch fingerprint technology."
Pricing for the Huawei Ascend Mate7 starts at $699 for the 32GB model which will be available from Harvey Norman and JB HiFi stores from next week, while a less pricey version 16GB storage should see release later in the year on Vodafone via Dick Smith stores.