GadgetGuy gets many media invites but the opportunity to see inside Alegre – a real Aussie smartphone refurbishment factory – was one we had to accept.
You see we all hear horror stories of shoddily refurbished phones flooding the market and sold via grey/parallel importers. But when Boost Mobile began using Alegre and offering a range of guaranteed refurbs, it piqued our interest, and we needed to put this under the microscope.
Alegre is one of a small number of Australian companies that have been in the refurb business for some time – since 2012. A bunch of ex-telco and phone company employees that could see the refurb 'writing-on-the-wall' even back then founded it.
It is among Australia's fastest-growing companies reaching 22nd place on the 2018 Australian Financial Review Top 100 – the second time on the list. It had an average year-on-year growth of 90.8% (2017-2018)
Since then, US-based Assurant (insurance and leasing) has taken a 20% holding, mainly to provide some access to its vast stock of pre-owned iPhones that come off lease in the US.
Disclaimer – we have baggage
GadgetGuy is/was not keen on refurbished phones – so much, so we wrote a guide to answer "Q: Should you buy a refurbished or second-hand phone? A: The short answer is no. The long answer is maybe, under some circumstances."
Inside Alegre
Gadget Guy interviewed Alegre Commercial Director Russell Lornie at its Frenchs Forrest HQ. The interview is paraphrased to avoid copious use of 'he said'.
So, armed with the presumption that refurbs were not all that wise, we were pleasantly surprised at Alegre's operations and ethics. We thank Russell for a completely open and honest discussion and full behind the scenes access to the facility.
Issue #1 – refurb pedigree
Our biggest concern is that phones sold in Australia have Australian firmware to work with all Telco carrier bands – namely
Australian firmware to enable proper billing and tower-to-tower hand-off
Modems that support at least LTE Bands 1, 3, 5, 7, 8, 28, 40 and 42 to cover all Australian 4G bands. Of these bands 1, 3 and 28 (4GX, in-building coverage and small cell areas) are vital and the others may location-based, e.g. Canberra needs 40 to get Optus. Vodafone uses band 5 in many areas.
Can make a 000 call without a SIM (international models can only call 911)
What this all boils down to is where do the phones come from?
Alegre sources phones from Australian
Telco carrier trade-in programs offering fixed prices for certain brands
Major smartphone makers demonstration and corporate programs
Corporate trade-in programs for government departments, utilities, Top-500 companies, banks, schools, insurance companies, leasing etc
Retail trade-in programs through major phone and electronics retailers
Its hallmark is the secure wiping of data from a phone and providing a certificate to give peace of mind. Or as Russell says, "Proving the pedigree from paddock to the plate."
These sources supply about 90%+ of its needs, and the remaining (iPhones only) are imported from Assurant in the US where the LTE modem bands cover Australia and the device can be flashed with Australian firmware.
Alegre re-sells (it has the appropriate second-hand licences) about 100,000+ refurbished smartphones a year and could sell far more if it could obtain a reliable supply.
Refurbishment
Each smartphone's unique IMEI is entered into custom software and checked against the AMTA IMEI lost and stolen registry – individuals can also check an IMEI if you are buying a second-hand phone. They are also checked for iCloud or device pin/security locks that need to be removed. Each phone is labelled and bagged to begin its journey.
If a phone has a broken screen or visible damage, it is quarantined for later attention and testing. Accessories such as chargers and earbuds are usually discarded.
Next step is to charge the devices in a massive charging bank.
Because the majority of its phones already have an Australian approved pedigree the main 'offenders' are from individuals that attempt to trade-in a phone (via the retail channel) that may be stolen or grey/parallel market and not for Australia.
The charging bank fills the battery to 100% using a standard 5V/1A 5W charger.
Once full, the phones then go into 'jigs' and are attached to Blancco software that provides a thorough 72-point mobile diagnostics testing and erasure solutions. This is an extensive process and ensures 'end-to-end' assurance that the device is in good working order and data is wiped correctly.
It also assesses the battery health and number of charge cycles. Depending on quality a battery has between 200-500 recharge cycles before it cannot hold a charge. At this time, the phones are graded (A-grade, B-grade etc) and those failing any test or either sent off for repair or recycling.
The target for Alegre's recycled phones is 80% remaining battery cycles – suitable for a few more years use.
Finally, to clean, polish and pack
All phones are manually inspected and cleaned. For the most part that involves a thorough sanitary wipe, cleaning all ports and ensuring the appearance 'grade' matches the Blancco electronics 'grade'.
Phones with more severe chassis or screen scratches go to the buffing and polishing section. Russell says there is always room for a phone with cosmetic defects as long as the insides are sound, and it costs less.
Then they are packed in white boxes with a SIM pin and approved USB/Lightning charge cable (chargers, earphones etc. are not generally included).
Warranty
As second-hand goods, they are not subject to Australian Consumer Law warranties. Alegre offers 30-day return warranty as well as a limited 12 months warranty. Russell says they will always err on a customer's side.
Alegre don't repair
A damaged phone, (e.g. glass, battery, camera, 3.5mm or charging port) is sent to authorised iPhone or other brand repairers. If economical to repair, it is fixed and sent back to Alegre for refurbishment. If not, it is sent for recycling to Mobile Muster – about 5% of phones.
Other items
Although not yet a major part of the business Alegre buys fleet iPads, Macs and another Apple equipment. It goes through similar checks and finds homes for these, often via insurance claims or other sources that want lower cost, second-hand equipment.
What brands/models hold most value?
Russell's advice is to stick to Apple and Samsung and trade-in or up every two years. Although they are beginning to see OPPO as more carriers offer that brand and they also handle Google Pixel, LG, HTC and Nokia.
Phones depreciate at about 3% a month, so after 36-months they are worthless. At that time at best you will get is a token value. Most gift it to a relative, try to sell second hand or put it in the top drawer.
Mobile Muster says there are over 20 million old phones out there and the worst thing to do is 'top-drawer' it as there are chemicals and recyclable elements in all smartphones. "If your phone doesn't have any resale value or has stopped working, then it is time to recycle it."
The most sought-after phone at present is the iPhone 7 and Samsung S8 series. Any older iPhone has the risk of not being supported by future iOS versions. In the Android world it runs Oreo (8) or later.
Where can you get an Alegre refurbished phone?
Alegre operates Green Gadgets (eBay store here), and you may see other retailers and online stores offering devices under that brand. It also sells via EB Game and Leading-Edge computer stores.
Boost Mobile is a major MVNO, and current prices are here. Note these are not trade-in prices.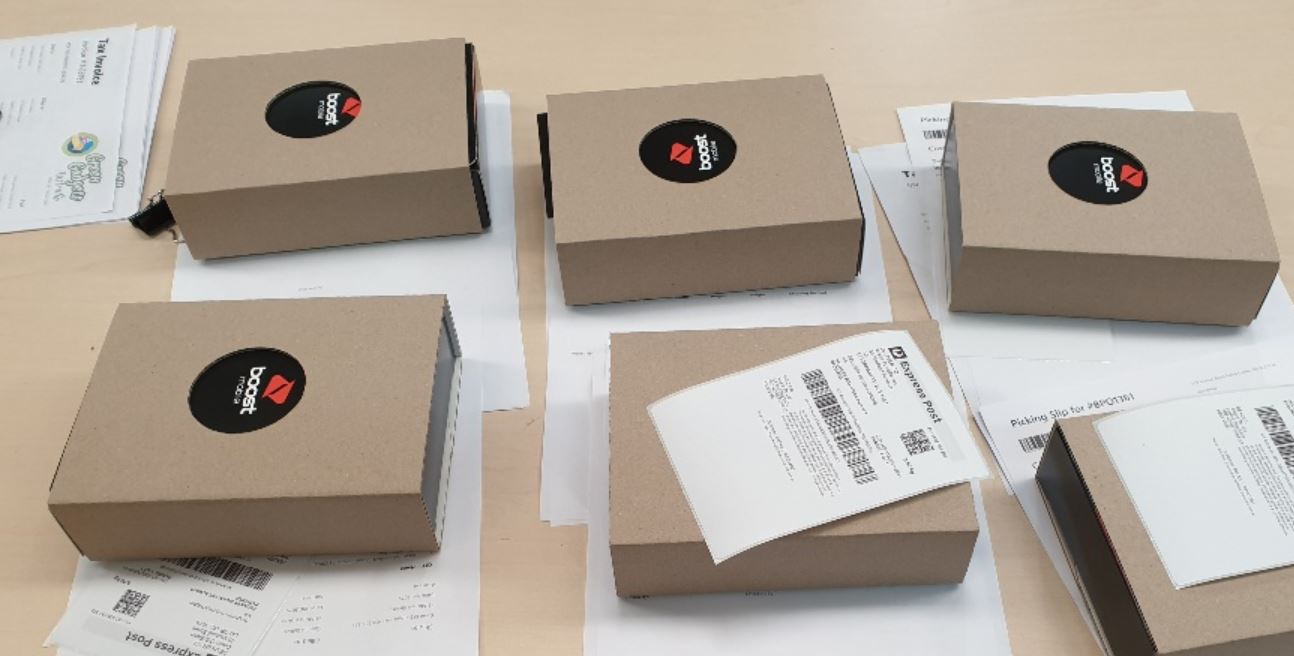 | | |
| --- | --- |
| | |
| Model | Standard item ($30 SIM) RRP |
| Apple iPhone SE 16 | $ 239.00 |
| Apple iPhone SE 32 | $ 259.00 |
| Apple iPhone SE 64 | $ 289.00 |
| Apple iPhone SE 128 | $ 319.00 |
| Apple iPhone 7 32 | $ 379.00 |
| Apple iPhone 7 128 | $ 449.00 |
| Apple iPhone 7 256 | $ 499.00 |
| Apple iPhone 8 64 | $ 649.00 |
| Apple iPhone 8 256 | $ 739.00 |
| Apple iPhone 8 Plus 64 | $ 779.00 |
| Apple iPhone 8 Plus 256 | $ 859.00 |
| Apple iPhone X 64 | $ 999.00 |
| Apple iPhone X 256 | $ 1,099.00 |
| Samsung Galaxy S7 32 | $ 299.00 |
| Samsung Galaxy Note 8 64 | $ 579.00 |
| Samsung Galaxy S8 64 | $ 429.00 |
| Samsung Galaxy S8+ 64 | $ 459.00 |
| Samsung Galaxy S9 64 | $ 579.00 |
| Samsung Galaxy S9 256 | $ 679.00 |
| Samsung Galaxy S9+ 64 | $ 599.00 |
| Samsung Galaxy S9+ 256 | $ 749.00 |
| Google Pixel 2 64 | $ 429.00 |
| Google Pixel 2 128 | $ 479.00 |
| Google Pixel 2 XL 64 | $ 479.00 |
| Google Pixel 2 XL 128 | $ 529.00 |
GadgetGuy's take – Alegre refurbished is fine with caveats
Three things.
A reputable refurbishment firm like Alegre passes our muster. We are satisfied that you are not buying a lemon.
Good brands have a trade-in value that can cut a few hundred dollars from the purchase cost of a new phone. So, don't put it in the top drawer and forget about it.
And regardless of what you spend you really need to look at brand new, lower cost alternatives from OPPO, Motorola, Alcatel and Nokia that will have a one-or-two-year warranty, full battery health and probably later features. Don't be a brand snob!
You can contact Alegre via email here or call 1300 981 361 9 AM – 5 PM weekdays to turn your late model phone into cash.