The news that Intel gives Thunderbolt 3 to the world – free could be one of the more defining moments in computing history.
Intel will contribute the Intel Thunderbolt 3 protocol specification to the USB Promoter Group. The result is that other chip makers can build Thunderbolt compatible silicon, royalty-free.
Also, the USB Promoter Group announced the pending release of the USB 4 specification, based on the Thunderbolt protocol. The convergence of the underlying Thunderbolt and USB protocols will increase compatibility among USB Type-C connector-based products, simplifying how people connect their devices.
Jason Ziller, general manager, Client Connectivity Division at Intel, said
"Releasing the Thunderbolt protocol specification is a significant milestone for making today's simplest and most versatile port available to everyone. This, in combination with the integration of Thunderbolt 3 into upcoming Intel processors is a win-win for the industry and consumers."
This is important and Intel's actions are indeed altruistic
Intel is building Thunderbolt 3 into all its future CPU. These power many Windows 10 and macOS devices. But now third-parties can build in Thunderbolt 3 under a nonexclusive, royalty-free license – just as Intel did with its USB standards.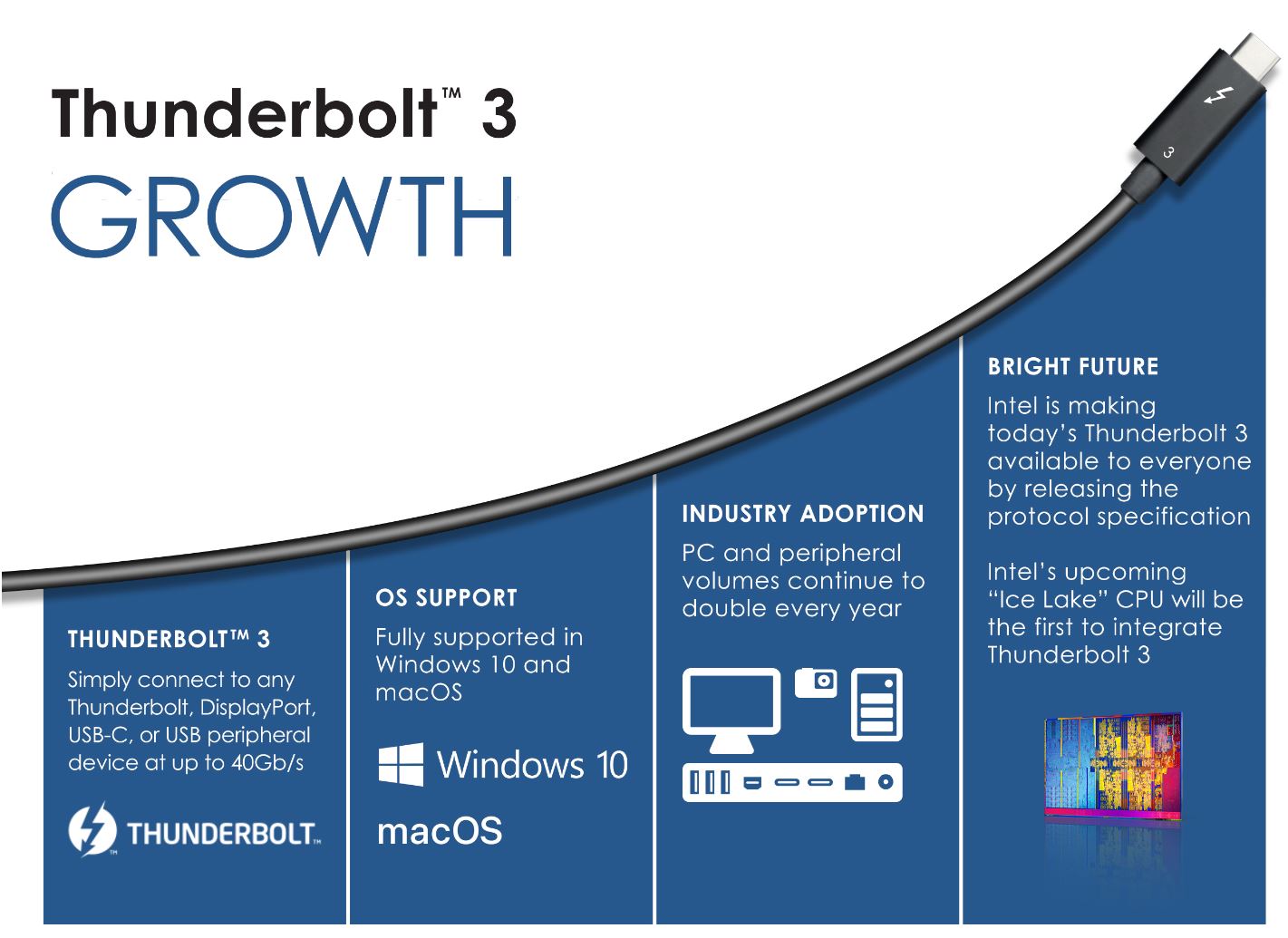 More than 400 PC models use Thunderbolt 3. Peripheral device volumes will double annually from more than 450 certified devices. These include docks, displays, storage and external graphics.
What this means is that Thunderbolt 3 and its successors will instantly become the standard going forward. No more FireWire, serial, parallel, USB variants, or proprietary connectors.
macOS and Windows 10 – share peripherals
Apple is a long term collaborator with Intel on Thunderbolt. "As the industry leader in its adoption, we applaud Intel's efforts to integrate Thunderbolt technology into its CPUs and open it up to the rest of the industry," said Dan Riccio, Apple's senior vice president of Hardware Engineering.
Windows 10 has Thunderbolt 3 device plug-and-play support since its Windows 10 Creators Update. Intel and Microsoft will work together to enhance the experience in future versions of the Windows operating system.
Already Mac and PCs can share Thunderbolt devices like external docks, storage and monitors. The addition of PCIe to Thunderbolt means even faster data transfers compared too SATA 6 over USB.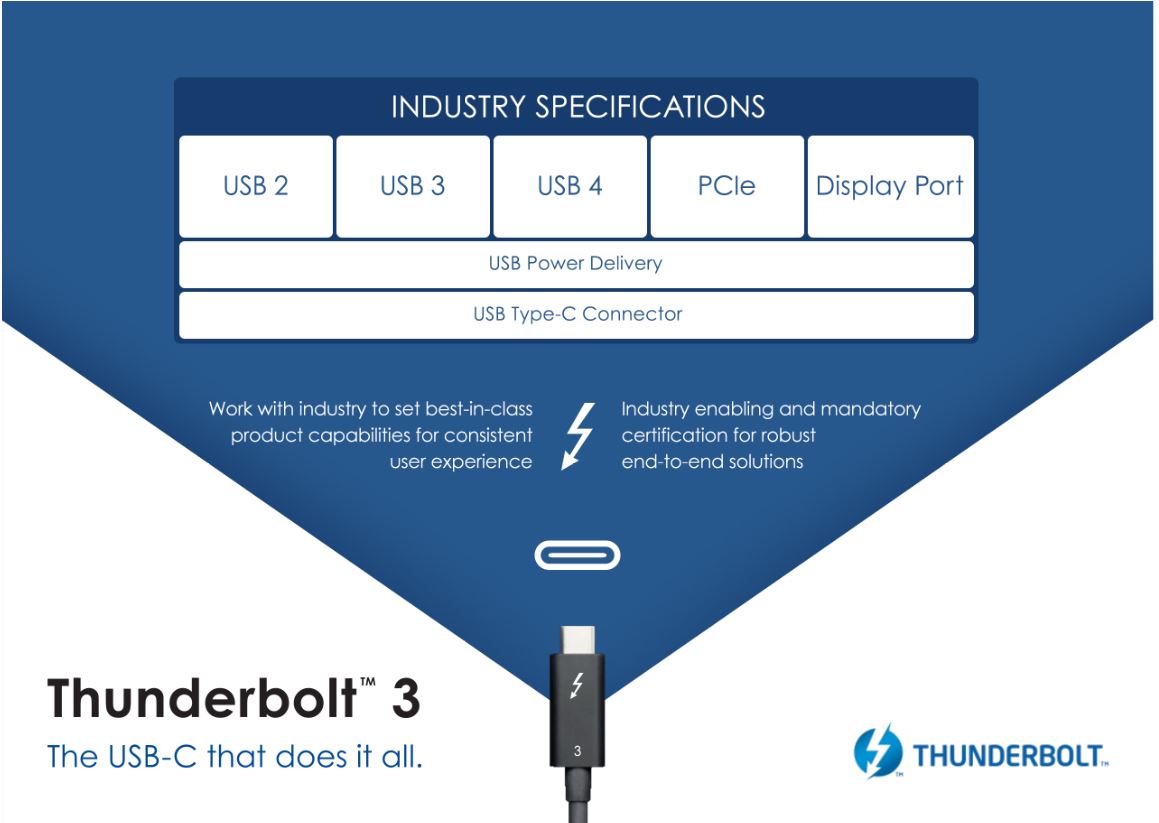 Thunderbolt 3 specifications
Thunderbolt, USB, DisplayPort, and power on USB-C
USB-C connector and cables (small, reversible)
40 Gb/s: Thunderbolt 3 – double the speed of Thunderbolt 2

Bi-directional, dual-protocol (PCI Express and DisplayPort)

PCI Express Gen 3 up to four-lane

DisplayPort 1.2 – supports one 5K or two 4K displays (4096 x 2160 30bpp @ 60 Hz)

USB 3.1 (10 Gb/s) – compatible with existing USB devices and cables
DisplayPort 1.2 – compatible with existing DisplayPort displays, devices, and cables

Connect DVI, HDMI, and VGA displays via adapters

Power delivery

Up to 100W upstream system charging (USB PD 2.0)

5V/3A (15W) downstream to bus-powered devices

Thunderbolt Networking

10Gb Ethernet connection between computers

Daisy chain up to six devices
Lowest latency for PCI Express audio