We're probably a little late to this, but those of you keen on watching the footy this week in possession of an iPad might be keen to see the game from a different position, and if you are, yes, there's an app for that.
Built to make the State of Origin "experience" even better, Nine Network's technology department has been working with engineers at Mi9 to build "Jump-in," an app that not only provides all the stats you need to make yelling at the screen more useful, but also to offer "multi-angle replay highlight" minutes after the action has taken place.
"Nine Technology has been working for the past three years to bring Australians the best technological development for the Jump-in State of Origin app," said Geoff Sparke, Director of Broadcast Operations for Nine Network, adding "in particular the multi-angle replay feature."
The app will also offer slow-motion replays, historical footage, live scores, and access to see the Twitter feed, which is based on the hash tag #Origin.
Whichever side you go for – blue or maroon – the app aims to showcase the best possible information for the games, with up to 16 camera angles offered for the replay.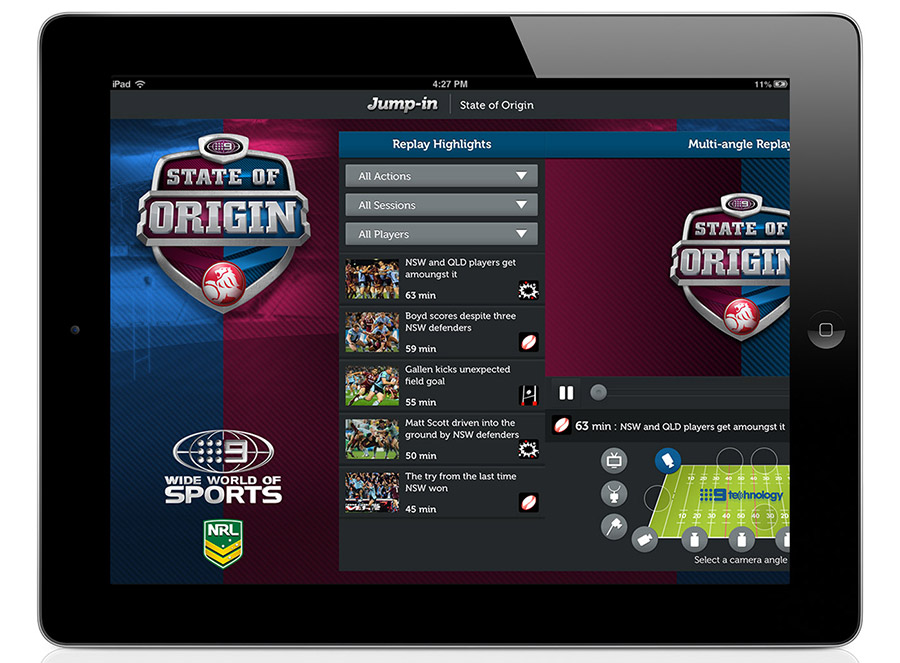 Available right now, the app is currently only on iOS, and won't be released for Android for the State of Origin this year. It will be coming to web, however, in the new year, and then later on reaching Android.
"We want to make sure we can bring the best Jump-in experience to all users," Mi9's Bec Haagsma, Director of Convergence. "To do this, we are first working on a new web version of Jump-in. Users will be able to access all of Jump-in's great iOS features via jump-in.com.au from any device.
"We know that some consumers still prefer to access these types of experiences through an app, so will also be releasing an Android app experience to market in 2014."
The app will work across the State of Origin series – game two this week and game three after that – and then you'll just have to wait until next year to use that app again.