The eagerly awaited iPhone 11 and iPhone 11 Pro have just gone on sale in Australia. We've had our hands on them for a few days to bring you an in-depth look at what you can expect. While Apple has launched a 6.1 inch iPhone 11, and two sizes of Pro models, we'll be focusing on the iPhone 11 Pro Max for this review.
For more details on the iPhone 11 range, see our coverage here.
Given that Apple's stance on the iPhone 11 Pro is that it's geared towards more professional pursuits, we didn't want to hold back in our evaluation. As such, as Channel 7 Sunrise's Technology Expert, I was in San Jose to cover the iPhone 11 launch. To truly put the new camera features to the test, we decided to film our entire Sunrise segment with the iPhone 11 Pro rather than our traditional film gear. Click the link below to see the results first hand as it was broadcast on Channel 7.
So what are the key differences the iPhone 11 Pro brings compared to the iPhone XS and previous iPhones? Here's a quick summary:
A new triple lens camera system
A more powerful A13 Bionic processor
An improved screen
Longer battery life
Faster connectivity
New case colours and finish
Look and feel
Starting with the design, the new iPhone 11 hasn't strayed too far from the path. Both the 5.8 and 6.5 inch Pro models share the same design language as the iPhone X and Xs models. There's still the familiar blend of clean lines, curves and seamless blending of stainless steel with glass. However, new this year is a matte case finish as well as the gorgeous Midnight Green colour. This is my pick, however, you may prefer Gold, Space Grey or Silver instead. The matte finish, while untested, looks to resist scratches better than the glossy texture from the year before.
On the front, the familiar screen 'gap' is still present, which houses the improved TrueDepth camera array. The placement of volume and power buttons remain the same too, as does the SIM tray, mute switch and Lightning connector, so no big changes to get used to.
Three lenses are better than two
The standout feature of the iPhone 11 Pro models is the new triple lens camera, compared to the previous dual-lens assembly. This includes a new 'Ultra Wide' lens, which brings new creative avenues to photographers, videographers and enthusiasts.
Each lens is a 12 megapixel unit, with the f2.4 aperture Ultra Wide lens capable of a 120 degree field of view. The f1.8 Wide lens is also the same as last year, however, it's a solid and versatile performer and the one you'll probably use most often.
The f2.0 Telephoto lens delivers a 2x optical zoom. This is the same zoom factor as last year's model, and we were hoping to see a bit more zoom capability to put it on par with Huawei P30 Pro's 5x optical and 10x hybrid offering. However, with the Ultra Wide, you technically now have an 2 x optical zoom-out, so the three lenses deliver a combined 4 x optical zoom from Ultra Wide to Telephoto.
New camera features
The camera interface has seen some changes to accommodate the new lenses. You can simply tap the virtual pre-set lens buttons for 0.5x, 1x and 2x, or otherwise slide the zoom wheel for a more precise setting. Also new is when in Telephoto mode, The black borders around the picture frame become transparent so you can see what the lens sees.
With the extra lenses you can set the camera to capture outside the borders of the frame, and then access this extra footage using the crop tool. This can come in handy for improving your compositions, such as if you've put someone too close to the edge of the shot. Since the lens captures more outside the borders, you can crop this back in.
Another nice trick is being able to hold the shutter button when in photo mode to record a quick video. Previously, holding the button captured a burst of still shots, which you can still do by holding the shutter button and sliding left.
Better portraits
Portrait Mode gets a raft of improvements, along a new studio-look called High-Key Mono. In effect, this puts your portraits on a white background, and blows out all of the highlights for a dramatic monochrome impact.
Also handy is that you can shoot in Portrait Mode with both the Telephoto and Wide lenses, along with the front-facing TrueDepth camera.
When in Portrait Mode you can adjust the focal length and therefore the background 'blur' or bokeh. This can happen either during the shot or afterwards with the on-phone edit tools.
In use, I'm really impressed with is how quickly Portrait Mode works now. On older iPhone models, there was often a delay while the phone figured out how to separate the foreground from the background. Apple's new A13 Bionic processor gives the Pro the power to do this so quickly that there doesn't appear to be a delay at all.
Portrait Mode is now great for pets, so my cat has been the subject of many photos during our tests. Given that she has black and white fur, it's impressive that the system can figure out where her fur ends and the background begins.
Detail in the dark
Also new is the Night Mode feature. This uses a variety of technologies including 100 percent Focus Pixels and artificially intelligent photo-combining. Essentially, once a low light scene is detected, the mode turns on automatically. You may be required to hold the camera still for a set duration. I've experienced 1-3 seconds, and this is indicated around the shutter button. The camera system takes multiple photos at once and analyses the best bits and combines it all together. The net result is really worth it. It's absolutely astounding how the phone lights up dark scenes, and Apple has added a bit of creative flair as well to keep blacks looking black where it should, rather than revealing detail in the dark that's not needed.
Keep in mind that for fast snaps in dark places, such as nightclubs or dinner parties, the phone still requires some time to gather multiple images together and pick the best bits. If you don't hold it still for long enough, the result will be blurry images. If you rest the phone against something solid, such as on a tabletop, the effect is quicker. All up, however, this is a serious improvement over previous models.
Also, there's an upcoming Deep Fusion image processing feature (due out in the US fall) that can balance low and medium lighting conditions. This leverages machine learning and takes 8 images before you even press the shutter button. It examines 24 million pixels to optimise your photo. "It' is computational photography mad science." Says Apple's Phil Schiller at the recent keynote in Cupertino. We're looking forward to see what it can do.
Creating video
The new camera system has the ability to capture in 4K at 60 frames per second from all three of the rear cameras. You can also film in 4K / 60fps with the front facing TrueDepth camera as well.
We shot our entire Sunrise segment on the phone, and the results were seriously impressive. First, the level of detail captured by the 4K sensor is amazing. Second, there's excellent optical image stabilisation that made our walking shots look like we were using a steady-cam rig. Auto-focus and extended dynamic range (EDR) added to the quality of the footage thanks to the A13 Bionic's background processing.
A quick note that High Dynamic Range (HDR) is supported when playing back Dolby Vision and HDR 10+ movie content, but the phone doesn't 'create' HDR to this format.
While not supported in Apple's camera software, the iPhone 11 Pro can even record video from all three cameras simultaneously. This is a tremendous pro feature, and was demonstrated using the FiLMiC app. This isn't available yet, but should be quite soon.
A favourite scene that really showcased the iPhone 11 Pro Max's capabilities was when we were driving through a forest while holding the phone out the window. The stabilisation smoothed out any jarring movement, and we captured a setting sun through the trees, with a combination of sunlit highlights and cool dark trees. This pushed the dynamic range to its limits, and we were amazed at how well the Pro reproduced the luxurious golden greens of the scene, and all in 4K / 60 fps!
The only challenge we had during out shoot was the bright sunny conditions sometimes made the screen difficult to see, but otherwise, it was smooth sailing.
Selfies and Slo-fies
The front-facing TruDepth camera is improved to handle 4K recording. For a bit of fun, we also tried out the slo-motion video recording feature. This creates what we call a 'slo-fie', which is a bit of dramatic footage that you can take of yourself while the world pans around you. Lots of creative angles to play with for those that like to capture themselves. Slo-fies are captured in 1080p at 120 fps, while the rear facing cameras can do it at 240fps.
Another great mode is the 'wide-selfie'. When you hold the phone in portrait orientation you can take a normal selfie, however, rotate it to landscape mode and it switches to the wide lens so you can fit more than one face into the frame. Gone are selfies where you cropped half your friend out!
Display matters
The two iPhone 11 Pro models come with Apple's latest Super Retina XDR display. These are Apple's brightest and sharpest phone screens ever and are really lovely to use. As with the iPhone X and XS, they are the OLED type, which means great viewing angles, true blacks and lots of detail visible in darker scenes. Now, they can produce up to 800 nits brightness, which is better for viewing outdoors, and a peak brightness of 1200 nits when watching HDR 10 and Dolby Vision movies and compatible video.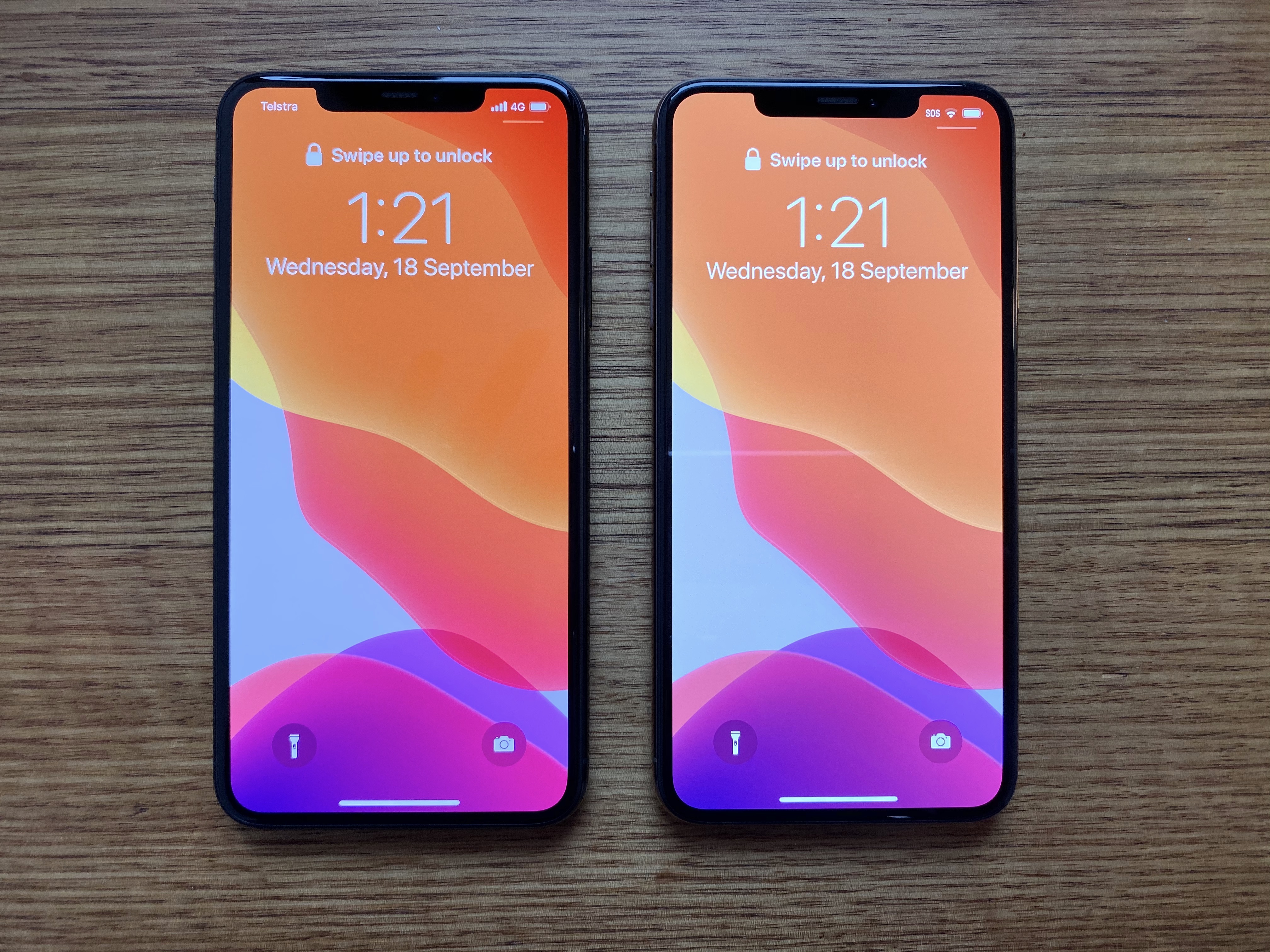 As with the iPhone XS display, there's a wide colour gamut, Tru Tone, Tap to Wake and now Haptic Touch. Haptic Touch replaces the 3D Touch technology used previously, which could sense how hard you pressed on the screen. I honestly couldn't tell the difference between the two, so there's not a lot to worry about in terms of haptic feedback when pressing on icons.
A Bionic brain
At the heart of the Pro models is the new A13 Bionic processor. Yes, this is faster than the A12, and is designed with a focus on machine learning. I could go into the increase in performance percentages for the CPU and GPU. over the A12, but in reality, the actual benefits can be seen across all sorts of things.
For example, facial recognition-based phone unlocking (FaceID) is faster, though it was pretty fast on the iPhone XS. You can now perform advanced video editing on the phone, which takes quite a bit of grunt to do, especially in 4K. The background photo processing results in a faster portrait mode, impressive night photography and enhanced focus tracking. Graphics-intensive games look to be even better than before judging by what we saw demonstrated at the Apple keynote, however, we'll need to test this first hand to have an opinion.
Power matters
The A13 Bionic has been designed with efficiency in mind, which has a direct impact on battery life. The iPhone 11 Pro is rated to last 4 hours longer than the iPhone XS, while the Pro Max can last 5 hours longer than the XS Max. This appears to be true in the short time we've had the iPhone 11 Pro Max. For example, we shot the entire Sunrise package in one day, with lots of photos taken as well, and it lasted with power to spare late into the evening.
Qi compatible wireless charging is supported on all iPhone 11 models, as well as a fast-charge capability. While not as fast as some competitors, you can top the Pro up to 50% charge in 30 minutes from a completely drained battery. While this was supported on the iPhone XS, you needed a separate 18 watt charger – now this is included in the box.
It would be good to see a reverse-wireless charging feature, as with most of the iPhone's competition. This enables the phone to charge other devices using its battery, and it's unclear why this isn't supported.
Connectivity options
It's good to see that Dual SIM support comes as standard. This includes one eSIM and one physical SIM. With Telstra announcing that you can choose either type of SIM as your primary number, hopefully physical SIMs will be a thing of the past soon. Either way, it's handy to have two numbers in one phone, whether a private and work number, or a local data SIM when travelling.
The new models come with improved Wi-Fi speeds too, thanks to Wi-Fi 6 (802.11ax), with a 38 percent increase in performance compared to 802.11ac.
Unfortunately, one big omission for the iPhone 11 is the lack of 5G connectivity. One could argue that since 5G is still in its infancy in Australia, that it doesn't really matter. However, given that coverage will keep getting better, it would be nice to know that support is there when it finally rolls into your neighbourhood. Given that competitor flagship phones from Oppo, Samsung, LG and Huawei all support it, this is a glaring ommission. If 5G is on your list of must-haves, then the iPhone 11s will likely support it next year.
Still, in practical use, Australia's 4G network is very good, and very fast. With faster LTE support of up to 1.6 gigabits per second, you won't be left wanting when downloading or streaming to your iPhone 11 Pro over the best parts of the Australian 4G network.
Availability
We've included a summary directly from Apple about how to buy the new iPhone 11 as well as what the company is offering for trade ins:
In-store – customers can purchase iPhone 11 and iPhone 11 Pro from 8am, Friday 20 September at any Apple store in Australia.
Pre-order online – customers can choose to purchase iPhone 11 and iPhone 11 Pro online at apple.com, and have product delivered or pick it up in an Apple store.
Pricing and trade ins
Through Apple Trade In, customers can trade in eligible devices for an Apple Store Gift Card. If it's not eligible for credit, Apple will recycle it for free. And if you Trade In your current iPhone, you could get up to $810 in credit towards a new one.
iPhone prices with trade-in:
iPhone 11 starts from RRP A$1,199 inc. GST. Customers can also get iPhone 11 from RRP A$849 inc. GST with trade-in.
iPhone 11 Pro starts from RRP A$1,749 inc. GST. Customers can also get iPhone 11 Pro from RRP A$1249 inc. GST with trade-in.
iPhone 11 Pro Max starts RRP A$1,899 inc. GST. Customers can also get iPhone 11 Pro Max from RRP A$1399 inc. GST with trade-in.
GadgetGuy's take
The iPhone 11 Pro is a seriously impressive and capable smartphone. While a lot of the features introduced have been present on Samsung, LG, Oppo and Huawei's flagship devices, Apple has delivered them with its typical flair and quality.
The three-lens system is the standout feature for the iPhone Pro and great for all types of content creators – and it really delivers. Paired with iOS13, the Pro is full of features and great to use. We love the new colour options too, which are less flashy and more luxe than the shiny and glossy trend. It's still expensive, and 5G really should be included, but it's still a justifiably desirable device and one that deserves 'Pro' in its name.
Valens Quinn travelled to San Jose for the iPhone 11 launch as a guest of Apple Australia
iPhone 11 Pro specifications:
Model
11
11 Pro
11 Pro Max
Same = Pro
Display
6.1", 1792×828, 326ppi, IPS
1,400:1
625 nits max brightness
P3 gamut
Dolby Vison/HDR10
5.8", 2436×1125, 458ppi, OLED
2M:1 contrast 800nits
Same


6.5" 2688×1242
Same
Processor
A13 Bionic
Third gen Neural engine
Same
Same
RAM/Storage
64/128/256
64/256/512
Same
Rear Camera
Ultrawide: 12MP, f/2.4
Wide: 12MP, f/1.8 OIS
2X Optical 5X Digital zoom
Night mode
Portrait mode
HDR
4K@260fps
Ultrawide: 12MP, ƒ/2.4
Wide: 12MP, ƒ/1.8 aperture
Telephoto: 12MPm, ƒ/2.0
Dual OIS
2x optical 10x digital zoom
Same
Same
Selfie
12MP, f/2.2 Screen fill light
HDR
Portrait mode
Bokeh
4K@60fps
EIS at 30fps
Animoji and Memoji
Same
Same
Coms
Wi-Fi 6 AX MIMO
BT 5.0
NFC
GPS
Same
Same
Security
Face ID
Same
Same
Calls
FaceTime video and audio
VoLTE
Wi-Fi calling
1 x Nano/1 x eSIM
FDD-LTE (Bands 1, 2, 3, 4, 5, 7, 8, 11, 12, 13, 17, 18, 19, 20, 21, 25, 26, 28, 29, 30, 32, 66)
TD-LTE (Bands 34, 38, 39, 40, 41, 42, 46, 48)
Same
Same
Battery
mAh not disclosed
Lighting connector
Up to 50% charge in 30 minutes with optional 18W adapter
Same but includes 18W charger
Same
Build
Alloy frame
Glass back
IP68 (2M x 30min)
SS frame
Textured matt glass back
4M x 30min
Same


Size
150.9×75.7x 8.3mm x194g
144×71.4×8.1mm x 188g
158×77.8×8.1,226g
Colours
Purple
Yellow
Lime Green
Black
White
Red
Midnight Green
Silver
Space Grey
Gold
Same
Price
$1199/1279/1499
$1749/1999/2349
$1899/2149/2499
A power-packed iPhone for people that love iPhones.
Positives
Portrait mode is now so quick and good that it's our favourite photo mode
Matte finished cases and that Midnight Green colour
The new Ultra Wide lens adds to an already impressive camera for more creative options
Very solid 4K video recording and front selfie slo-motion mode
The brighter OLED display
4-5 hours more battery life than the iPhone XS
Negatives
No 5G support
No reverse wireless charging
Still uses Apple's proprietary Lightning cable instead of USB-C