Desperate times can call for desperate measures, and if the battery life of your iPhone 6S has you reaching for a charge cable on a regular basis, perhaps you'll be interested in a case that can always deliver battery life to your iPhone.
Announced at CES with an expected delivery timeframe of March this year, iPhone owners frustrated with mediocre battery life will soon be able to quell their frustrations with a little bit of hand action.
Specifically, they'll be able to provide more juice to their phone with a hand crank found on a special patent-pending accessory.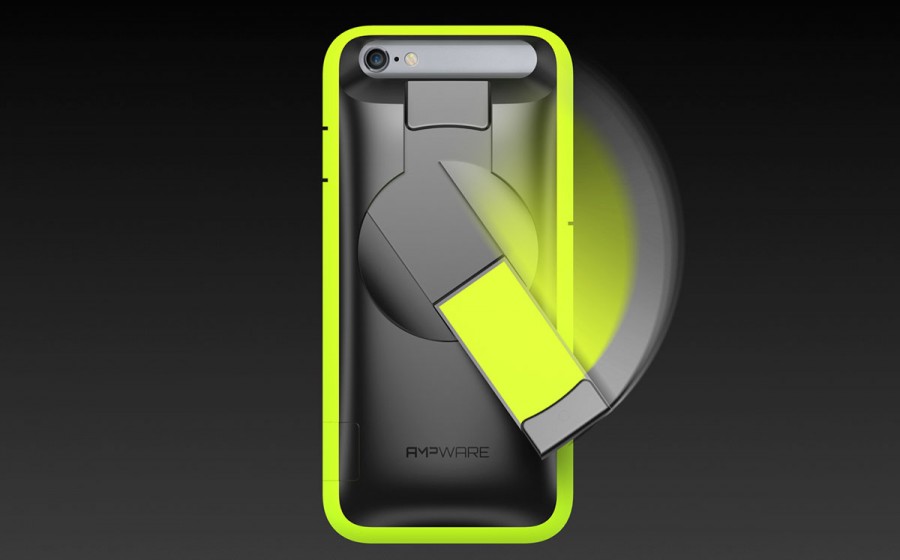 That accessory is called the Ampware case for the iPhone 6 and 6S, and it's basically a battery case with a hand crank built into the back to let you wind the crank and generate enough power to keep your phone going.
Ampware tells GadgetGuy that when the fold-out handle is wound for a good five minutes, you'll find roughly one hour of regular use of the iPhone, with any extra use from the generator providing more time. It's even possible to keep winding to get full battery life, though you'll probably be winding it for a while, truth be told.
"Since our patent-pending charger is built into the case, you will never leave home without power." said Mark Gabriel, Co-Founder of Ampware.
"In an emergency, staying connected to emergency assistance is critical. Our team was powerless during Hurricane Katrina and could not reach out to family and friends. Now with Ampware, you can always stay amped!"
Easily one of the more quirky concepts we've seen out of CES thus far, Ampware could offer some pretty significant uses, such as when the power goes out and you're looking to stay in contact. We can't imagine it would be terribly useful for those hoping to keep their iPhone running to play Candy Crush for as long as possible, but you never know.
Locally, we doubt you'll find this one arriving in Australia any time soon, but Ampware does say that the hand-crank generator case is up for pre-orders now with delivery expected in March, available for a recommended retail price of $79.99 USD with an extra $10 USD needed for shipping.
That means Aussies can expect to pay just under $150 when all is said and done for this right now, so if you're keen, that's how much you'll need to have.