Remember when your parents used to clip coupons so you could save money on food and fun? Believe it or not, there's now an app for that.
In fact, it's not just one app, but two that we've heard of in the past few weeks, arriving on digital marketplaces for both Android and iOS devices.
First up is The Optus app "Go Places" which aims to let you take 20% off the cost of a meal at restaurants taking part under the Frequent Values program that the app is connected to. The app allows you to find restaurants offering the discount using the GPS in the phone, as well as reviews and directions on how to get there.
Available on Android, BlackBerry, and Nokia Symbian devices, the app creates a virtual voucher for saving money even while you're dining at the restaurant.
The vouchers aren't free, however, and Optus charges either $39.99 for a year's access to vouchers or $2.99 per voucher valid for 24 hours since purchase.
There's also a catch: only Optus customers have access to the app, pushing the savings out of reach for users of Telstra and Vodafone, and offering only Optus subscribers this chance.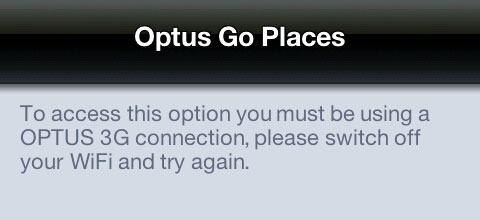 FiveO is another of these discount apps, launched this week for all telcos and running on Android and iOS-based devices.
This app relies heavily on Facebook, connecting with your online social media presence and asking you to Facebook Like places to "check in" and receive a discount. Stores are apparently lining up to jump in this new system with almost 2000 Sydney locations already offering discounts for this social networking boost.
At the moment, FiveO is a Sydney-only affair, but the owners hope to expand to other cities around the country in the coming weeks.