The STM Myth collection is no myth – its here and is one of the Aussie 'bag' makers hottest Christmas collections.
STM Myth (website here) joins its current collections including Stories, Streets, Velocity, Grace, Dux and Atlas in catering for just about every protective IT based bags cover and case you will ever need.
GadgetGuy is no stranger to STM – we reviewed the Grace range earlier this year. These are women's business bags offering a balance between simplicity and style. In short, they look professional yet are eminently practical. And it's nice to note that a few GadgetGirls now use these every day.
In my case, I use an STM Conroy 33-litre Backpack and an STM Conroy Flight small laptop shoulder bag circa 2013. The Conroy range is out of production, but I still use these every day in my work commute. There are no signs of deterioration despite nearly five years of hard use – may there be many more (as STM no longer make a 33-litre backpack).
So how do you review a bag?
First, we must use it for at least a week to get to know its strengths and weaknesses. Its only through use that you can see if it is a convenient design. Importantly does it impress us enough to want to buy it?
Second, is appearance. Not to be Shallow Hal but it must look good too. Preferably a little different, edgy or quirky. I have lost count of how many times I have been asked on my train commute what brand and where I got the backpack.
Third, is comfort. Are the straps well padded? Can you use it for extended periods without soreness or discomfort?
Fourth, is build quality. Is it well made? Are zippers the right strength for its intended use? Are stitches heavy enough?
Fifth, is functionality. Does it do what it should easily, logically and well?
With those paradigms in mind here is the review.
Review: STM Myth collection
Website here
STM's attention to design and detail is just as good as when I first encountered them over five years ago. Materials may have changed (if anything more modern materials are stronger), but the STM hallmarks are still there.
The range includes (most are in Granite/black, Slate/Blue or Windsor/Wine colours). All the bags will fit up to 15" Ultrabook-style laptops.
28L backpack $159.95
15L backpack $139.95
Laptop brief $89.95
Laptop sleeve $69.95
Must stash accessory storage $29.95
Dapper Wrapper storage accessory $39.95
Having been used to the 33L, I wondered what losing 5L would be like. The answer is that it is mainly in the width of the bag, not so much the height or depth.
To put it in perspective 28L is the equivalent of 28 x 1L UHT milk cartons. Guess what – we can fit about 24 of these in the three main compartments – 86% efficiency! There is still room for small things in outer compartments too.
In case you think the test is a little silly remember it is a true test of usable capacity. The older 33L fits 26 cartons or 78% efficiency.
Back to reality, we tested with a big 15.6" Dell Inspiron 5000 (review here) and a svelte 14" Lenovo 920 Yoga (my 2018 4K favourite and a review here). STM has a new technology called Slingtech that suspends the device away from the edge of the pack. It adds both padding and impact protection – the latter is missing from my 33L!
Next was a feature called Cableready. Just a fancy term for a cable routing channel between the three compartments. Use it for wired headphones or even USB power bank cables. It is far better than said cables hanging out of half-opened zips.
I wore it for a week carrying from 10-20kg (I commute from the central coast to Sydney via train and need to carry copious review items back and forth). STM's Comfortcarry strap system is as good as the 33L distributing weight properly over the shoulders (not just on them), so it was comfortable even with the heaviest backpack.
A final new feature is luggage pass-through – you can slip it over an extendable luggage bag handle – neat.
STM Myth pockets galore
The rear compartment is for a laptop and (not or) a tablet. It easily fits a Surface Pro 5 and a big laptop. It is velour lined, and there is not much space left over for accessories.
The middle compartment has the full depth and all the height. It has two zippered sections and a cavernous general storage section. I could easily fit four 12 x 12 x 20 mm boxes in there (think four Nest Security cameras).
The front zippered pocket has a zippered section, key lanyard, various sized pockets, pen holders and an earbuds clip. Useful for all that 'stuff".
But we are not over yet. There is an unzippered almost full depth pocket in the very front useful for carrying documents or books up to A4 size.
At each side there are zippered 'water bottle' size holders – one has Cableready passthrough, so it is best for your smartphone (no one uses a Walkman anymore).
Usability
As mentioned, it is at least 85% usable capacity exceeds many of backpacks of larger apparent capacity. It is purely good design.
My only gripe is that the zippered side pockets can be hard to access if you pack the bag to capacity.
Build quality
This refers to all the STM Myth range.
It is 100% polyester with a water and dirt repellent C6DWR coating. From what I can find this is a perfluorocarbon that does not produce potentially harmful PFOA (perfluorooctanoic acid) like most fluorocarbon based repellent coatings, e.g. the now banned older Teflon and Scotchgard.
Zips are a 'reverse coil' which means teeth are not exposed and better protected from water and dirt. All zips have convenience tabs. They should last the distance
Finally, the backpack section. The straps are well padded and firmly attached by stitching and rivets, and the back pad has effective airflow circulation. The chest strap is a nice touch.
I do miss the waist strap on my 33L but then I only occasionally use that for really heavy loads. Size is H 47.0 x W 30.0 x D 17.0cm x 1.2kg.

I did not test the 18Lbackpack version. It has one pocket and is H 45.0 x D 29.0 x W 15.0 cm x1kg. Obviously, it's for the daily commute – a laptop, lunch and a few accessories.It has all the 28L features.
GadgetGuy's take STM Myth 28L backpack

The STM Myth 28L comes close to the perfect backpack. I like the size, pockets, design, and build quality.
The SYM Myth Laptop brief comes in two size
15" – H 35.0 x D 24.1 x W 1.6cm x .85kg x 8L
13" – H 27.0 x D 37.0 x W 6.0cm x .7kg x 7L
They feature all the 28L backpack innovations.
The main zippered compartment fits a laptop and a tablet with ease. There is not a lot of spare space for cables and accessories, but the front zippered compartment can fit a USB charger and has pockets for general items. If you have a big charger brick look at the 18L backpack instead.
On the back side is a luggage strap to fit over a wheelie bag handle.
The review units did not come with a shoulder carry strap, as shown on the website.
The sleeve is even less complicated offering almost no storage – it is a typical zippered edge sleeve available in
15" – H 29.0 x D 39.0 x W 6.0cm x .35kg
13" – H 25.5 x D 34.0 x W 2.0cm x .28kg
GadgetGuy's take
As one who frequently must rush off to meetings, this is a perfect brief or sleeve offering protection. I prefer the brief simply because it has some room for cable and charger storage.
It looks like a gent's toiletry kit and could easily double for that – a full-length middle zip opens the pack wide.
It is really for IT accessories, sunglasses, pens and more. It is H 10 x D 20 x W 11cm x 70g with 1.5L storage.
Use it in conjunction with the 28L backpack to add protection to your breakable items.
The Dapper Wrapper reminds me of those torture movies where the sadist walks in with all his implements in a leather wrapper.
It is amazingly useful with four segments large enough to store a smartphone, charger, earbuds, accessories and more. It is H 14.4 x D 26.0 x W 1.0cm x 30g.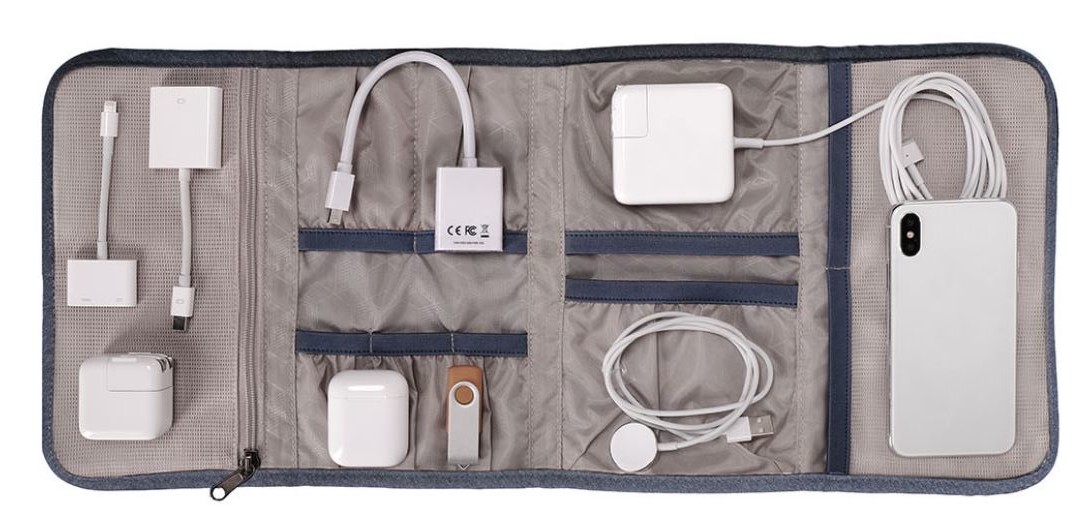 GadgetGuy's take – a clean desk is the sign of a sick mind
Both these items are very useful to OCD types who have a place for everything and everything in its place. A fully loaded Dapper Wrapper can be a little thick and bulge at the magnetic closure – so don't overstuff it. The Must Stash is handy for bits and bobs.
GadgetGuy's take overall
Well made, well designed, practical and of keeping quality. Plus, it is an Aussie company too.
So, it is no Myth that STM make great, useful, serviceable products.
Well made, well designed, keep quality from an Aussie company