ITy Bytes 13 January – in this edition
GoPro Light mod for Hero8
New streaming entrants Apple and Disney may have a tough time
OPPO Wins Canstar Blue Overall Customer Satisfaction hat trick
Motorola Razr – the return of an icon
Andatech – don't blow it on Australia day
Sydney Vivid festival dates 22 May to 13 June 2020
iFixit tears down the Cheese Grater, sorry Mac Pro
Australia has the 4t highest Internet cost (100Mbps)
Google Maps now Google Eats
Ity Bytes 13 January is a brief curated look at the news you should know
IT Bytes 13 January
GoPro Light mod for Hero8
GoPro has released a mountable light for the Herop8. It has up 200 lumens (in four steps) equivalent to a 25W incandescent bulb. It is waterproof to 10m and has a 6-hour battery. It requires no power from the GoPro Hero8. It can use the top or side camera mount or any GoPro mount. It is not a flash (no sync) – more a fill light.
Price $84.95 and website here.
New streaming entrants Apple and Disney may have a tough time
Compare Broadband (a broadband price comparison website) found that while Aussies have embraced paid streaming – Netflix or Stan, they are not prepared to pay too much. Based on 2000 respondents.
44.1% only watch free to air or catch up TV
31.8% will pay up to $15/20 per month on a single service 1080p/4K
12.3% will pay up to $30 per month for two services
11.8% will $50+ each month for three or more services.
Netflix and Stan are pushing this to the limit, with their four-stream Ultra HD subscriptions costing $19.99 and $17 per month respectively. Meanwhile, Apple TV+ and Disney+ deliver Ultra HD for a single pricing tier of $7.99 and $8.99 respectively. Other services jockeying for position in Australia include Amazon Prime, 10 All Access (FHD), YouTube Premium (FHD) and Hayu (FHD).
Scott Kennedy, Compare Broadband CEO says Aussie price sensitivity will mean new competitors like Apple and Disney may struggle to pry open Australian wallets. Not to mention that their prices reflect very limited content add-on to established services.
OPPO Wins Canstar Blue Overall Customer Satisfaction for the third year in a row
Michael Tran, Managing Director at OPPO Australia, believes winning the award for the third year in a row is a testament to the company's ongoing initiatives to listen to consumers and deliver products with features they want. 
"In 2019 alone, we made massive strides in delivering emerging technologies to the Australian market. Most notably, our 5G push which saw OPPO become a market leader in Australia, showcasing our capabilities of designing smartphones at the cutting-edge of technology.
"In only five years since launching on Australian shores, OPPO has become an Aussie favourite. We expect this positive reception of our brand and products to continue into 2020 and beyond, as we continue to make premium possible in the 5G era and deliver innovations that Aussies have come to expect from OPPO."
Due for Australian launch later this month the 2020 version of the iconic 2004 Flip phone returns.
What we know
6.2" P-OLED, 2124×876, 373ppi, notch inside and outside 2.7" G-OLED 800×600, 370ppi
Open size 172 x 72 x 6.9 mm, folded 94 x 72 x 14mm x 205g
Qualcomm SD710 and 6/128GB RAM
16MP, f/1.7. 1.22um dual pixel PDAFand ToF rear camera and 5MP, f/2.0 1.12um front
Wi-Fi AC, BT 5, NFC, USB-C, fingerprint sensor
2150mAh battery and 15W charge
Missing – nano-sim (eSIM only) microSD, 3.5mm audio, no IP rating
US$1499 (add 50% for AU$)
We will be reviewing it soon. Note this is the start of flip phone V2.0 – Samsung has announced the Galaxy Bloom (February) and there are several lower-cost like Alcatel Flip Go, Nokia 2720 Flip, ZTE Cymbal, LG Gentle and Aspera mobile three under $100.
Andatech – don't blow it on Australia day
If you don't want to drink zero alcohol beer or risk Lite beer bloat, then take care and buy a portable breathalyser.
With Australia Day celebrations 25-27 January (and double demerit points too), one way to avoid being charged with PCA offences is to use a breathalyser and make sure you are under 0.05 before getting into the driver's seat.
Over the Christmas and New Year period Victoria Police caught 1250 drink or drug drivers, New South Wales Police caught 720 and South Australia 400.
Andatech is donating 50% of its profits in January to the Salvation Army Disaster Appeal to help bushfire affected communities. GadgetGuy reviewed an Andatech breathalyser here – very impressive and accurate.
Sydney Vivid festival dates 22 May to 13 June 2020
Vivid Sydney returns – think of it as ecologically responsible fireworks without the smoke! Seriously if you have not seen it then make your way to Sydney. There is a festival of music, ideas and events as well.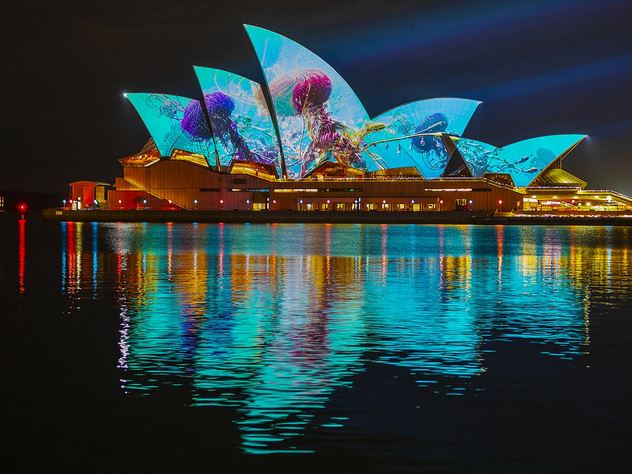 iFixit tears down the Cheese Grater, sorry Mac Pro
iFixit says it doesn't grate cheese very well. And no, we didn't ruin our $6,000 teardown unit with dairy-based ingress. We did, however, open our 2019 Mac Pro to find a Fixmas wish come true.
The new Mac Pro is beautiful, amazingly well put together, and a masterclass in repairability. Larger modules—like RAM and some PCIe cards—can be swapped without tools, almost Lego-style.
Australia has 4th highest Internet cost (100Mbps)
A report by PIcodi.com raises the question of why Australia has the world's 4th highest internet cost at US$64.93 (about AU$100) per month when the cheapest is $6.19 in Ukraine. It gets worse for the almost unobtainable 1Gbps service – Australia is $231 per month and Romania is $8.80.
But worse, there was no internet (let alone broadband) plan at any speed that you can buy for US$20 per month here. Some 37 countries can get plans from 1Mbps to 1Gbps for that. Someone is making a motza from Australian internet!
There are now over 4.5 billion active internet users – 58.8% of the population.
Google Maps now Google Eats
Google now offers the ability to order and pay for 'take-away' (pickup) from your nearest Boost Juice, Chatime, Domino's, Grill'd, Guzman y Gomez, Pizza Hut and many local cafes and restaurants (more to come) via HeyYou. It also offers home delivery via Pizza Hut and participating Domino's.
ITy Bytes 13 January, ITy Bytes 13 January, ITy Bytes 13 January, ITy Bytes 13 January