Ity Bytes 26 June
Apple recalls 15-inch MacBook Pro for battery issues;
Microsoft adds personal vault to OneDrive storage options;
The University of Sydney discovers over 2000 fake apps on Google Play;
Huawei updates EMUI to version 9.1;
Apple et al. consider shifting some production from China;
LG reports massive sales of V50 ThinQ 5G;
Samsung Galaxy Note10 official case render reveals single O-hole and five rear camera/sensors;
Ity Bytes 26 June
Apple recalls 15-inch MacBook Pro for battery issues
The 15-inch MacBook Pro Retina, 15-inch, Mid 2015 purchased between late 2015 and early 2017 may have 99.5Wh batteries that overheat and can catch fire.
Apple's recall program is here, and you can check your serial number to see if you have one. If so, stop using it and disconnect the charger. The replacement is via an Apple Authorised Service Provider or an Apple retail store. It may take one to two weeks, and there is no loan program offered.
If you are in doubt, the specs for the affected model is here. A lot of people liked this model as it had dual USB 3, HDMI out, two Thunderbolt ports and a MagSafe charger port.
You can read one users exploding battery issues here.
This recall is the latest in a series of MacBook service programs including #keyboardgate, #stagelight, #SSD. It's a long way from Steve Jobs mantra that Apple customers should not be crash test dummies.
Microsoft adds personal vault to OneDrive storage options
If you use OneDrive cloud storage (as many Windows users do – it's enabled by default) you can enable access with a strong authentication method or a second step of identity verification, such as your fingerprint, face, PIN, or a code sent to you via email or SMS. These Personal Vault files have an extra layer of security in case someone else gains access to your account or your device.
Microsoft has also added additional storage options. Details here.
The University of Sydney discovers over 2000 fake apps on Google Play
The University of Sydney Faculty of Engineering's School of Computer Science researchers analysed over one million Google Play apps and found over 2,000 counterfeit apps. Popular games such as Temple Run, Free Flow, and Hill Climb Racing were the most common targets for app impersonation. It was part of a two-year cybersecurity project with Data61-CSIRO. Over one million Google Play apps were investigated, and 2,040 were potential counterfeit apps.
Fake apps are often used by hackers to steal user data or infect a device with malware. "Many fake apps appear innocent and legitimate — smartphone users can easily fall victim to app impersonations and even a tech-savvy user may struggle to detect them before installation," said School of Computer Science academic and cybersecurity expert Dr Suranga Seneviratne. More info here.
Huawei updates EMUI 9.0 to 9.1 – coming mid-July (not for P20/Pro, P30/Pro)
Mate20/Pro, Mate 10/Pro, Nova 3i/3e
P30 lite – August 2019
Key Improvements to EMUI 9.1 – details here
Intelligent Design – Simplified menu experience, redesigned app icons and new wallpapers.
Next Level Gaming – Improvements to the mobile gaming experience, and a screen touch response delay reduction of 36%.
Easy PC Transfer – Transfer data in seconds with HUAWEI Share OneHop.
Digital Wellbeing – Screen time statistics, sleep time management and parental control for supervising children's smartphone usage.
GadgetGuy Note: At this time the US President Executive Order (read the full details here) are still in force. Stage one of the Order comes into effect on 18 August and if that is enacted means no more Android support from Google.
Huawei has published a Q&A concerning existing devices. While Huawei's commitment is firm, the reality is that the full extent of the Executive Order will not be known until mid-August at the earliest.
Apple et al. consider shifting some production from China
Apple (and many major US brands) has asked its major suppliers to assess the cost of moving 10-30% of its production from China. It won't happen overnight – this is a huge logistical enterprise.
This comes after The Wall Street Journal reported that the US is exploring requiring any components for 5G infrastructure to be made outside China. As part of a 150-day Executive order review (to be finished in October) officials are asking telecom equipment makers if they can develop U.S.-bound hardware including cellular-tower electronics as well as routers and switches, and software outside of China.
Trump is adamant that national security trumps all and even US made goods manufactured in China could open security loopholes. If you have time, there is an interesting report on an ongoing global attack against telecommunications providers by so-called state-sponsored hackers here.
LG reports massive sales of V50 ThinQ 5G
Well not here, but its homeland South Korea where 5G reception is as spotty as Telstra's. Over 100,000 units were sold in the first week (article here) – not because of 5G but because the innovative clip-on second screen adds a very useable dimension to a glass slab. It is also achieving double-digit sales in the US and here.
GadgetGuy is reviewing one now and is more than impressed with the second screen as a content consumption device.
Samsung Galaxy Note10 official case render reveals single O-hole and five rear camera/sensors
Olixar has published the beginning of its range of Samsung Galaxy Note10 cases – oopps. It shows three main camera lenses, possibly a 3D TOF camera and an IR camera. The front has a single O-hole and almost 100% glass, meaning it has managed to put almost everything else under glass. It also appears there will be a single Pro model and a 5G option.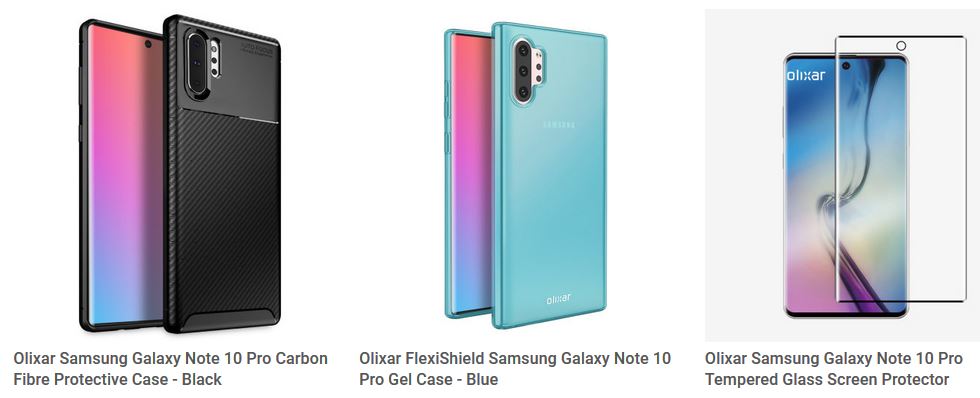 GadgetGuy has a round-up of the highly anticipated Note10 rumours here