ITy Bytes 29 March is the important news that did not warrant a full article.

New 3D imagery of central Sydney on Google Earth.
Google Earth is one of the most comprehensive 3D maps available – and we now have a more complete picture of this iconic Aussie city. Explore landmarks like the Sydney Opera House and popular tourist spots Darling Harbour and The Rocks, or simply take our guided tour, Explore Sydney. You can read more in the blog post here.
Samsung develops 8Gb 10nm DDR4 DRAM chip
It is double the capacity and fits into the space taken by a 4Gb chip. It has been hard to fit more than 16GB on a standard DDR4 DIMM and in theory this will allow 64GB. Two of these will utilise the memory capacity of Intel's new Core i9 chips.
Samsung says it is also preparing to transition to the next-generation DRAM interfaces such as DDR5, LPDDR5 and GDDR6.
ASUS Live Update Utility with ShadowHammer infects its Windows devices
Kaspersky Labs have found the ASUS Live Update Utility was modified by cybercriminals to deliver a little more than BIOS, UEFI, and software updates.
Kaspersky says it has detected more than 57,000 infections due to new technology in its security software. It estimates that more than 1 million devices may be infected.
The cybercriminals were not interested in all of them 0 they targeted only 600 specific MAC addresses, for which the hashes were hardcoded into different versions of the utility. To check if your MAC address is on the target list, use its tool here.
ASUS has closed the 'supply-chain' loophole that's allowed cybercriminals to inject the malicious code into the update utility. The latest ASUS Live Update utility is not infected.
Supply chain ShadowHanner is not new
Popular free disk/registry cleaner CCleaner from Piriform was infected and downloaded more than two billion times.
While the source code was clean, the compiled builds contained malware that later was used for the attack. This was done by altering the compiler library, and the infected software has a legitimate Piriform digital signature. This attack was directed to IP addresses of high-profile tech companies and IT suppliers.
Kaspersky ventures Chinese-speaking cybercriminals were behind that attack and were after company trade secrets.
The company says its Threat Hunting technology can detect ShadowHammer and other nasties in the network.
Western Digital San Disk Extreme 1TB UHS 3 microSD card
Well now you can get a 1TB microSD card as long as your device supports it. Most recent Windows PCs do and some of the latest smartphones, drones and cameras do. It will record at up to 90MBps and read at up to 160MBps, It also includes Rescue Pro software. Perf3ect for video and continuous burst.
Cost $799 for 1TB and $349 for 512GB
Monitor market growing
The Australian PC monitor market grew at 10.4% in 2018 due to the rapid uptake of dual monitor setups in business and high specified and priced gaming monitors. The impact of 4K and USB-C interface monitors was beginning to show later in the year.
Dell leads the way, HP is #2, Acer #3, Lenovo #4 and Samsung at #5.
Average selling price is $300 which indicates a preponderance or smaller 24" monitors.
PC Market slows after good growth
The Australian PC market for the 2018 calendar year saw commercial devices grow 9.2% (probably due to tax depreciation incentives) while consumer devices shrank -3.0%. "Competition from mobile devices, the slow pace of innovation and improvement in mainstream PC devices, and a disappointing gaming graphics hardware refresh cycle are all contributing to the extended life span of the consumer PC device", says Sean Ashari, Market Analyst at IDC Australia.
But in good news the average selling price took a big upswing reflecting the impact of the declining Aussie dollar and of new models and processors.
New Zealand ISPs block 4chan, 8chan and LiveLeak
Spark NZ, Vodaphone NZ and Vocus NZ ISPs acted quickly to block 4chan, 8chan and LiveLeak in New Zealand following the mass shooting.
8chan, the platform where the shooter originally drafted and published his manifesto and the other sites are known for their lax policies regarding the sharing of explicit and disturbing content.
While blocking these sites stops casual users finding or accessing content, determined users have circumvented the block using a VPN (Virtual Private Network).
It is great that ISPs are taking responsibility to block hateful online content. This incident has also drawn attention to the extreme content shared around 4chan, 8chan and LiveLeak, suggesting further action should be taken to moderate what can be posted there.
Australia and New Zealand need to look more closely at this loophole that allows users to download illegal content, stream and pirate copyright content in obscurity.
Meet Poly – and it wants more than a passing cracker!
Plantronics + Polycom have relaunched as Polly – to focus on driving the power of many.
Poly, meaning "many" takes the audio and video expertise of Plantronics and Polycom and its breadth of smart endpoints that connect across and between unified communications platforms to transform the modern workplace.
Peter Petrides, Director of Consumer, APAC said, "We look forward to combining both Plantronics' legacy of wireless, Bluetooth, voice and audio products and Polycom's expertise in video and unified communications to ensure we provide our customers with superior sound experiences."
Huawei launches Porsche Design Mate 20 RS
If you have a spare $2599 pop into Lecia Stores, JB Hi-Fi online or Mobicity and drool over the Porsche Design Mate 20 RS. It has a 6.39-inch 3120 x 1440 OLED screen, 8/256GB, Mate 20 Pro enhanced camera, 40W Super Charge 2.0 and looks damned sexy.
Apple updates AirPods
Apple has released the 2nd generation AirPods with a new H1 chip that Apple claims delivers "performance efficiencies, faster connect times, more talk time and the convenience of hands-free Hey Siri." Yes 'Hey Siri' is now supported.
It has also added an optional Qi compatible charge case. AirPods Gen 2 have up to 5hrs play time per charge. A fully charged provides up to 24 hours of listening time.
Price:
AirPods and standard charge case $249
AirPods and Qi charge case $319
Qi charge case alone (works with Gen 1 as well) $129
Apple News+ – magazine and news reading subscription service
Apple News+ adds a more expansive collection of high-quality stories for a subscription to the free Apple News service. Its kind of an iTunes for magazines.
Currently its only available in the US and Canada at US$9.99/12.99 per month. There is no indication when or if this will come to Australia.
Apple Arcade – games subscription service for macOS, iOS and tvOS
Apple will offer a curated Apple Arcade game subscription service with over 100 new and exclusive games. Users can pay to try any game from its handpicked titles that are all-you-can-play, have no ads, ad tracking or additional purchases, and respect user privacy. It is coming to Australia 'later this year'. No monthly subscription details have been announced.
Apple TV+ subscription TV service and new Apple TV App
Apple has developed its 'Original Video Subscription Service' as part of a new Apple TV App to give users access to exclusive original shows, movies and documentaries for a monthly subscription. It will feature a new slate of programming from the world's most celebrated creative artists, including Oprah Winfrey, Steven Spielberg, Jennifer Aniston, Reese Witherspoon, Octavia Spencer, J.J. Abrams, Jason Momoa, M. Night Shyamalan, Jon M. Chu and more. Interestingly competitive streaming services like Netflix are absent having declined to enter the Apple walled garden and saving the 30% fee Apple demands from content providers.
The new Apple TV App coming in May allows users to subscribe to and watch new Apple TV channels — paying for only services they want. Rental and purchase movies will move from iTunes to the App.
The App will also be available on Samsung smart TVs, Amazon Fire TV, LG, Roku, Sony and VIZIO platforms in the future. Content from iPhone or iPad will be able to be streamed to eligible smart TVs with AirPlay 2 support.
We have no information about timing or prices yet.
Apple updates iMac desktops – 21.5 and 27-inch
Apple has released two new 21.5-inch 4K Retina iMacs with 8th generation i3, i5 and i7 processors. It has also released three new 27inch 5K Retina with 6-core i5 and i9 processors.
The recognisable iMac all-in-one design remains with Wi-Fi AC, Bluetooth 4.2, USB-A 3.0 and Thunderbolt 3 ports for expansion.
Prices start at $1999 for the 21.5-inch base model and $2799 for the 27-inch base model. A fully kitted i9 is around $8500.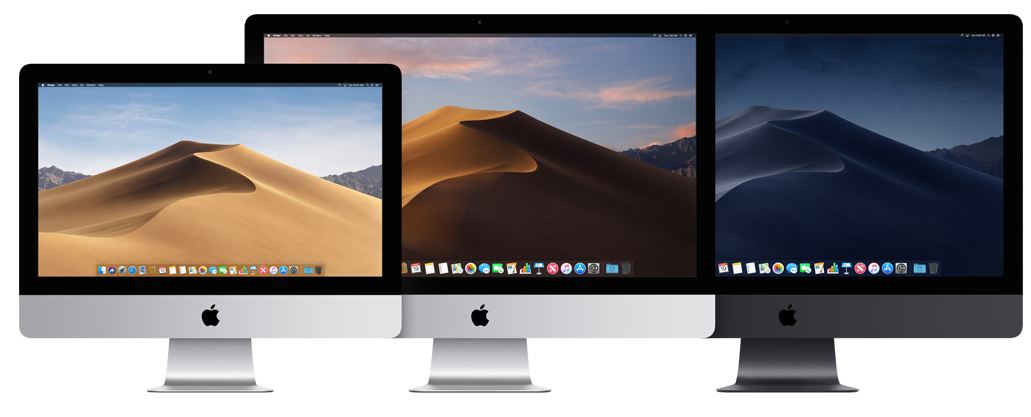 Google launches Stadia game streaming cloud
In the Android camp Google has previewed Stadia as a subscription cloud game streaming service. It works on any device that supports Chromecast or Chrome Browser which means iOS, Android, Chrome OS, macOS, Windows, and the Chromecast dongle. If your Internet plan supports it then you can stream up to 4K@60fps with HDR and Surround Sound.
In theory this removes the need for expensive, high-powered local PCs. Google will release a dedicated game controller pad and PlayStation or Xbox controllers are also supported.
Details are scant as this new platform requires games written specifically for streaming.