Ity Bytes 8 June – in this edition
Trump edict starts to bite Huawei;
Google Maps gets a digital speedo and new SOS features;
Samsung to bring super speedy AMD RDNA GPU to smartphones;
Samsung Galaxy Note9 rates top in customer satisfaction;
Motorola Z4 5G;
Wearables may be coming of age;
ITy Bytes 8 June
The impact of the US Presidential Order begins to bite Huawei
US companies can neither supply to or buy from Huawei.
Facebook has announced its apps (Facebook, WhatsApp and Instagram) will no longer be part of pre-installed apps for Huawei phones made from the date of the Presidential Order. The same applies to Twitter, Uber, YouTube (Google) and other US-owned apps. These apps can still be post-installed from Google Play.
It is a two-part blow. Huawei charges these companies to have their apps installed, and in return, the worlds #2 smartphone maker propagates these apps wider use.
We remind users and potential buyers that the US ban (applying to companies including Google, Microsoft, Facebook, Amazon, etc.) applies for phones built from 21 May. It does not apply to phones in-stock at that time. Google has obtained a reprieve until 18 August to provide Android security updates to existing Huawei phones, and its Play Store remains available to these.
We are hoping this may be a storm in a teacup, but it has hit Huawei hard. Analysts say its stellar sales in Q1, 2019 have dropped 20-30% in Q2 and it has cut production orders by a further 30% for Q3. While Huawei's China market share is solid sales in the five/nine/fourteen 'eye' (western) countries have stalled due to uncertainty about Google Android's future on Huawei handsets.
Google Maps gets a digital speedo and new SOS features
Coming soon to Australia, Google Maps, when used for in-car navigation, will display the GPS speed (which is more accurate than most car speedos) as well as speed limits.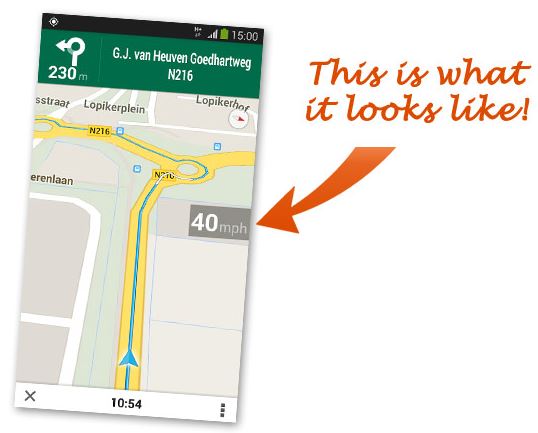 SOS Alerts introduced last year provide access to authoritative, real-time information during times of crisis. New visual information about natural disasters and a new navigation warning system enable drivers to reliably know where a disaster is and anticipate where it is going. It is also adding (not globally yet) crisis navigation warnings crowdsourced from users. These include road closures, accidents and more.
Samsung to bring AMD Radeon to smartphones
These days most Android smartphones have a Qualcomm Adreno, ARM-design Mali or PowerVR Graphics processing unit.
Samsung has signed a licence agreement to implement AMD's RDNA graphics into its high-end Exynos Chips. Ironically AMD sold its smartphone development to Qualcomm in 2009 as the basis of its Adreno GPU. Adreno is an anagram of Radeon.
The RDNA technology powers AMD's Navi desktop GPU and is for high-performance gaming. Google will be using RDNA technology to power its Stadia gaming cloud. Analysts say that Samsung is looking for a distinct edge over other smartphones that can use the ARM-designed Mali even in lower powered SoCs.
Don't expect to see the new Exynos SoC until 2021 at the earliest.
Samsung Galaxy Note9 rates top in customer satisfaction
The Samsung Galaxy Note9 topped the 15th annual American Consumer Satisfaction Index (ACSI) scoring 86-out-of-100 from a poll of 19658 users. Samsung has held the top rating for the past seven years.
Second place (all tied) were Apple's iPhone 8 Plus and X, Samsung's J7 Prime and S8+, Motorola Moto G-series.
The majority of the other brands/models scored closer to 70.
The lowest satisfaction rankings were for internet service providers and cable TV.
Motorola Z4 5G
While we may not see it here for a while, Motorola has a new Z4 that fits Moto Mods – one of which is a 5G add-on. It's selling via Verizon USA for US$4399 including a 360° camera Moto Mod.
The Z series is Moto's flagship line, but it has cut specs to bring in as the lowest cost 5G phone in the US. It has a Qualcomm SD675, 4/128GB/microSD, 6.4-inch OLED, 3600mAh battery, 48M<P rear and 25MP front cameras with Night Mode, and a 3.5mm audio jack.
The 5G Moto mod also has a Qualcomm X50 modem, supports hotspot mode, has a 2,000mAh battery, weighs 127g and will also work on the Z3-series. Smart thinking.
Wearables may be coming of age
A few years ago wearables were an answer to a question no one had asked. IDC says Global shipments of wearable devices reached 49.6 million units during the first quarter of 2019 (1Q19), up 55.2% from Q4, 2018.
63.2% of the market was wrist-worn wearables (smart watches and fitness trackers and 36.4% was ear-worn (135.1% year over year).
Top 5 Wearable Companies by Shipment Volume, Market Share, and Year-Over-Year Growth, Q1 2019 (shipments in millions) – Source: IDC Worldwide Quarterly Wearables Tracker, May 30, 2019
| | | | | | |
| --- | --- | --- | --- | --- | --- |
| Company | 1Q19 Shipments | 1Q19 Market Share | 1Q18 Shipments | 1Q18 Market Share | Year-over-Year Growth |
| Apple | 12.8 | 25.8% | 8.6 | 26.8% | 49.5% |
| Xiaomi | 6.6 | 13.3% | 3.9 | 12.3% | 68.2% |
| Huawei | 5.0 | 10.0% | 1.3 | 4.1% | 282.2% |
| Samsung | 4.3 | 8.7% | 1.7 | 5.3% | 151.6% |
| Fitbit | 2.9 | 5.9% | 2.2 | 6.8% | 35.7% |
| Others | 18.0 | 36.3% | 14.3 | 44.8% | 26.0% |
| Total | 49.6 | 100.0% | 31.9 | 100.0% | 55.2% |
Now before you get excited Q1 is usually a bumper time as a lot are given as gifts (as is Q4), and the world may change significantly in Q2, 2019 with the US Presidential Order.
Apple Watch, AirPods, and select Beats headphones have the highest average selling price (ASP). The latest AirPods with optional wireless charging and an increased ASP have made an impression. Apple had a large Chinese market share that appears to be dropping as its iPhone sales tank there.
Xiaomi has Mi Band, which accounted for roughly five million shipments, mainly in China but a growing proportion is selling Europe and the Middle East.
Huawei ended the quarter with market-beating growth of 282.2%. A lot of the success has come via bundling these with smartphones.
Samsung has Gear/Galaxy watches/bands, Galaxy Buds, and select JBL headphones. Samsung also bundles with phones. The JBL range performed well due to a range of options at a lower cost. Samsung has a very small Chinese market.
Fitbit Versa Lite, as well as the Inspire series, has helped the company reach new users as well as encouraging upgrades, although at the expense of a lower ASP.