Fitness tracking is one of the new things people are beginning to wake up and take interest in, but that over $100 mark for wireless tracking isn't everyone's cup of tea. Fortunately, there are offerings south of the hundred dollar mark.
Features and performance
If the idea of mobile aware fitness tracking has your attention but you're not convinced by the price tags, there hasn't been a lot out there for you. Generally, fitness trackers — especially wireless ones — start from at least $120, making the initial spend not something everyone is willing to play with.
There have been models below this mark before, but few offered wireless tracking. That is, they didn't offer there ability to send the information to a mobile application easily, synchronising when you checked your phone and submitting this information to the cloud in a friendly way.
Often, these tiny accessories asked you to plug in or sync by hand, and that's not something everyone is interested in doing, as it takes a way of tracking activities passively to something much more proactively.
Jawbone has been making fitness trackers for a while, almost as long as its major competitor Fitbit, and now that the company is on its way with a third model complete with galvanic skin response sensors, it's showing how far its tracking technology has become.
And it's doing this by shrinking it, because that is basically what the Jawbone Up Move is: a miniature recreation of the Jawbone Up24 band, albeit in a slightly different form-factor and with one of the pieces of technology removed.
Think of Up Move as the "starter's pack" for wearable tech, as it offers fitness tracking and a tiny basic wrist watch for under $100.
A different form-factor is crucial to the Up Move's design, moving away from the wrist band idea we've seen dominate Jawbone's fitness gadget designs for over a year, switching to what is now a tiny circular button with a battery strapped to the back. In fact, you could easily confuse this for a large button on a jacket or overcoat if you had a jar of them lying around, because that's exactly what it looks like: a very large button.
In this very large button, you'll find a few LEDs, a small amount of sensors, a battery straight out of a small remote (CR2032), and of course, a push button (you need to be able to use the button, after all).
In the box, the Up Move comes with a waist tracker case, turning the Up Move into a fitness tracker you can attach to your underwear or pants by way of clipping to the fabric around your waist, but you can also buy a wrist band to turn it into a wrist-worn tracker, which may be a more comfortable and convenient way of tracking, though it is an optional extra.
When the wrist-band is paired, you merely slip the Up Move into the casing and voilà, it's a watch.
To get the time, press the button — the only button — twice, watching a small LED spin around to light up the hour first, followed by the minute rounded to the nearest five. This clock isn't about total accuracy, but rather "close enough," which for many is more than enough since most will say "about" the time, rather than the to-the-minute bleeding accuracy that wristwatches can display.
But a clock is one of the basic features, and there's more lurking underneath.
When the clock fades and all you're left with is a basic black display, the Up Move is tracking you, or rather, tracking your movements. A three-axis accelerometer makes this happen, working out when you're taking steps and moving too much for sleep, storing the information in a small amount of on-board memory to synchronise this with your phone or tablet later on.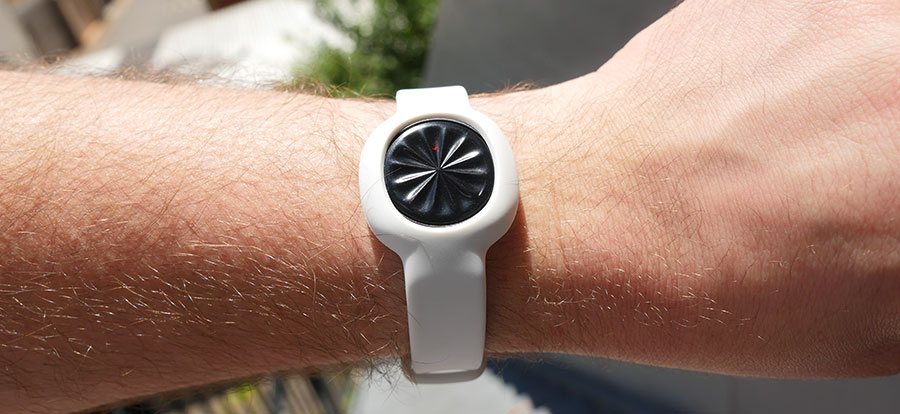 Jawbone's app is the same "Up" app made for Apple's iOS and Google's Android, so if you want to use the Up Move, make sure you have one of these platforms.
Once paired and linked, your footsteps will be calculated and added to your account on Jawbone's Up system, with goals suggested and added as time goes on. This goal is also found on your Up Move, and you can see your progress by clicking on the Up Move button once, the little orange running man lighting up with a white LED to tell you your progression.
If you are halfway through, it will spin to the half-way mark, but if you've completed your step goal and then some, it will spin around the face, showing that progression and where ever else you are in a second or third or fourth iteration of that goal.
On the phone, your steps are displayed with a fair level of accuracy, showing how much movement you've accomplished over the time it has been worn, also revealing this to any friends or family members in the Up system you're competing with or getting encouragement from.
That last one is a big part of the whole deal, as the gamification element — turning something into a makeshift game — helps you get up and move more, seeing how well your friends are doing, and using this information to encourage yourself to be more proactive, walking more steps.
Meanwhile, Jawbone's Smart Coach will try to offer friendly advice or tips on food, walking, and sleep to help you improve over time.
Sleep is also tracked, and thanks to that accelerometer, you'll find light sleep and sound sleep are monitored, though try to put your tracker in the sleep mode before you hit the hay. If you forget to, you may find the Jawbone app asking you when you slept, and having it use the recorded information to guess where your light sleep and sound sleep times were, which is handy, though we'd still prefer if Jawbone automatically worked out when you were sleeping.
The battery is one of the obvious positives of the Jawbone Up Move, and that's because it doesn't need to be charged like its Up and Up24 siblings. Rather, when the battery runs out, you merely replace it, and thanks to the use of a CR2032 watch or remote battery, it's a pretty easy job.
And there's even a small amount of water resistance, though it's very small.
As such, the Jawbone Up Move is splash resistant, and while you can wash your hands with it on your wrist, we'd probably take it off while you're showering. Jawbone says this should be fine, but if it were our $69 gadget, we wouldn't take the risk.
One feature that is missing in action is the haptic motor, the little part of the tracker that normally vibrates when you've completed an activity or when you're using the band to wake you up in the morning.
That doesn't exist here — we're guessing it was too large for the form-factor Jawbone was going for — and as such, you'll find the any goals you hit will be found on your phone, not on your watch. If you sit for too long and need to get up, there's no vibration for that either, so make sure to deal with this yourself, and any chance of waking you up naturally on either of the ten minute slots on either side of that last light sleep cycle, well, that's gone, too.
All of that requires the haptic motor, and that's not here, so you're not getting a tiny Up24, but rather a slightly different variant that tracks more or less the same things, but has a little less tech.
It's as we said in the beginning of the review: the starter's pack for fitness tracking. Essentially, anyway.
Conclusion
Jawbone's introduction to fitness tracking is, interestingly, one of the better fitness trackers we've played with, and if you can live without the sleep alarm, provides what is mostly an Up24 for less money and in a form-factor that is far more versatile.
In the week we've been using the Up Move, we've come to like it more than the Up24, possibly because we like knowing that it can jump from being a wrist-band to a waist-worn tracker at a moment's notice, and that it can even tell the time, expanding its use considerably and making it more than just a tracker, but a usable watch as well.
That said, it won't be the replacement tracker everyone will be into, and people already in love with activity trackers who are proactively active will probably prefer a more dedicated solution, and Jawbone has a new model of that coming to help you learn even more about yourself.
For everyone else, however, the Jawbone Up Move is a great start and encourages anyone and everyone to try the fitness thing without worrying if they've bought something they won't use. Recommended.
Easy to use; Tiny; Can be worn on waist or wrist; Tells the time as well, so also works as a watch when worn on the wrist; Sends information wirelessly to your phone, syncing every so often when you check your phone; Doesn't need charging, with a very easy to replace battery;
No watch strap included in the box, and available only as an optional extra; No haptic motor, and therefore no vibrating alarms to tell you when you've completed a goal or to wake you up; Not really water-proof, only lightly water resistant;