It's funny how some products are mere sidelines for some companies, whereas competing products are the complete focus of others. For example, Jaybird is all about Bluetooth earbuds, some with the buds wired together, some truly wireless. Which brings us to the company's latest of the latter: the Jaybird Vista True Wireless Sport earphones.
Jaybird Vista features
If you've been reading gadgetguy.com.au for a while, you know what true wireless earphones are: two small separate buds which communicate with each other wireless, and coming in a compact charge case. The batteries in the buds might only last for a few hours, but with two or more recharges in the case, you get quite a bit of independence.
In this case, the buds each weigh only 6.4 grams, yet have a run time of an unusually long six hours. Because of their high capacity, the case can apparently only recharge them a total of one and two-thirds times, giving an extra ten hours.
Still, that's sixteen hours in total, which is on the higher end of run time for true wireless earbuds. Furthermore, if you're using them for communications rather than music, or perhaps just listening to spoken word such as podcasts, you can listen to the buds one at a time. That brings total life up to 32 hours.
The total package, case and buds together, weighs 45.3 grams. The case is 81mm wide, 36.5mm deep and 24.1mm thick. There's a plastic loop on one end with a short, and surprisingly useful, loop of carry cord through it. I found the case slipped into a pocket fairly unobtrusively.
The Jaybird Vista buds are available in three colours: Black, Mineral Blue and Nimbus Gray. That last is a quite light grey. The Black version has a lime green interior to the case.
The buds (not the case) are IPX7 waterproof and sweatproof. No, don't go swimming with them (Bluetooth doesn't work properly in water, anyway. But there will be no problems with rain.)
The Jaybird Vista buds
As is the way of these things, the buds are drawn into their sculpted resting-places by magnets. They slip in precisely and reliably. There are three charge contacts for each. Between the buds is a small button for Bluetooth pairing. The lid is positively sprung so that it snaps shut but isn't too hard to open. A LED – white or red depending on charge status – on the leading edge lights up briefly when you pop the buds in. Beneath the LED is a USB Type-C socket for charging the case.
It takes two hours to fully charge the buds, but they can be given enough charge for an hour's playback with five minutes in the case.
The buds come with three different sizes of combined silicone tips and fins. As usual, the largest size was best for me. With that I achieved an excellent seal and with a quick twist, the fins locked the buds firmly into place using the whorls of my ears.
They were comfortable and secure, with no need for a resettling throughout my exercise regime, nor when I was riding a bicycle. With the latter function, they didn't seem to generate much wind noise and so, combined with the good seal, the program material remained nicely audible.
The Jaybird Vista earbuds implement the standard Bluetooth SBC codec. Thea means no fancy high bandwidth aptX or whatnot. Jaybird rates their sensitivity at 103.5dB, ±1.5dB, presumably at 1mW input. And it rates the power output at 12mW. So, at least in theory, they ought to run to 125dB SPL. But that depends on a bunch of variables, including gain settings.
The Jaybird Vista buds use 6mm drivers and Bluetooth version 5.0. They are rated at the standard class 2 operating range of ten metres.
Jaybird Vista earphones in use
Well, as I've mentioned, the Jaybird Vista earbuds are comfortable to wear and secure in the ears. They are also easy to operate in their default mode because there are few choices. Both buds have a spring-loaded flat section which operate as control buttons. The pressure required is reasonable: the buttons are unlikely to be accidentally pressed, but they don't hurt your ears when you do press. I had little difficulty performing double-presses.
By default, the left and right buttons duplicate each other's functions. One press is play/pause, a double press skips to the next track while pressing and holding for a few seconds turns off the power (or turns it on again).
But the Jaybird app allows you to set either the single or double press to invoke Google Assistant (and presumably Siri if you're using an iPhone). And you can set press-and-hold to change the volume, the one option in which the buds' controls are different: volume up for one and down for the other.
The app also lets you adjust the tonal balance. As we'll see, the default EQ was actually very good, but it's nice to have the option.
Finally, the app also has a "Find My Buds" feature to allow you to track them down – at least the rough location – using a map and the app's memory of where they last were. But you do have to enable the feature so that it can keep track of them.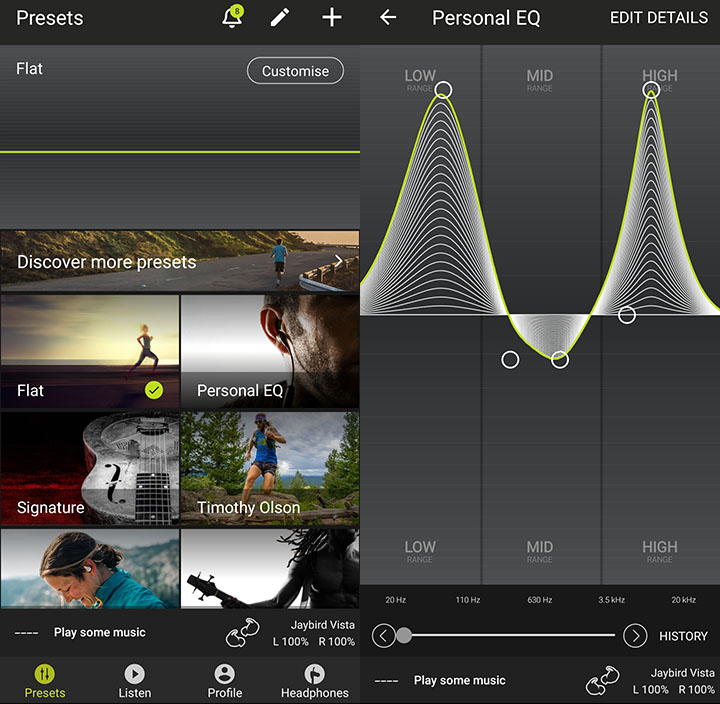 Reliability
The Jaybird Vista buds were extremely reliable. I'd be popping them into and out of their case regularly. They connected to my phone instantly at least 99% of the time. On half a dozen occasions over several weeks of use, the left bud didn't immediately connect. I'd pop it back in the case for a moment, pull it out and then it worked properly.
At any time you can pull out one of the buds and pop it in the case. The other keeps working. Take that bud and put it back in your ear and it starts working again immediately.
When you put a bud in the case, the sound in the remaining bud lowers in volume and mixes down to mono. I use a special test track for that since it can be hard to detect with regular music. That's a nice little feature, but let's face it, music played into just one ear simply doesn't sound right. There's nothing much that Jaybird can do about that, though.
One thing Jaybird could do something about, and did do something about, was operational range. Even though the buds are rated at the standard ten metre range, I found them to be a lot better than that. I easily got a forty-metre range with no dropouts, regardless of head orientation. And quite a bit more distance if I was careful about what direction my head was pointing.
Perhaps more importantly, I used these buds over the Christmas/New Year break and even in busy shopping centres, when and where the 2.4GHz radio bands are fairly saturated. There were almost no dropouts. Nor was there any interference or dropouts when entering and exiting stores with those electronic security panels.
Listening
The Jaybird Vista earbuds implement the standard Bluetooth SBC codec. That means no fancy high bandwidth aptX or whatnot codecs. Jaybird rates their sensitivity at 103.5dB, ±1.5dB, presumably at 1mW input. And it rates the power output at 12mW. So, at least in theory, they ought to run to 125dB SPL. But that depends on a bunch of variables, including gain settings.
All of those virtues would be to nought if the Jaybird Vista earphones didn't sound good. But they do. First of all, they went plenty loud enough with all my different apps, suggesting sensible gain-level settings.
Second, the tonal balance was excellent. Excellent and accurate. I compared them with some of my favourites, and it was soon apparent that while the bass was strong and properly represented, Jaybird hasn't tuned these to deliver a bass hump, unlike so much of the competition. The bass was at the level it was supposed to be, and it clearly extended to at least kick drum frequencies (that is, down beyond 40 hertz). The treble was extended and controlled, with a natural sounding presence and no emphasis on sibilance. Voices – on podcasts and phone calls – were clear and coherent.
I should remind you, by the way, that if you do like a more prominent bass than is truly natural, you can just use the Jaybird app to wind it up a bit.
Conclusion
The Jaybird Vista earbuds are solid performers, extremely reliable, sound very good and have some useful extras. They're well worth checking out. They are available at the usual retail outlets and direct from Jaybird here.
Positives
Very good sound
Super reliable in use
Useful app including Find My Buds feature