While Sony, Samsung and Microsoft battle it out in the streaming media arena, one of Australia's largest retailers of music has decided to join in.
Launched today, Australians can now try out "Now", a new service designed to bring another library of music to your ears without needing to fork out for every disc under the sun.
The first month of the beta is free for everyone, though after this initial trial period, customers will have to fork out for either a 3, 6, or 12 month subscription to listen to the music.
Playing with it today, we found the experience responsive and easy to use. No extra plugins are required and it's nice to see JB not using Flash for its service. In fact, the service runs natively in a web browser, so you only need to log in.
Once you start trying it out, you'll find five sections to explore, a search bar, and a music play-bar sitting on the bottom of your browser at all times gradually going through your selections.
The search bar is exactly what it sounds like: a search box allowing you to go through the JB Hi-Fi Now library and find tracks.
"What's Hot" details featured music choices, recommendations, and chart-toppers, making it easy to find what's popular right now.
"My music" is the music you've added to your library so far, with an extra tab suggesting other artists that are similar to what you've selected, in case you feel like exploring.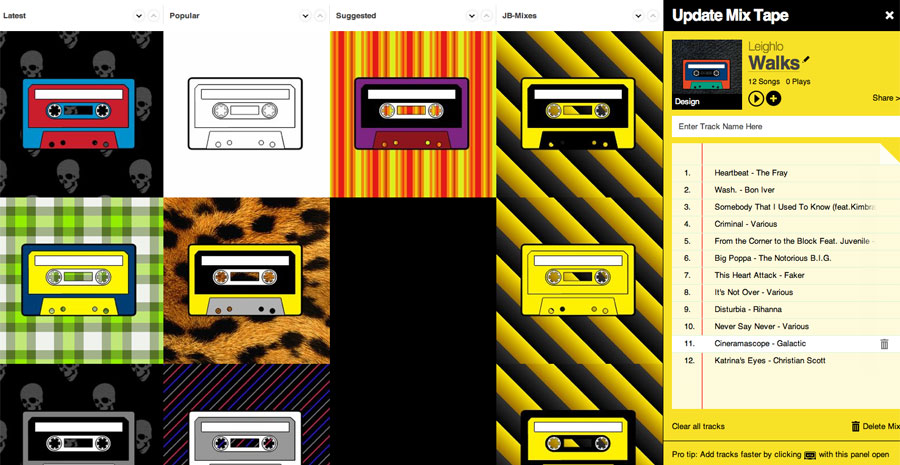 "Mixes" is an interesting option allowing you to make your own digital streaming mix-tape, complete with a customisable tape design to make it well and truly yours. Like something out of the 80s, the Mixes section is a nice way of making playlists look unique. You can also look up mix-tapes from other users, as well as check out mixes compiled by JB's own staff.
"Crowd" is Now's way of showing you what other users are searching up, loading up a map of user names and profile pictures and letting you peek at the music tastes of everyone else. You can also sort by gender, age, and location, making it an interesting way of looking up people.