To demonstrate how good its JBL BAR series soundbar was it hired the boutique 56-seat Golden Age Cinema. All that bass, mid-range and volume from a JBL BAR 5.1  blew technology journalists expansive minds
Now Mad Max Fury Road is a cinematic masterpiece with a hugely loud, menacing soundtrack. It is not for the squeamish as it contains some of the most graphic violence I have ever seen.
Which is a great way to announce that JBL BAR have arrived. Performance and a price that is hard to believe.
JBL have four new models (L=left, R=right, C=centre, RR=Right rear, Left Rear, Sun=standalone subwoofer)
JBL BAR 5.1
Mad Max Fury Road was the ideal vehicle (or is that monster car and truck chase) to test the BAR 5.1.
The 56-seat Golden Age 1940s Heritage Screening Room was an ideal venue measuring approximately 80m2. To put that in perspective a large lounge room may by 20m2.
The BAR 5.1 soundbar was placed at the front providing clear L+R+C from four x 2.25" 'racetrack' drivers and three x 1.25" tweeters. The effect is almost perfect mid-range and very respectable treble almost to 20kHz. It also has great stereo separation with the sound coming from well outside the bar.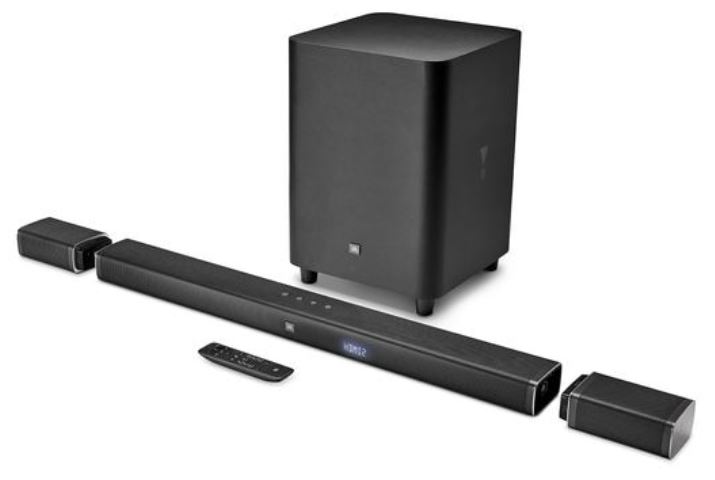 The detachable, rechargeable (10-hour life), RR and LR speakers have a single 2.25" driver each and add the two rear channels. These were placed behind row six adding the spatial sound. You need 5.1 content for 5.1 sound.
The massive 10" wireless Sub was at the rear of the theatre. It cuts in around 60Hz and is strong to about 300Hz where the drivers take over.
On 100% volume (for the sound bar and rear speakers) and about 60% for the sub it produced room-filling sound (JBL claim 35Hz to 20kHz and 104dB – my readings confirm this) with no appreciable harmonic distortion. Incredible.
It has three x 4K HDMI inputs, 1 x HDMI ARC output, one each Analogue, Optical and USB as well as Bluetooth 4.2 streaming connectivity. This could easily be an AV centre with a set-top box, Roku and Blu-ray connected. Its USB should support personal storage DLNA devices (for music and movies).
GadgetGuy's full review is here. here.
JBL BAR 3.1
It is functionally the same unit as the 5.1 minus the detachable rear speakers. To be clear is still has six drivers and three tweeters. I suspect that at $699 this is the one most people will buy as it has amazing sound and faux surround sound. The Centre channel (as in the 5.1) gives a clear voice track which is important when you want to hear vocals.
JBL BAR 2.1
In comparison to the 3.1, you lose two drivers, one tweeter, and the Sub goes to 6.5". It has one full HD (not 4K) HDMI input and one HDMI ARC output.
This is for smaller apartments that could benefit from 300W and a decent sub. For my money, I would stretch to the 3.1 for 4K pass through.

JBL Studio 2.0
This is more about sound reinforcement over the typically very average TV speakers. It has two 2" woofers (that handle mids as well) and two x 1.5" tweeters. Volume is claimed to be 90dB, and frequency response is claimed to be 60Hz to 20kHz, so you won't get strong bass. For that, you need a dedicated sub. It has 1 x HDMI ARC (for TV connection), and one each analogue, optical, Bluetooth and USB.
At 1.4kg this is a portable all-in-one solution for nomadic renters.

GadgetGuy's take – JBL BAR raises it
Although we would all prefer the 5.1 at an amazing price of $999 I suspect we will all buy the 3.1 at $699. Why?
It is functionally the same, it also has a centre channel so important for clear voice, and it has enough punch for large rooms.
The 2.1 and Studio 2.0 are for specific markets, and given what I have heard from JBL BAR they will probably offer better sound for the dollars you have to spend.
About JBL
JBL is one of the biggest names in audio and has been shaping the industry for over 70 years. JBL Australia strives to deliver the best audio experience across all devices. From wireless earphones to portable speakers, each JBL product boasts leading-edge audio technology so you can immerse yourself in clear, crisp, compelling sound that takes you further into the media that matters to you.
JBL is part of Harman, a Samsung company. Its sister brands include leading brands including AKG, Harman Kardon, Infinity, JBL, Lexicon, Mark Levinson and Revel.