Jura makes excellent coffee machines. The Jura ENA 8 is its 'home' model – one cup (at a time) producing a great brew that you expect from an automatic coffee machine.
The new Jura ENA 8 and at $1899 sits above the ENA Micro 90 ($1299) and the E6 ($1499). While all share the Jura technology, the few hundred dollars more gives it ten programs (versus 6/7), the latest one-touch function, a milk frother system, programmable temperature and a TFT colour screen.
But it is still entry-level, and you should strongly look at higher grade Jura machines if you want a fully automatic machine capable of more coffee types.
GadgetGuy (and Girl) are no stranger to coffee machine reviews and last year the Jura S8 (review here) scored highest at 4.4-out-of-5.
Our coffee machine paradigms (some are combined)
A coffee machine needs to meet specific criteria before it gets our stamp of approval. If you are buying, you need to consider these criteria.
Most important – is the coffee as good as a bought one?
Is it easy to use? Can a Managing Director use it?
Construction – metal, plastic, ceramic, durability, quality
Looks, design, and functionality
Setup including changing pre-sets for temperature and cup size
Features – manual, automatic or hybrid, screen, button or app
Operation – grind the beans, tamp the grinds, pour the coffee, froth the milk
Flexibility – hot water for tea, hot chocolate, decaf bypass etc
Open choice or walled garden for supplies, e.g. beans, pods, powder
Performance – time to heat up, first cup time, repeat cup time
Types of coffee – expresso to double, decaf, soy, why bother
Maintenance – cleaning and waste storage/removal, ongoing costs
Training, support and warranty
Value for money – although this is not a comment on the price
Our team of caffeine junkies put the Jura ENA 8 to the test.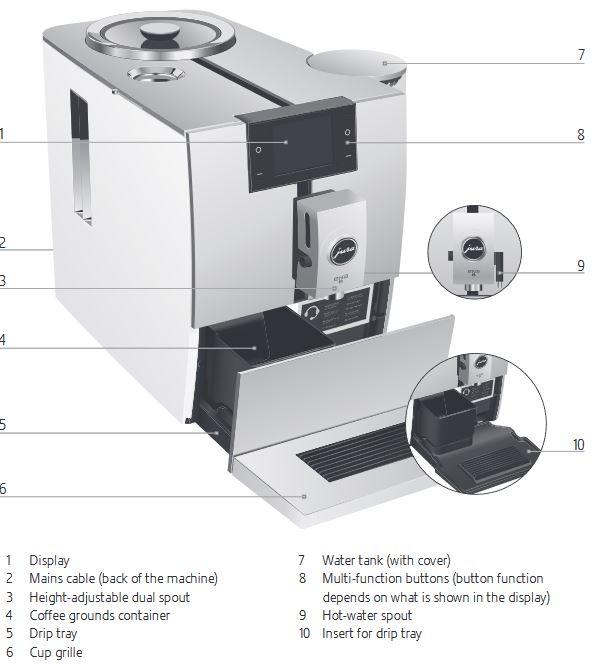 Coffee quality
The panel felt the coffee (using Jura Impressa 70/30 Arabica/Robusta beans at $47.60 per kg) was on the weaker side.
They admit to using the out-of-the-box settings. The settings allow for an increase in coffee grinds (from 6-10g) and programmable coffee strengths and levels (15-80ml), so it can make stronger coffee if that is your taste.
The Jura ENA 8 makes
Ristretto
Espresso
Coffee
Cappuccino
Espresso doppio
Macchiato
Latte macchiato
Flat white
Portion of milk foam
Hot water
The consensus was that the Jura S8 reviewed last year made stronger coffee-out-of-the-box and allowed a larger coffee ground portion that was especially good for double shot coffee.
Milk attachment
The Milk attachment creates fine, creamy, feather-light milk foam. So, it is good for a Cappuccino (typically 60ml coffee, 60ml milk and 60ml foam) but not for true milk coffee like a flat white (60ml coffee and 120ml milk portion).
It was easy to store the milk container in the fridge and connect the delivery pipe as needed.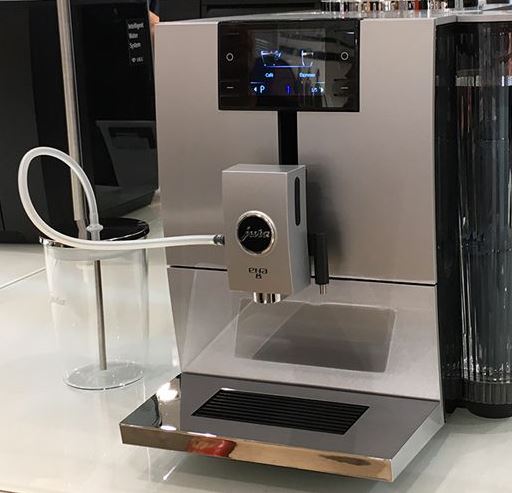 The milk coffee drinkers quickly reverted to barista-made coffee, whereas the espresso, short and long black drinkers kept using it.
By comparison, the new Jura E8 ($2099) can provide both a portion of milk as well as milk foam and would be a better choice for milk coffee drinkers.
Ease of use
Simple – throw 125g of beans in the grinder, 1.1 litres of water in the faux crystal removable water 'jug', turn on, and heating is quick.
In fact, I am sure no one read the manual, and that is a good sign (except they should have to make stronger coffee).
There are a few caveats. The spent grounds container fills after about 10 cups (the E8 is 16) and while the display will tell you when to empty it – well, who looks at a screen.
Some did play with memory options for larger cups, etc., and these worked well.
Cleaning/maintenance
We have mentioned the spent grounds. Apart from that, there is little to do each day (it depends on use). Refill the water tank if unused for a few days. The milk container and line cleaned; the drip tray emptied' and the spout cleaned. And there is an automatic rinsing system as well.
It does prompt you to rinse and clean milk after each use, and that can take several minutes – ignore it for a typical days use.
On a grander level, there is the need to look at water hardness, whether you want to use a water filter, an occasional descale, and the Jura ENA 8 tells you when you need this. It is all straightforward.
As you can also use powdered coffee (via a bypass), you need to wipe down the outside to remove any spillage. We did not try hot chocolate as the milk frother is not suitable.
Looks
It looks modern, sleek and premium. At 27.1 ´ 32.3 ´ 44.5 cm and 9.4kg, it is not too big to have in the kitchen. You only need to leave a little more room on the right side to change the water jug and some on the left for ventilation.
2.8-inch TFT screen
It is adequate for the task. User interface and imagery are clean (if not sometimes a little small and hard to decipher). Mostly the machine is intuitive to use with controls and prompts.
There is also an option to install the Jura BT dongle and hook up to JOE – its Coffee control app (not tested).
Suitability
It is a perfect home coffee machine for those that simply want a good black coffee. It also met the needs of several staff so it would work in a small home office.
Economics
You can buy good coffee from $40-50 per kg. At 6-10g per cup that should make 100-160 single strength black coffees or 40-50 cents a cup.
If your local barrister charges $3 for a short or long black, you can repay the capital cost in 700-800 coffees. Of course, the economics changes with milk coffee, if you use a water filter, descale, cleaning tablets etc.
Cost/Warranty
At David Jones, Betta Home Living and Bing Lee, among other stores. 2-year warranty. Jura recommends annual servicing at extra cost. We think that for a home machine that is a little overkill.
The standard models retail for $1,899, while the signature model with Bluetooth capability is $2,699. You may find it online at about 20% less.
GadgetGuy's take – Jura ENA 8 is an excellent black coffee drinkers machine
You are going to read some glowing reviews that are the result of a single person's limited experience. Frankly, don't believe it is the best thing since sliced bread!
Our review had several testers, each with their own experiences and perspectives. Objectively all rated it as 7-out-of-10 (3.5-out-of-5) and that is fair in comparison to the more fully-featured Jura S8 (4.4-out-of-5) we reviewed last year
Sorry Jura – you have spoiled us with more expensive machines that can do it all. So, we were a little surprised at the narrower focus of the Jura ENA 8. And the frother milk system (HP1) versus the frother/milk (HP3) limits what you can make.
It is a big step up from a capsule machine, but we recommend you spend more on a full-automatic machine.
Any machine with a built-in grinder beats those without!
Makes better coffee than Maccas and more cost-effective
Consistent results
Good build quality
Fast to heat and make a coffee
Not hard to clean but you must do so
Find a good bean, and you will love it – sorry local barista
It is an entry-level machine that makes you appreciate spending more
White coffee drinkers should look at the E8 instead
Single-cup