The new Jura ENA 8 makes barista-grade coffee from beans of your choice at home. If you care about your daily hit or three, then Jura ENA 8 may be what you need.
Last year we reviewed the Jura S8, and our Gadgeteer caffeine addicts were sad to see it go back. Since then it has been a sea of long faces pleading with me to review more automatic coffee machines. The ENA 8 may satisfy them.
Anyway, we think we have a certain expertise in coffee machine reviews and anxiously await the Jura ENA 8 – an $1899-$2699 (depending on options) fully automatic, ten programs (including milk coffee styles), coffee machine.
ENA 8 comes in two models – the $1899 in fashion colours Metropolitan Black, Nordic White and Sunset Red and the $2699 Signature model with Bluetooth control and sculptured from solid aluminium.
George Liakatos, MD for Jura Australia says,
The ENA 8 may be compact, but it has the same advanced JURA technology to deliver quality and great tasting coffee. It has a fashionable crystal designed water tank, in machine Aroma grinder, milk delivery system and a large 2.8-inch LCD. It is sophisticated and modern and with four colours will suit any décor."
Jura ENA 8 – freshly ground, not capsuled
Ten different specialities are available at the touch of a button. The Pulse Extraction Process (P.E.P) optimises the aroma of a short ristretto or espresso. Fine foam technology creates airy, feather-light milk foam for cappuccino or other specialities.
Bluetooth – tech coffee
The Signature model comes with a Bluetooth Smart Connect module to enable an Android or iOS device to run J.O.E. (Jura Operating Experience). This brings the ten programs to your smart device for painless coffee selection.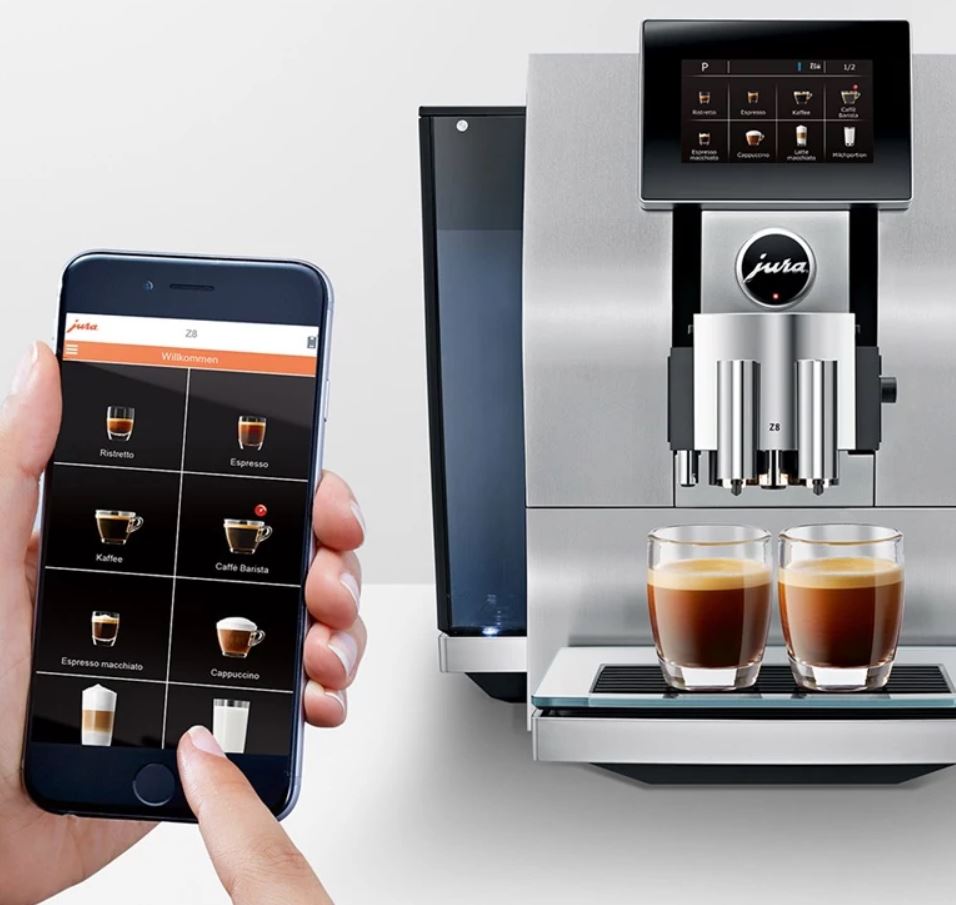 GadgetGuy's take: Coffee, give me coffee.
When we review coffee machines we have four rules – Jura blitzes them all
Rule number one: You get what you pay for. If you want a capsule machine then coffee, in comparison to a barista may be a 5 out of 10. That is not bad, and its probably better than a fast food $1 cup. Jura coffee is a 10 out of 10 (at least with the beans we use).
Rule number two is an old computer acronym – GIGO or Garbage In, Garbage Out. If you use poor or stale beans, no coffee machine can improve on that. Be prepared to pay for 100% Arabica where a kilogram could cost $50 or more. My barista son says it is impossible to get good beans from Woolies, Coles, IGA or Aldi. But remember a kilogram will provide up to 140 single shot cups. There is profit in coffee!
Rule number three is to use fresh full cream milk. Skinny saves very few calories and does not have the body to froth correctly. Sure, use almond or soy if you wish – why bother.
Rule number four is don't be a coffee snob. Good coffee can come from a Plunger, Drip Filter, Pour Over, Percolator, Stove Top, Pressi, Cold Press, Cupping or any of the many other methods. You need to experiment with what is best for you.