Getting good coffee with personality out in your own home can need some complicated contraptions, but what if you could get seriously good coffee without needing to buy into a capsule system? Jura might have the answer.
Features and performance
It's not hard to find decent coffee anymore, and living in the espresso-based coffee society that is Australia, you can even buy machines that do this for you with capsules, bringing a sense of simplicity to the kitchen that appliances don't always have.
But as good as the instant espresso is — what we refer to as "inspresso" — it doesn't always have the aroma or personality of that cup you purchase from your local coffee shop. Sure, it works to give you a decently caffeinated experience with enough crema to let you know the differences between store bought instant and the real thing, but it doesn't have the roasting personality your barista knows you're after.
If you don't mind spending a good $2500 for a machine, Jura's answer to this dilemma comes in the form of an automated machine capable of taking whole beans or ground coffee and turning it into espresso without you needing to do anything.
That's what you get in the Impressa F9, a relatively large machine from the Swiss engineers at Jura, providing a 1.9 litre water tank removable by a handle and featuring a water filter, a bean container capable of holding a little over 300 grams of beans, a 15 bar pump, and an LCD screen to let you see what sort of drink you want to prepare.
The screen is the part that will really draw people in, with a small display flanked by two push buttons on either side, as well as a scroll wheel sitting up top to take you through the menus quickly.
When you first turn the machine on, you'll need to go through setup procedures, but after the five or ten minutes that takes, the Impress F9 will be ready to go, good to take your beans or ground coffee and make your breakfast beverages without too much of a broken sweat.
In fact, there really shouldn't be any, as in a way, using this is about as easy as the coffee pod systems out there, except with your own choice of coffee beans, allowing you to either roast your own or buy them from your local barista.
Loading the beans is easy, with the top transparent lid removed and beans just poured in.
From there, you merely need to select the drink you're after and let the machine go to work, the beans being ground and pressed, with the beverage emerging in a silky brown stream not long there after.
Alternatively, you can grab the ground coffee scoop located under the right flap (opposite from the water tank founder under the left flap) and scoop in one or two scoops of pre-ground coffee into the secondary section when you want pre-ground instead of something taken from the beans.
Options for two cups are also possible, with two espressos or ristrettos, and even the option for two regular coffees, with espresso-based drinks switching on an orange light almost to make you believe there's a piping hot drop of coffee warming under the spout.
Four of your favourite settings sit on the main screen, allowing you to pick either an espresso, coffee, cappuccino, or a flat white from the beginning with each of those four corresponding buttons, while the scroll wheel up top will let you jump between all the coffee beverages that you can make.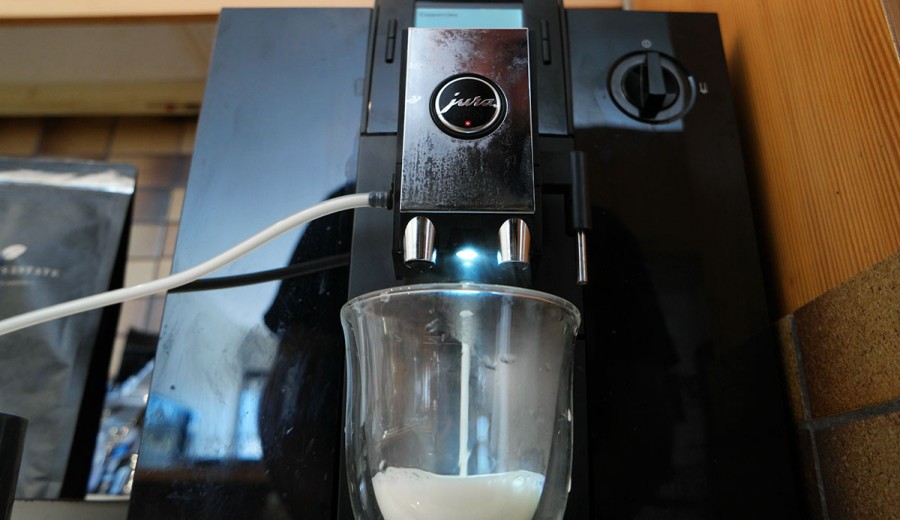 Milk-based coffee is also possible from this machine, with texturising — what most of us call "froth" — relying not on a wand, though one exists on the head.
This part on the side is actually a hot water spout, used for pushing out hot water when you decide it's time to make a cup of tea instead. Because sometimes you might want tea instead of coffee, or a very long drawn out hot water bottle (seriously, use a kettle for this, as it would take less time).
Instead of the wand on the side, you actually need to use a tube with some valves and plugs to get the milk from one part of the setup to your cup.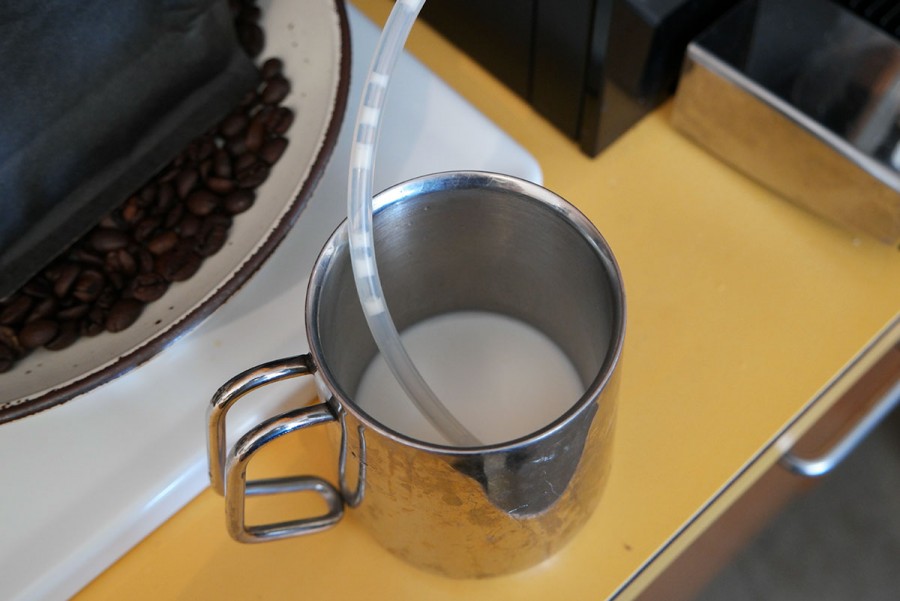 To do this, you can grab a milk jug, pour the milk in, and then leave the plug inside, which the machine will draw from, heat up, and then push out all nice and steamed for the cup you're after.
Alternatively, you can grab Jura's special metal thermos-like vacuum milk jug, which keeps the milk sealed if you want to throw it back into a refrigerator, and includes an internal metal tube to draw the milk in before sending it to the machine.