The Jura S8 automatic coffee machine can make coffee even a hipster barista would be proud of. That is the opinion of the entire GadgetGuy team after trying it for a month.
Damn – it must go back to Jura. The tears were real. It has saved Gadgeteers hundreds of dollars getting their daily fix. Caffeine is the drug of choice around here.
So, begins a review of this device. Does it make great coffee? Check. Would we buy it? Check. Would we throw out capsule machines? Absobloodylutely.
Believe it or not, GadgetGuy has reviewed dozens of coffee machines since 1999 under the guise of 'serious' research. These brands include Miele, Gaggia, Saeco, Tefal, Krups, Segafredo, Map, KitchenAid, Lavazza, Nespresso, De'Longhi, Breville, Russel Hobbs, Sunbeam, Kmart, Aldi, Woolworths, and of course Jura.
The list of brands is not to boast. In fact, it was because we are tight and don't want to pay for our daily fix. We thank the generosity of the companies in feeding the addiction. Alas, all but the Aldi had to go back after a review (and it is now cactus).
Those with longer corporate memory have voted that the Jura S8 automatic coffee machine makes coffee even a hipster barista would be proud of.
Let's look at coffee machine review paradigms
A coffee machine needs to meet certain criteria before it gets our stamp of approval. If you are buying you need to consider these criteria.
Most important – is the coffee as good as a bought one?
Is it easy to use? Can a Managing Director use it?
Construction – metal, plastic, ceramic, durability, quality
Looks, design, and functionality
Setup including changing pre-sets for temperature and cup size
Features – manual, automatic or hybrid, screen, button or app
Operation – grind the beans, tamp the grinds, pour the coffee, froth the milk
Flexibility – hot water for tea, hot chocolate, decaf bypass etc
Open choice or walled garden for supplies, e.g. beans, pods, powder
Performance – time to heat up, first cup time, repeat cup time
Types of coffee – expresso to double, decaf, soy, why bother
Maintenance – cleaning and waste storage/removal, ongoing costs
Training, support and warranty
Value for money – although this is not a comment on the price
Now a review that comprehensive would be several thousand words long. Frankly dear reader, you don't want that. So, we have encapsulated (poor choice of word in a coffee capsule driven market) the best, and there was little of the not so best into this review.
Review: Jura S8 automatic coffee machine
(website here)
The Jura S8 is a fully automatic coffee machine. It uses fresh coffee beans, milk and water.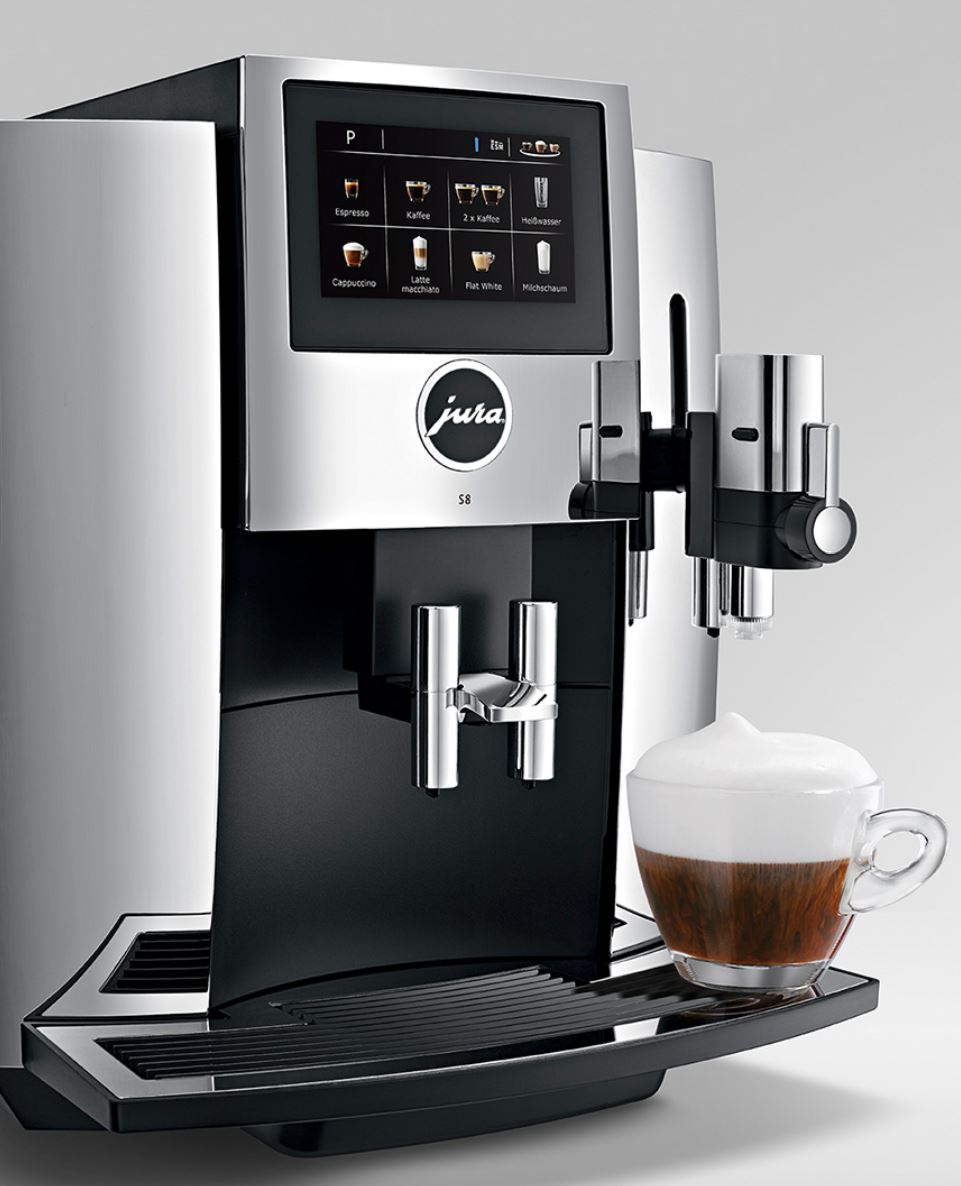 At $2,650 it is in the middle of the range starting at $1,299 for the ENA Micro 90 to the $8,300 Giga X8c commercial machine. There are sixteen models – roughly half consumer and the other commercial.
So rather than asking what you are missing by spending more let's explore what you get by spending less.
Coffee comes in many styles. The entry-level ENA Micro 90 has four styles – latte macchiato, cappuccino, coffee, and espresso (with milk and foam) – in all six 'products'.
The Jura S8 adds ristretto, 2x ristretti, expressi, 2 x coffee style, caffe latte, flat white, espresso macchiato, milk portion, hot water and hot water for green tea – in all 15 'products'.
A commercial machine may have several more styles and custom barista recipes – in all 19 or more products. Unless you are a coffee snob, the S8 does it all.
If you are interested Jura has a comparison tool here.
Is the Jura S8 coffee as good as a bought one?
The Gadgeteer panel plus a few ring-ins have unanimously stated that it is as good as a bought one. We tried espresso, latte, long black and more. We even did a taste test comparing results from our favourite local barista. Jura – 1+, Barista – 1.
What impressed us was the ease and speed. When ten people are lined up for coffee, a barista can take quite some time. The Jura S8 serviced the lot in a few minutes.
Why can Jura S8 make great coffee? Let's start with the beans.
Jura gave us a kilogram of 100% Arabica blend from Columbia and Guatemala. Western Australian Little Owl Coffee Roasters did the roasting and is rated medium/dark roast and is reasonably strong.
I know little about coffee beans so asked my son who owns Shawty's coffee shop in Woolloongabba, Brisbane. It was rated Brisbane's best and Australia's fifth-best coffee shop by Bean Hunter. He should know!
To paraphrase him it is a good coffee bean with no lower-cost Robusta beans in the blend. It is suited to a broad range of coffees. If you like, it's a good house blend for both espresso and milk coffees.
Interestingly Jura's house blend is 70/30 Arabica/Robusta. We did not try that. I guess the point is that simply ripping out to the supermarket and buying lower cost beans may result in lesser coffee. Don't blame the machine – blame the bean.
Setup is simple – we did not even read the manual
We did what Joe and Jane Average would do. Open the box, plug it in, fill it up, pour beans in the grinder and put milk in the milk dispenser.
In fact, there was no paper manual – it is all online here.
And thankfully we did not need the 48 -page Manual or the 9-page Quick Reference guide (which I read while writing up the review).
Spoiler alert: Most of the manual and guide are about cleaning and maintenance. Jura must be confident that it can make good coffee.
After turning it on it heats the water boiler (less than 30 seconds) and boots the coffee computer activating an LCD panel. That is it! Place a cup under the adjustable height tap, and press/slide the LCD panel for the coffee you want. It will make two cups of black at the same time.
OK had we read the manual we would have
Set the water hardness
Known it could display multiple languages (GadgetGuy is a multicultural, equal opportunity employer)
And that milk coffee comes out the milk spout – not the centre one! Whoops!
The elephant in the room is maintenance
After a few days, we realised that milk is highly perishable. The milk system needs cleaning after every 'use'. Let's define that as at least daily. It is not hard.
Clean the glass 'canister' in hot, soapy water
Run the clean milk program with the supplied receptacle and cleaning solution
When it starts, it will flush some water into the tray. Typical of office use no-one took responsibility for the machine, and it soon was full.
The grinds go into a container inside the machine. It is easy to pull out and empty except we didn't. About a week or so later we found some nice purple mould growing in there.
I guess while it made great coffee no-one thought about maintenance.
As an owner, you need to take responsibility for
Rinsing (cleaning tablet may be needed)
Cleaning the milk system (needs sanitising mix)
Changing the water filter (this prevents the need to descale)
Cleaning the machine, bean container and emptying grinds
Descale (needs descaling tablets if you don't use a water filter)
The LCD will tell when to fill the water container (1.9 litres), fill the beans (280g), empty the grounds container, empty the water tray and more. Our Gadgeteers managed to ignore all warnings. You need a 'mother' to cherish it.
Care products cost
Filter cartridge $20.00 (removes the need for descaling)
Descaling tablets (three sets) $24.99
Water cleaning tablets (six sets) $14.99
Milk system cleaner (250ml) $12.99
We are not sure of the lifespan of these products – the machine tells you when you need to change or clean.
Jura does recommend regular servicing where things like firmware are updated. We have no indication of price for a service. Warranty is usually 25 months (consumer) or 12 months (commercial).
The Jura S8 coffee computer is damned good
We tried all standard settings – all without fault. When we varied things like the coffee strength (grind setting) or amounts of water, milk and foam the result was worse than the machine defaults. It is damned good.
Our only minor issue is that the ability to make a stronger or weaker cup appears for a scant micro-second on the screen. You must be quick.
Interestingly we tended to use only a fraction of the settings, so it begs the question if you need to spend as much.
Coffee single 60ml black coffee
Espresso for a 30ml shot (or two for extra strength)
Caffe Latte
Flat White
Cappuccino
I tried it with tea (90° hot water and a tea bag) and green tea bag (70°) – all good. The manual slot for ground coffee allowed decaf ground beans (not instant coffee powder), and that was equally effective measured with the spoon provided.
Hot Chocolate was OK. You place chocolate powder/syrup into the cup, add hot milk, a little foam and stir.
Espresso cups up to 110mm high and tall cups for milk coffee up to 155mm fit under the taps.
Jura S8 other features
Jura is proud of its bean container with aroma preservation cover. It holds about 280g and makes about 40 single shot cups. The cover is a heavy chrome affair that adds a reasonably airtight seal to preserve bean freshness.
The coffee prep area is lights up – good for night cravings.
The Jura app (not tested) needs a $99.90 smart connect Bluetooth dongle which brings the iOS or Android JURA Operating Experience (J.O.E.) to the machine. JOE provides the full LCD panel operations on the smartphone. I am sure that soon it will be voice assistant enabled, so you desperately beg for a cup of JOE. The app gets a good 4.5-star rating on Google Play and 5-stars on iTunes.
While the glass milk container works, you must put it back in the fridge. You may want to consider the $199 optional cool control milk container. It keeps up to 1 litre of milk at 4°.
Jura S8 Build quality
This is a very well made, good looking machine. While there is a mix of plastic and chrome, it seems very solid. It is a keeper and should last a decade or more.
Jura offers Jura Live. It is a web-enabled way to talk to a real person about the product that is right for you. Or to get help making the most of the machine.
GadgetGuy's take – give me real coffee, Jura S8 coffee, now
As I said earlier, we have reviewed dozens of machines.
Rule number one: You get what you pay for. If you want a capsule machine then coffee, in comparison to a barista maybe a 5 out of 10. That is not bad, and its probably better than a fast food $1 cup. This coffee is a 10 out of 10 (at least with the beans we used).
Rule number two is an old computer acronym – GIGO or Garbage In, Garbage Out. If you use poor or stale beans, no coffee machine can improve on that. Be prepared to pay for 100% Arabica where a kilogram could cost $50 or more. According to my barista son, it is impossible to get good beans from Woolies, Coles, IGA or Aldi. But remember a kilogram will provide up to 140 single shot cups. There is profit in coffee!
Rule number three is to use fresh full cream milk. Skinny saves few calories and does not have the body to froth correctly. Sure, use almond or soy if you wish – why bother.
Rule number four is don't be a coffee snob. Good coffee can come from a Plunger, Drip Filter, Pour Over, Percolator, Stove Top, Pressi, Cold Press, Cupping or any of the many other methods. You need to experiment with what is best for you.
Would I buy the Jura S8?
Some years ago, I bought a Nespresso Lattissima for about $500. It has an integrated milk container. At the time I thought it was marvellous. But over time the cost of pods (let's say around 70 cents to $1 each) and the kind of average coffee it produced meant it has languished unloved on the bench.
Yes, we still use it occasionally when it is too wet outside to go to the local barista.
The Jura S8 (as I am sure the rest of the Jura range) makes truly impressive coffee.
Do the maths – Jura sS8 stacks up
Even if you pay top dollar for beans – $50 a kilo that is 35 cents a cup. So, if you drink lots of coffee, then it will only take 5,700 cups to pay for the Dura S8. That's 15.6 years at one cup a day, or 7.8 years at two cups, or 5.2 years at three …
Or if you pay $3.50 for a barista cup (less bean cost of 35 cents) that is 841 cups. If you have two a day you would own and have paid for the machine is just over a year.
On that basis, it is excellent value.
Pro
Quite a beautiful kitchen bench adornment
Easy to set up
Not hard to clean but you must do so
Find a good bean, and you will love it – sorry local barista
Quality build – it's a keeper
Con
Regular cleaning – needs a 'mother' to cherrish it
Buy the best beans you can get and be prepared to pay
Ratings
Overall: 4.4 out of 5
Features: 4 out of 5 – would be best with a milk cooler
Value for Money: 4 out of 5 – Good value in this segment
Performance: 4 out of 5 – make sure you keep it clean
Ease of Use: 5 out of 5 – Easy to install and use
Design: 5 out of 5 – great industrial design for any kitchen
Price
$2,650 from Jura includes free Australian shipping. Also at major retailers.
Makes barista standard coffee