KEF may be known for its speakers, but the English high-end audio company is now showing the world what it's capable of doing in headphones, and turning out one of the best pairs we've ever heard.
What are they?
The first pair of headphones we've seen from a brand that isn't known for headphones, the KEF M500 have big shoes to fill, as the KEF name is one synonymous with high quality speakers.
Design wise, there's an aluminium frame holding the headphones together, with the headband and ear pads covered in a memory foam textured to feel like padded leather.
KEF's M500 cups can rotate in position, and a hinge just above the cup allows the cans to be folded up, compacting the headphones in size.
The ear pads on the M500 appear completely flat and with a pattern of speaker dots cut out from them, but underneath you'll find a typical cup holding the pads up, making your ears protected by a fabric that hugs your ear loosely as you wear the cans.
The cable for the headphones is removable, and connects to the headphones via a 2.5mm headset jack, executing on the end for the media player or phone in the standard 3.5mm headset connector.
Two cables have been included in the pack, both flat to be tangle-free, though only one has a remote with this remote only working with iOS devices like the iPhone, iPod Touch, and iPad.
A 3.5mm to 6.25mm headset jack is included, as is an aircraft jack converter, while the headphones and its accessories can be stored in a supplied plastic case.
How do they feel and sound?
Headphones are big business for companies renowned for sound, but not necessarily so for KEF, which has just entered the world of portable sound.
Only two pairs of headphones appear to exist from the company, with the M200 providing earbuds (though local availability isn't known) and the M500 going for a full headphone experience.
The latter of those two is what we have in here at the moment, taking the aluminium-framed headphones out for a spin by slipping them on and plugging in.
First, though, the feeling, and in regards to design, these are simple headphones that aren't likely to attract as much attention as say a pair of big and heavy Beats. There's no outlandish paint job and the only thing that will draw someone to know what pair of headphones you're wearing is the "KEF" logo on each side.
Other than that, though, it's just black and silver, a look that comes off as professional and simple, and won't take over your fashion statement.
They're also quite comfortable, with the memory foam pads and pleather fabric covering these lightly hugging the head, rather than gripping it tightly as some cans can feel.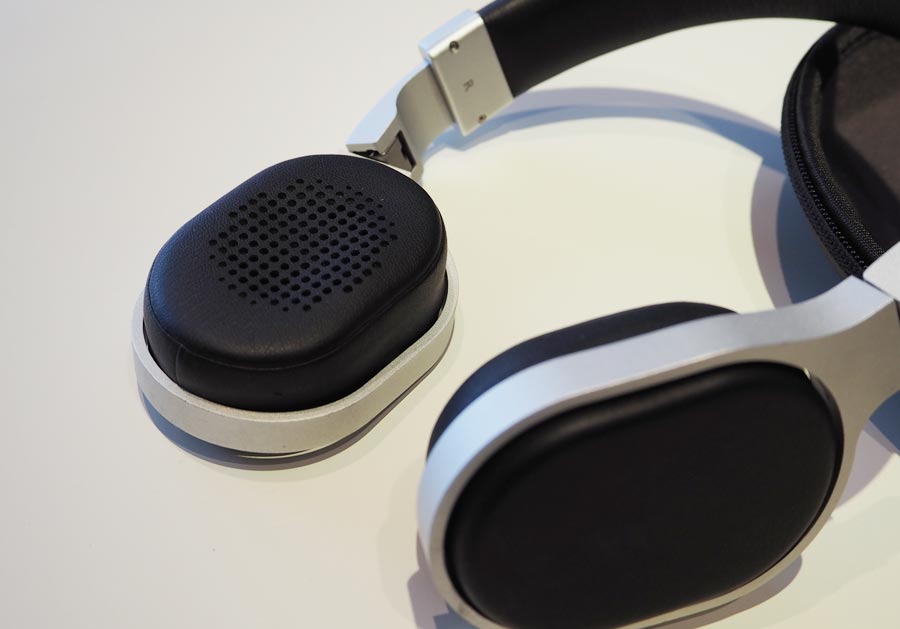 On to the sound and this is one area that has us grinning from ear to ear because, for the most part, these are incredible sounding headphones.
One of the latest Ben Folds tracks "Draw A Crowd" is clear and precise across the keys, bass, and vocals, while the bell sounds and hand claps on Laura Mvula's "Green Garden" all sound perfectly mixed in these cans.
Over in Marc Broussard's interpretation of the Al Green classic "Love and Happiness," the sound is warm while the bass and highs are just as loud as each other.
In the electronic world, Mooro's "M66R6" is loud and pumping in a way that reminds us of pushing this through our speakers, as is Daft Punk's "Harder, Better, Faster, Stronger."
The sound quality extends to some of the more instrument reliant music tracks out there, with the saxophone, piano, drums, and bass all obviously separate in Dave Brubeck's take on the West Side Story piece "Maria," while John Coltrane's "Blue Train" is warm across the board.
Classical also handles these cans beautifully, and that clarity across the lows, mids, and highs made a recording of Chopin's "Fantaisie Impromptu" sound just as dynamic as being in front of a master pianist, provided we turned the sound up and let the notes dance over our ears.
With such clarity and balance on offer, you might wonder just what's wrong with the M500 headphones? Everything has something wrong with it, so what could it be for a pair of cans that sound practically perfect?
From our experience, about the only thing missing from the equation here was a distinct lack of noise cancelling, meaning excess noise from the outside world is going to be let in if you're travelling by plane, or perhaps a noisy bus or train.
The KEF M500 headphones are good enough that the immersion is pretty strong across the board, but noise cancellers these aren't.
We have another minor quibble with the KEF, mind you, and that's because the replaceable cable will be a little more difficult to replace than the typical 3.5mm cable that is pretty standard to every pair of high quality headphones.
Rather than equip the M500 cans with cable relying on the 3.5mm standard headset jack, these headphones rely on a smaller 2.5mm connection to the headphones executing on the other end in 3.5mm.
The 3.5mm jack is perfect for your phone and media player, as well as your computers and tablets and any other device you may own, but the 2.5mm jack for the headphones is a little unorthodox, and we haven't seen a 2.5mm jack supported on a device in ages.
Essentially, it won't bother you until you want to plug in a different cable, or the remote-equipped cable on the headphones dies, forcing you to dig through an electronics store for a 2.5mm to 3.5mm cable, which is nowhere near as abundant or plentiful as the standard 3.5mm to 3.5mm cables out there.
You may also find excess movement will dislodge the headphones from your person, because we sure did. Walking is fine, and sitting is definitely fine, but anything that involves movement of your head or body in large amounts and these will come off.
Conclusion
We need to stress this: the KEF M500 headphones are among the best headphones this reviewer has ever heard. Ever ever. Ever ever ever ever.
Never take these off my head.
In all seriousness, KEF has produced a pair of headphones that is simply lovely, with the ability to pick up subtle instruments, and an amazing balance that will bring a smile to the face of anyone who loves music.
There's a new benchmark in town, and KEF's M500 are it. Highly recommended.
Amazing sound; Some of the most balanced headphones we've come across; Compact and foldable; Very comfortable;
Headphone side of the cable uses 2.5mm jack; No noise cancelling; Can fall off easily from lots of movement;