The Kensington SD7000 for Surface Pro 4, 5 and 6 adds so much to the Microsoft Surface Dock that there really can only be one winner.
The Kensington SD7000 for Surface Pro is everything I needed but until recently was unable to get from my Surface Pro – dual 4K monitors (HDMI 2.0 and Display Port 1.2++) and USB-C.
Let's segue a little – the Surface Pro is the best Hybrid – tablet cum desktop replacement ever made. With a choice of i5 and i7 processors, it's now legendary 3:2, 3000 x 2000 screen and great battery life it is both the reference design that other brands try to beat and perhaps the best Windows 10 PC. Just as Google Pixel is the best Android Smartphone.
The Surface Pro does have some shortcomings.
The proprietary Surface Ribbon data/charge connector (no USB-C data/charge), 1 x miniDP out and 1 x USB-A 3.0 out make expansion choices limited.
Microsoft's Surface Dock has its limitations too
No USB-C, and supports 2 x 1920 x 1080 FHD monitors. OK, with a firmware update you can run one 4K@60Hz and another off the Surface Pro miniDP port, but that is messy. I tried two 4K@30Hz, but it was not the best experience and often did not bring up one monitor.
Still, you can use the Surface Dock with Surface Pro 3/4/5/6, Surface Laptop, Surface Book 1/2, and Surface Go and it is more portable.
Review: Kensington SD7000 For Surface Pro 4, 5 and 6
Australian website here
OK, it costs a little more – Skycomp has it at $490 plus $15 delivery but compared to the Microsoft Surface Pro dock the extra features are well worth it.
Out of the box – a big box
Whereas the Microsoft Surface Dock and its equal-sized power adaptor could be considered portable – this is not.
It follows the Surface Studio design cues with a heavy base; two chromes articulated infinitely adjustable lifting arms and a cradle with a Surface Ribbon connector. It even has a magnetic Surface Pen dock. It looks like Microsoft Surface matt magnesium accessory.
It comes with a 15V/6A, 90W power adaptor (Same as the Surface Pro Dock adapter) to charge the Surface and provide power to the USB-C and other ports. PS – don't believe other reviewers who have complained that the battery is always charging. The Surface Pro is intelligent and only charges when it needs to – same as the Microsoft Dock.
One thing – this works with current Surface Pros. We have no inside information on future Surface Pro designs apart from a strong rumour that it may go to USB-C data/charge as the Surface Go has.
First impressions
It looks like a genuine Microsoft accessory. It won the prestigious 2019 Red Dot Award: Product Design for products that feature an outstanding design. Its heavy – 3.32kg
Ports
USB-C 3.0 gen 1, 5Gbps (does not support ALT DP mode for an extra screen) with downstream 5V/3A power
4 x USB 3.0, each supporting 5V/.9A power
3.5mm combo audio
Gigabit Ethernet
Display Port 1.2++
HDMI 2.0
Kensington Lock slot or optional lock kit
Dual monitors
OK, it would have been ideal to support 2 x 4K@60Hz, but the Surface Ribbon only supports 5Gbps, and that is just enough to support 2 x 4K@30Hz or one 4K at 60Hz. It will also support 2 x 1K@60Hz.
With both configurations, the image/s was rock solid and came up every time the Surface Pro docked.
But we need to discuss dual monitors.
I have been using dual monitors ever since I could get a PC video card that supported them. Over the years 17-inch has given way to 24, 27 and even 32-inch. But I really think its time to look at some of the curved Ultra-Wide 21:9 ratio, UWQHD screens that only need one video port and less desk space.
My favourite is the 38-inch HP z38c that really gives the same screen real estate as 2 x 24-inch monitors. LG has a 38-inch 38WK95C that is superb. Acer has the 38-inch XR382CQK with Adaptive Sync. Alternatively, if you want ludicrous Samsung's 49-inch Quantum Dot LC49HG90 is amazing.
Just saying is all – one monitor is probably better than two.
USB-C
We tested with a variety of external USB SATA 6 SSD and achieved the maximum possible data transfer rates of over 400Mbps sequential read/write. That said the USB-A 3.0 ports also performed equally well. remember the total bandwidth from the Surface Pro Ribbon is 5Gbps and that has to be shared via all ports.
DockWorks for enterprise
More for sysadmins, DockWorks disables Wi-Fi when an Ethernet cable connects to the dock and allows for Mac Address ID Passthrough for added lock-down network security. It is available for Windows and Mac and works with most Kensington docks.
GadgetGuy's take – Kensington SD7000 for Surface Pro gives me everything I need
It is perfect for Surface owners turning it into a mini-Studio. However, I use it to elevate the Surface Pro to eye level – far better in a dual monitor setup.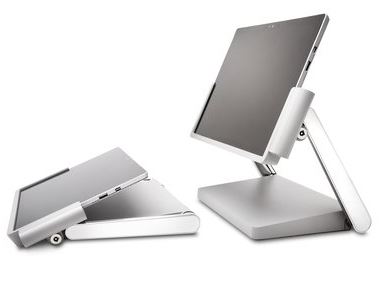 It extracts maximum performance from the Surface Ribbon, so there is no point lamenting (as other lesser reviewers have) about ALT DP, Thunderbolt 3 and more – that is dependent future generations of Surface hardware.
And yes, it's expensive – but if you need a dock this is the one!
If you can't afford that, then look on GumTree for a second-hand Microsoft Surface Dock that you will pick up for about half its original price. Make sure you update the firmware or you will have lots of issues.
Kensington SD7000 for Surface Pro
The only dock you need for a Surface Pro (all generations)
Positives
Very well made and designed
Easy, quick insertion and release
Allows full access to existing Surface Ports
USB-C 3.0 gen 2 and dual 4K@30Hz monitor support
Adjustable tilt and height from vertical to 'Studio' mode
Negatives
No USB ports on the front
Would have been nice to supply HDMI and DisplayPort cables