Lovers of style probably don't have much to look forward to with external hard drives. Generally, they're either thin and small, or big and bulky, but a newbie from LaCie being shown at CES is all about reflections.
Called the "LaCie Mirror", it's not a drive that necessarily looks back in a reflective history of the hard drive, but rather takes advantage of Gorilla Glass to make the external drive look great on the desk of someone that cares about how pretty their workspace is.
LaCie's Mirror drive takes a 1TB external and encases it inside a chassis made from scratch-resistant Gorilla Glass 3, while also providing a stand made from ebony wood sourced from Indonesia. Both elements have been designed by French designer Pauline Deltour, continuing LaCie's tendency to take advantage of the talents of known designers, with previous peripherals being designed by Neil Poulton, Ito Morabito (and the brand of his work "Ora-Ito"), and Philippe Starck.
"The LaCie Mirror, propped up on its ebony wood display stand, is captivating on a desk or anywhere in the home," said its designer, Pauline Deltour. "The intense ebony colour contrasts sublimely with the LaCie Mirror's silver facets."
"You have to look twice to discover the LaCie Mirror's true ambition. Covered by mirrored glass, it's first an elegant and functional object, and only on second glance is it revealed to be a slim high–performance hard drive."
The drive is a USB 3.0 drive and won't require a power source, relying on your computer for that, similar to other notebook hard drives. Mac and Windows are both supported, and aside for a wooden stand, you'll also find a carrying pouch and a cleaning cloth included in the pack.
As for pricing and availability, neither have been announced for Australia yet, though with a US price twenty under $300, we expect we'll see something a little higher than that $300 mark and a release closer to March or April.
LaCie's Mirror won't be the only external hard drive to see the light of day at CES, though, with a portable RAID drive also joining the line-up.
This one continues the orange rugged look Neil Poulton has used in previous drives, but equips the hard drive with two hard drives pre-configured for RAID 0, providing as much as 4TB in a single portable machine. RAID 1 is also offered as an option, meaning you can run the 4TB as two mirrored 2TB drives instead, ideal for people who need automatic backups as they work.
LaCie's entry in this area reminds us very much of Seagate's RAID portable from last year, the Backup Plus Fast, though with LaCie improving it slightly by including both USB 3.0 and Thunderbolt, not one or the other. From the Thunderbolt point of view, the cable is built into the hard drive, guaranteeing one will always be available for use.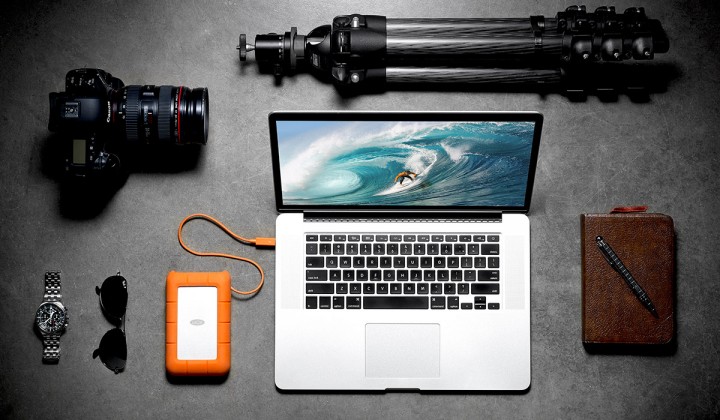 Pricing and availability on LaCie Rugged RAID is, like most CES things, missing in action, though like the LaCie Mirror, we're anticipating release in the next few months, with a price closer to the $500 mark.