LaCie has a reputation for rugged external hard disks. Perhaps that has something to so with the huge orange rubber bumper surrounding the drive. GadgetGuy puts the LaCie Rugged Secure 2TB to the test.

It is water, drop and shock resistant (we tried). It works on PC or Mac (yes). The interface is Serial ATA which has a theoretical maximum of 150MBps (yawn – slow). Inside is a Seagate 5400RPM hard disk. Data is encrypted on-the-fly hence the name Secure.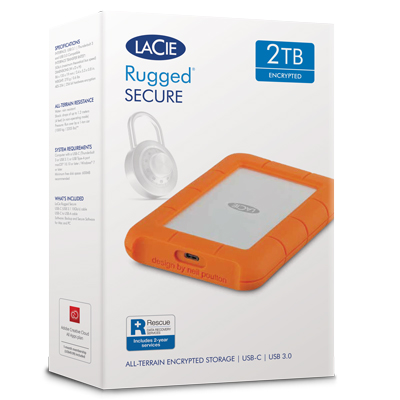 Before we get into the tests, you need to know that there are several types of rugged LaCie drives. You can get an SSD version with a SATA/600 interface that will be four times as fast over USB-C or Thunderbolt.
Review: LaCie Rugged Secure 2TB (Website here)
The test was conducted using Lenovo's 920Yoga (our pick of the 4K, 2-in-1 notebooks this year) with 2 x 40Gbps (5,000MB/s) Thunderbolt 3 ports and a USB-A 3.0, 5Gbps (625MB/s) port.
This time the use of either USB-C or USB-A ports made little difference as the theoretical maximum ATA interface speed of 150MBps is the limiting factor.
The drive achieved 135/130 sequential read/write on both interfaces. Random read and write of larger 256MB, 512MB and 1GB files ground to a halt courtesy of serial ATA and the inherent slowness of a hard disk. But that is to be expected of any external hard disk.

Seagate Rescue Data recovery included
The LaCie Rugged Secure include attempted data recovery of data loss from all causes for data loss. Seagate claims a 90% success rate making it an industry leader in data recovery.
LaCie 2TB USB-C Rugged Secure $227
GadgetGuy's take. Serial ATA is showing its age
LaCie makes great rugged external drives – so many models to chose from. The Rugged Secure 2TB is for those who value the data on the disk and don't want to see it used by someone else. Data recovery is an excellent service too.

And it is good value at $229 for 2TB especially as its 1TB SSD version is $801.
So buy this for rugged use, not for speed.
Rugged, secure extrenal storage
Serail ATA speeds are very slow on larger files