Aussie tech accessory company Laser has demystified the relatively new use of USB-C and the emerging Thunderbolt 3 standards. One thing is for sure – you will need USB-C dongles.
USB-C dongles are the descriptive words for an adapter that takes USB-C or Thunderbolt 3 (same plug as USB-C) and converts the signal to things like HDMI, Display Port, Audio, Ethernet, USB ports, storage cards and Human Interface devices.
First a few standards
(note 1Mb/s = .125MB/s = .001Gb/s or .000125GB/s)
USB 2.0 480Mb/s (tops out at 280Mb/s)
USB 3.0 5Gb/s (tops out at 3.2Gb/s)
USB-C 3.1 Gen 1 5Gb/s
USB-C 3.1 Gen 2 10Gb/s (also called SuperSpeed)
New USB-C 3.2 20GB/s (Not Thunderbolt 3)
USB Power Delivery Specification

Self-powered devices (using the USB 2.0 host or later) from 100mA-900mA
1.0 is 5V up to 1.5A
2.0 is 5V up to 3A and all voltages in between to a maximum of 20V/3A (60W) although typically these top out at 85W
3.0 is 5V up to 3A and all voltages in between to a maximum of 20V/5A (100W) although there is some move to take that to 125W

USB-C Passive cables (40Gb/s Thunderbolt 3 maximum length .5m or drops to 20Gb/s)
USB-C Active cables (40Gb/s Thunderbolt 3 maximum length 2m)
USB On-the-Go (OTG) simply means ports that can send data/power upstream or downstream. USB-C cables are full duplex; it is the devices that may be half-duplex.
Now to Laser's USB-C cable solutions
Laser offers a range of USB-C cables marked with the appropriate standards.
Modern laptops will have USB-C 3.1 – at least Gen 1. That is fine as this supports things like HDMI 4K, two USB-3.0 ports and power delivery 2.0. Gen 2 allows more ports.
Laser has several USB-C dongles
Entry level is the $69.95 USB C 3.1, Gen 1, Power Delivery 2.0, multi-port hub USB C charging, 2 x USB A ports and micro/SD Card reader that slips nicely into a Macbook although it can be used for Windows devices (if it does not obstruct other ports).
My pick for USB-C dongles is the USB-C 3.1 Gen 1, Power Delivery 2.0 Multiport Hub
It offers power delivery pass through 2.0, two USB 3.0 ports, and one HDMI port. Apart from Windows, or Mac devices, it can be used on any Android OTG smartphone or tablet.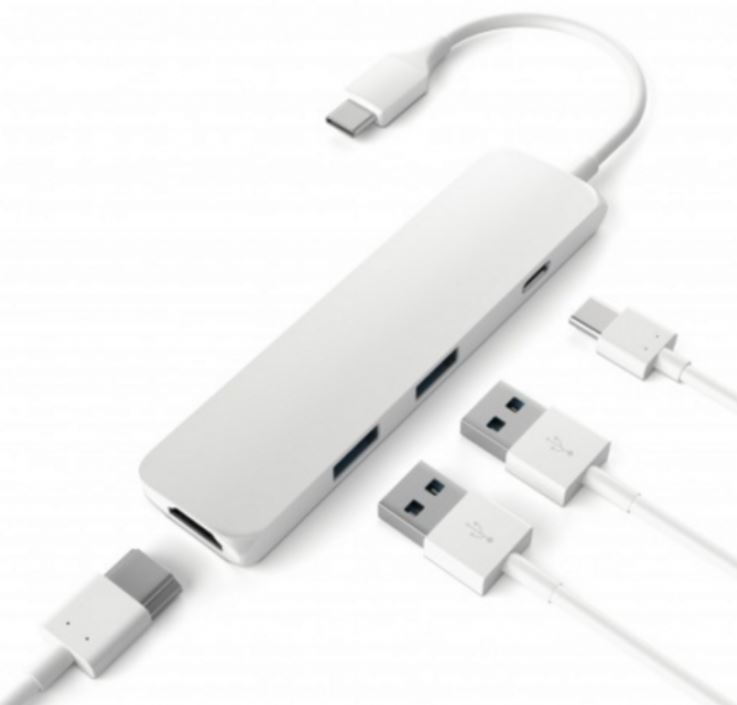 Cost is $149.95 (and that is far better value than the Apple Multiport Adaptor (1 x HDMI and USB).
If you need an Ethernet port, and extra USB-A, and micro-SD and SD card readers it has a version USB Type C 3.1, Gen 1, Power Delivery 2.0, Multi-Port Hub USB-C to USB-3.0 USB-C SD Card Reader HDMI Ethernet for $199.95
Finally for MacBook lovers (works with Window) is wedge-shaped USB Type C 3.1 , Gen 1, 100W (Power Delivery 3.0 or 60W with Power Delivery 2.0) Docking Station
Where the other solutions above use pass-through power from your device's charger this has an additional 5V/2A charger to power higher amperage draw devices like portable hard disks etc. So, you connect both the supplied charger and the USB-C charger. I used Laser's $44.95, .5m Passive Thunderbolt Cable for upstream power delivery
It is the ideal desktop solution at $149.95.
I have tried all these 5Gb/s devices fully loaded and all ports delivered as specified.
All these devices will work with a Thunderbolt 3 laptop – at a maximum of 5Gb/s
Thunderbolt 3 solutions
Recent laptops may be Thunderbolt 3 equipped. These require USB-C active or passive cables between a Port replicator or Hub and then USB-C 3.1 (at least gen 1) cables from the hub to the device.
20GB/s will support dual 4K screens, up to four USB-A 3.0 and two USB-C 3.1 as well as audio, and more. 40GB/s is good if you have a singlek 5K screen and a NAS device as well.
Laser does not have any Thunderbolt 3 docks yet – but you can be sure they will be excellent value.
GadgetGuy has reviewed three Thunderbolt 3 docks – with the caveat that all you need is any of the USB-C port replicators above.
OWC Thunderbolt 3 Dock   (Best for MacBook with lots of legacy ports)
Belkin Thunderbolt 3 Express (Works with MacBook only)
Kensington Thunderbolt 3 dock (Best for Windows although there is also a MacBook version).