Bad news I'm afraid: there are only four days until Xmas. Okay, it might be good news for some. Little kids, for example, who are looking forward to Santa's leavings. Or the rare grownup who completes their Christmas shopping early. But with the big day looming and with your obligations to several people in your life remaining unfulfilled, perhaps panic is setting in.
We here at Gadget Guy are here to help. There are two ways of attacking this problem, and both involve loosening your standards. One way is to just spend whatever it takes, sacrificing money for love. The other way is to find something, anything, even if it's cheap, so that there's something under the Xmas tree come Sunday.
So, let us make some suggestions for both.
Spare No Expense – Oral-B GENIUS electric toothbrush – $369
A toothbrush? Spare no expense? Christmas? Somehow these things don't seem to go together.
But they do. Look again at that price! Look again at the name! "GENIUS"!
This toothbrush employs "Position Detection Technology" to ensure that everything in there gets properly cleaned. The device packs "built-in sensors" which are "tracked via a smartphone". Yes, there's an app for that. Both iOS and Android, naturally.
The head oscillates, rotates and pulsates, while "Triple Pressure Sensor Technology" protects from over aggressive brushing. Plus you get twelve days of brushing per charge and a nifty travel case with USB charging.
Rush into The Shaver Shop now to get one. They'll be more broadly available from the start of next year.
Budget – Kogan Boxing Day Sale – various prices
Look, if you wanted to buy online, chances are you aren't going to get delivery in time now. But, hey, you can always put a note under the Xmas tree explaining that the gift will be coming Monday – oh, no, that's a holiday. Um, Tuesday? That too. Okay, by Wednesday. Or soon afterwards.
Kogan is online only and specialises in budget stuff, from TVs to beauty products, and has "jumped the gun" as it says with a Boxing Day Sale starting today. Over 400 items at better than half price.
Spare No Expense – Motorola Moto Z smart phone – $999
I've been agonising over this, and it may only be because it's the last one I've used, but my favourite Android phone at the moment is the Motorola Moto Z.
It's so wonderfully slim. It has such a great screen. It delivers such excellent performance. It provides such an effective fingerprint unlock. It includes such a generous allocation of storage (64GB, expandable via microSD to 2TB). Ah, wonderful.
And best yet, you can magnetically snap on a battery expansion, or a nifty loudspeaker, or a screen projector or even a 10x optical zoom Hasselblad camera.
And do you know what's especially cool? When his or her birthday rolls around, you can buy one of those "Moto Mods" for that too!
Budget – Sennheiser Momentum In-Ear earphones – $169.95 (and down for other Sennheiser earbuds)
Look, we know that these particular ones aren't cheap. We recommend them because we love their sound. But you can buy earbuds from $5 and up. So pick your own price level. And remember, the Momentum model is the peak of Sennheiser-brand earbuds. There are plenty of others which still carry the high reputation bestowed by the Sennheiser brand, but at a much lower price.
But do make sure that they are earbuds – whether from Sennheiser or someone else – with soft silicon tips. They make great replacements for the earbuds supplied with Apple products, with their hard, uncomfortable, earpieces.
Spare No Expense – HP Spectre 13 notebook computer – $2399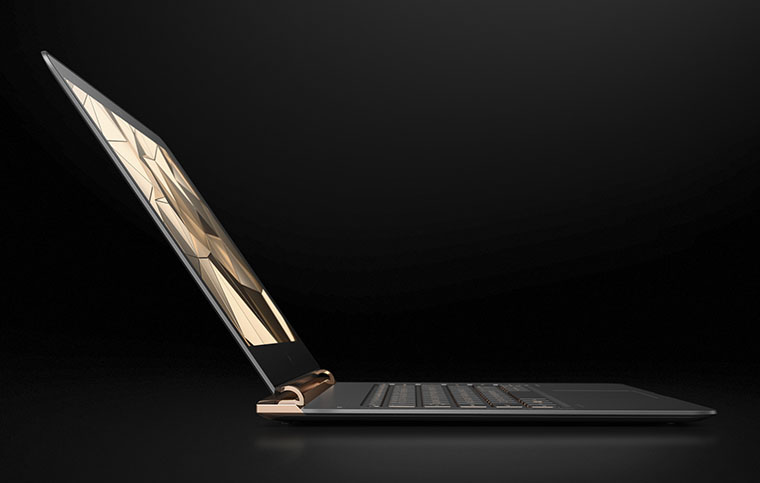 Strange things are happening in the high tech world. People write articles about revised Apple products in which the tone is "meh". And people are instead getting excited about … the dreaded Windows. Or, at least, some of the products running it.
You will find nothing more gorgeous than the HP Spectre 13 notebook computer – even from Apple. Even though it runs on Windows.
Budget – Virtual Reality with Kaiser Baas – $49
Virtual Reality is a very strange thing. It is the big thing of the future. It was the stuff of science fiction only a decade or two ago. It requires enormous amounts of computing power.
Yet you can get into it for just $49 with the VR-X headset from Kaiser Baas.
So how do they pull that off? Basically, by leaving all the hard stuff where it belongs: into the computer that is your smart phone. The headset has optics that divide the screen in two and allow your eyes to individually focus on their half of the screen, creating the moving 3D image that is the essense of VR.
Can you think of a more advanced gift at a lower price than this? We can't.
Spare No Expense – Gramovox Floating Record Player – $669
We can't help ourselves. We keep mentioning it, but the Gramovox Floating Record Player seems to one of those things that just suits the concept of gift giving brilliantly. One doesn't have to be a techie to enjoy it. It'll work with just about any stereo system, or even without if you can cope with the ho-hum sound quality of the built in speakers.
And it looks almost unbearably cool.
Budget – Netflix gift card – $20, $30 or $50
Does your loved one have a Netflix subscription? Then problem solved! You can give one or more Netflix gift cards, tailored to your budget. Netflix is now better value with the ability to download many of its programs to portable Android and iOS devices for viewing, even when on the move.
And make a recommendation with your gift from the host of new programming available on the platform. I'd suggest "Dirk Gently's Holistic Detective Agency".
Budget – Alcatel Boost DEX smart phone – $79.95
This one might be best for a younger member of your family, someone who has yet to experience the joys of smart phone ownership, and is likely to destroy a few before mastering the art of holding it securely. You'd be hard put to find a phone more economical than this.
A bit of both – Apple store – various prices
Are you within driving distance of an Apple Store? Well, get in your car, drive to it, walk inside and let your eyes roam the product lineup. Want something expensive? How about an iPhone 7 or a MacBook Pro or even just the super slim MacBook?
But maybe something a bit more affordable. Say a Smart Keyboard for an iPad Pro? Or an Apple TV?
And at the lower end of the scale, there are accessories galore from tripod mounts to hold iPhones for the highest quality photography, to portable power packs to simple little adaptor cables.
And don't forget, if you get one of the (RED) branded items, some of your money goes to fighting AIDS.