Lenovo has been busy at CES, showing just what Australians can look forward to, as well as some we might not ever get to put our mitts on.
Lenovo was pretty busy at the end of 2014, so we've already seen a good chunk of what the manufacturer is showing. For instance, you've probably already seen the Yoga 2 Tablet, the Yoga Pro with the built-in projector, and that insanely thin Yoga Pro 3 laptop with the watchband design, but there's more coming.
In fact, according to Lenovo, there's an all-in-one desktop machine coming, built with a 23.8 inch display (we're guessing Full HD resolution, though Lenovo hasn't said), Nvidia graphics, 802.11ac WiFi, Bluetooth 4.0, up to 1TB of storage with as much as 16GB RAM, and an Intel Core i5 or i7 processor from the fourth-generation chips.
But while that's all nice and good, the thing that really grabs us is the camera, with Lenovo throwing in a depth-censing 3D camera to let you control Windows using gestures and facial expressions.
We heard Intel was looking into this concept a few years ago, and we're curious to see this in action for ourselves. It could be a similar experience to what Leap Motion uses in its Controller accessory, a motion tracking sensor that looks for your hands held above it and allows you to do things on the computer with hand gestures.
Lenovo's depth sensing all-in-one is the B50, and we're told this one is a possible arrival, though nowhere near as confirmed as a laptop which will definitely be available to purchase shortly.
Yes, one Lenovo we know is definitely slated for release here is the next generation of Lenovo's business grade computer, the updated edition of the X1, which this year will be called the Lenovo ThinkPad X1 Carbon (below).
Designed to be thin and built in the image of the original ThinkPads, the new machine weighs a little under 1.3 kilograms and packs in a 14 inch display with either a Full HD (1920×1080) or a WQHD screen (2560×1440), with multitouch thrown into the display dependent on the model you look at.
Intel's "Broadwell" processors are here too, called Core M by most and part of Intel's fifth-generation, with Core i7 chips making an appearance alongside 8GB RAM, up to 512GB storage, Bluetooth 4.0, WiFi, HDMI, Mini DisplayPort, and USB 3.0 ports.
Pricing on this one starts at $2199, and Lenovo tells us this one is so close, you can even order it now. Speedy.
But Lenovo is also showing a few things we're so unsure of, we feel we need to touch on them if only to persuade the company that Australia is worth having these things.
For starters, did you know Lenovo makes phones?
The company even owns Motorola, and has been working on phones for some time, though none have seen the light of day on Australian shelves thus far.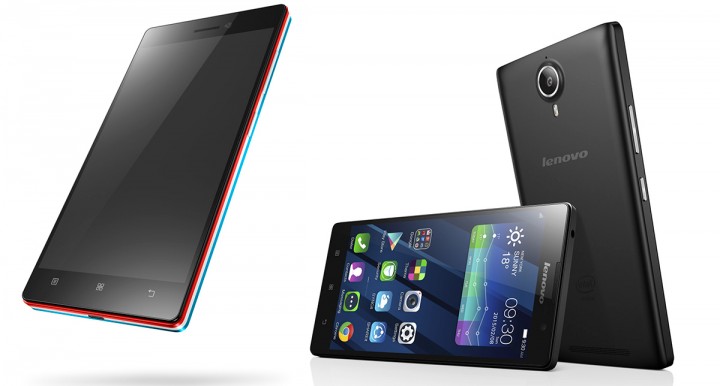 If we're lucky, though, we could get to see the handsets, with the Vibe X2 Pro (above, left) offering a clean softened rectangular look, dual 13 megapixel cameras (one on the front, one on the back), Category 4 4G LTE, a 5.3 inch display, and a 64-bit oct-core processor.
In Australia, that would compete nicely against mid-range models, and even the HTC Desire Eye we heard about last year, which itself comes with dual 13 megapixel cameras.
Lenovo has also been working away on a phone accessory, with the Vibe Xtension Selfie Flash (above), a small ring flash which works by plugging it in directly into a phone's 3.5mm headset jack and synchronises with the smartphone's camera shutter for the right light at the right time.
We're told the flash will provide around 100 fires of the flash on a single charge, and it is rechargeable, with the eight LEDs on the inside offering more light than your standard smartphone camera could ever give off.
There is even a Lenovo smart band (above) in the works, offering up to a full week's worth of battery life, call and message notifications, and like the Sony SmartBand Talk, an electronic ink display that can be seen better in daylight. Neato.
We also might not get to see the light of day on a new Yoga tablet with Windows 8.1, a follow-up to last year's Yoga Tablet 2 with Windows 8.1, this time relying on an 8 inch Full HD screen instead of that 10 inch one we saw, and with Lenovo's "AnyPen" technology making it possible to use any pencil or pen as a digital stylus for the screen.
There won't likely be pressure levels like there are on other digital pens, but it would make it easy to use any writing instrument on the screen when you can't find your official stylus in a pinch.
Finally, there's the Yoga 3, and this — if it arrives — could come in two incarnations, though the bet we have is that Australia would see it in one.
At CES, Lenovo is announcing this not-quote-"pro" edition of the Yoga 3 in both an 11 and 14 inch version, each with a Full HD 1920×1080 touchscreen, each with Windows 8.1, each with up to 8GB RAM, each with up to a 256GB SSD, and each with 802.11ac, USB 3.0, HMI, and up to 6.5 hours of battery life.
Where they differ, however, is screen size and processor choice, with the 11 inch grabbing the new fifth-gen Intel Core M chips (like those used in the Yoga 3 Pro), while the Lenovo Yoga 3 14 inch will be reliant on the new Intel Core i7 fifth-generation processors which are currently dual-core only.
Previously, we've seen the smaller Yoga 11 inch computers make their way here, as well as the 12.5 inch variant, and so we wouldn't be surprised to see the new 11 inch arrive locally, too.
But as for price and when that would happen, that is anyone's guess, just like the rest of these things. Meanwhile, you'll find the X1 Carbon available shortly.