Sick of the same old slate? Lenovo is too, and it's joined up with Ashton Kutcher, working with him to create better tablets for people tired of the basic mobile computer we're all being told to buy.
Tablets are everywhere these days. They're said to be the new computer, and given how many we see around the place, we'd believe it.
But so many of them look the same, act the same, perform the same, and don't really allow people to express a sense of individuality, and so in an effort to not be like everyone else and come up with something different, Lenovo has once again joined forces with actor Ashton Kutcher to design something better.
Last year, the company collaborated for the first time, creating the Yoga Tablet, an Android tablet made from aluminium that incorporated a kickstand and a different reading grip, offering something different. This year, it's taking that concept and one-upping it.
First is the Yoga Pro, a machine that hasn't probably garnered as much attention as it should have, due to it being a computer made for consumers but coming from a brand known for big business.
We took a look at the last Yoga Pro recently, the Yoga 2 Pro, and found that for the most part, it was a well executed laptop offering a lot of features and performance for people who wanted something that compared to other diets really did look like it was on a diet.
In the newest version, Lenovo will be changing the design, making it 17 percent thinner, 9 percent lighter, and changing the hinge to be something very unusual and inspired by watches.
Lenovo has had it designed by Yamato Lab, the original think tank that produced the IBM ThinkPad, tapping the creative talents there to come up with that unique hinge, which can still make the tablet be used in a perpendicular laptop mode, flat to show off your work, in tent or display mode for entertainment, or flat like a tablet.
But while most tablets will be 7 to 10 inches, the Lenovo Yoga 3 Pro will be a 13.3 inch tablet sporting a QuadHD+ screen, running the resolution of 3200×1800, much higher than that of other tablets and offering 276 pixels per inch for pixel clarity, roughly 50 pixels higher than the 13 inch MacBook with a Retina display.
Also included is the first use of Intel's fifth-generation chips, codenamed "Broadwell" and ready for release ahead of all other manufacturers, which Lenovo told GadgetGuy this week was something the two companies had been working together on, specifically to make the Yoga 3 Pro the first device to use Intel's fanless system.
With no fans and no moving parts, the Yoga 3 Pro can be thinner than ever before, and Lenovo has managed to shave the size down to 12.8mm and with a weight of 1.27 kilograms, resulting in one seriously thin product that you have to see for your own eyes.
We did, and wow, this is one slim computer, barely feeling like anything in the hands, but looking beautifully slim all the same. It's hard to imagine computers getting thinner than what Lenovo is showing, especially with an offering of up to 512GB solid-state storage, up to 8GB RAM, Windows 8.1, and an Intel Core M-70 processor.
Also of note is one of the ports, and while we're not normally fans of major changes to the power ports, especially when they're proprietary, Lenovo's on the Yoga 3 Pro is the first we've seen to also technically be a USB port.
Yes, the power port is also a USB port, meaning when you're not using it, the Lenovo Yoga 3 Pro power port doubles as a place for you to plug things of use in. This is one of those concepts that was talked about for the future of the plug port, with the idea that USB could provide enough power to charge a laptop, making the USB port the very thing people would charge with.
In the Lenovo Yoga 3 Pro, we don't think we're quite there yet, and this is probably more Lenovo removing an unnecessary proprietary port and replacing it with a port that can double up, but it's cool nonetheless, and is a fantastic stepping stone, especially in a product built like this.
Pricing on the Yoga 3 Pro will start at $2099 with availability from mid-October.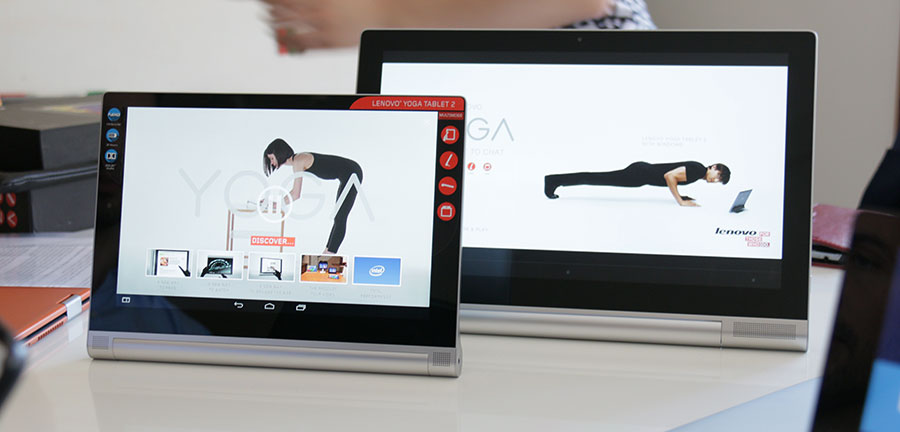 Next up is a three pronged attack for people who don't necessarily want a fully fledged computer, but want something different all the same.
Tired of Apple's iPad and Samsung's Galaxy Tab? Lenovo hopes to offer something different, and with the aforementioned help of Ashton Kutcher, hopes to offer it.
First there's the Yoga Tablet 2 10.1, an update to last year's battery performer with the built-in kickstand.
The original Yoga Tablet was an interesting concept that was built very well, but let us down in the whole processing side and on the screen, and this time, Lenovo hopes to correct those mistakes.
Android is still here, updated to 4.4 "KitKat," but now it runs on an Intel Atom processor, and is paired with a Full HD 1920×1200 display, two front facing speakers working with Dolby, 16GB of storage expandable with a microSD slot, and an 8 megapixel rear camera.
Priced at $399, it looks to offer the entry- and mid-range something different.
Also available will be a Windows version of the Yoga Tablet 2 10 inch, which pretty much takes the same tablet, gives it 32GB of storage instead of just 16, makes it black, and runs Windows 8.1 on it instead of Android.
Playing with it this week, it felt good in the hands, and looked to provide a different take on the typical Windows slate, complete with that kickstand at the back, which is always useful for watching movies on. A keyboard will also be included in the box, with the price sitting at $579 for this model.
Finally, there's the Yoga 2 Tablet Pro, a slightly different tablet geared at people who love entertainment, making presentations, or who have kids that always need to be entertained, and if it sounds strange the way we wrote that, it's because of one rather unique feature that makes the Yoga 2 Tablet Pro stand out: it has a built-in projector.
We haven't seen pico projector technology for a while, but it's back and built into the Yoga 2 Tablet Pro's body, capable of creating a projection of up to 50 inches, and showing movies and presentations.
The tablet itself is also unique because it's a 13.3 inch model, showing a resolution of 2560×1440 on an IPS screen, and like Yoga 2 10 inch, this is reliant on Android 4.4 sitting on an Intel Atom processor and partnered with 2GB RAM, with 32GB of storage and a microSD to expand on this.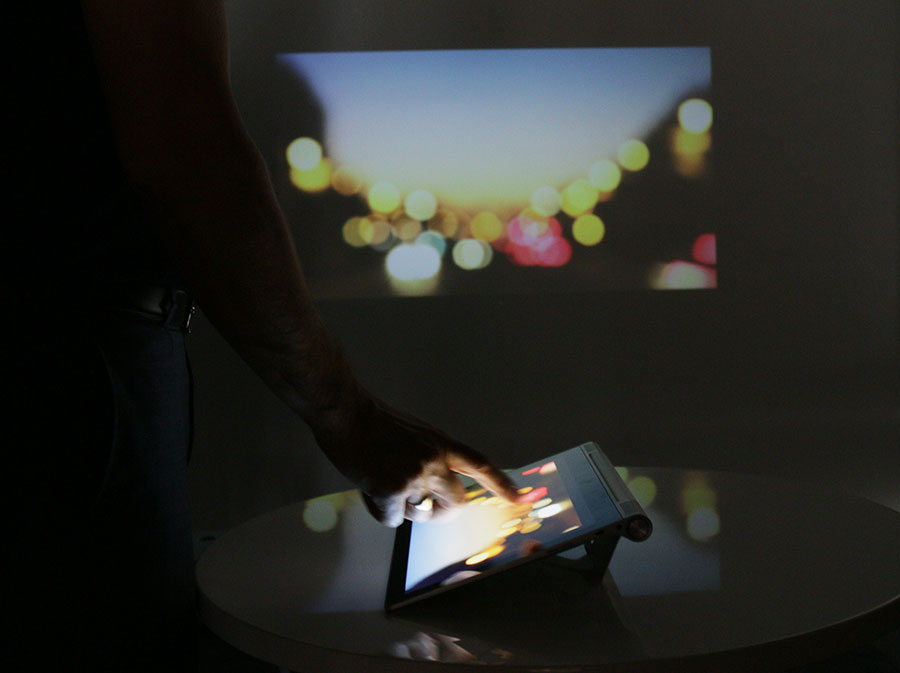 In testing in the GadgetGuy studio, the projector does need a reasonable amount of darkness to watch movies on, but it still looks good, and provides a feature few are thinking of.
Priced at $799, it could be very compelling for families, and one feature not talked about makes it ideal for car trips, with a whole in the rear kickstand making this tablet — and the other Yoga Tablets — able to sit on a peg on a wall, or even behind a car seat.
"The Lenovo Yoga range is unique as we have developed the products based on consumer feedback and research to create devices that provide them with a better way of computing," said Brendan Lau, Consumer Director at Lenovo Australia and New Zealand.
Interestingly, that collaboration with Ashton Kutcher appears to not just be a gimmick, which we'll admit is something we had originally thought.
According to Lenovo's people, Kutcher took to the design labs enthusiastically, and has a history of working with start-ups, investing in products and concepts he sees technological value in. Lenovo told us that Kutcher spent three days working in its Beijing research and development labs, helping the company to come up with ways of making the Yoga products better.
"Working with Ashton in his role as Lenovo Product Engineer to design the new Yoga range was a great collaboration and creating a Marketing Campaign featuring him was a lot of fun," said Nick Reynolds, Chief Marketing Officer at Lenovo Asia Pacific Mature Markets.
All up, it's a pretty impressive little line-up for Lenovo, and that's not all the company is talking about, giving GadgetGuy a sneak preview of a phone the company might soon be launching.
As Lenovo wraps up its purchase of Motorola, it's starting to talk about the idea of releasing phones locally with the Lenovo brand, giving us a preview of a new phone with a tri-tone design and a body that is very light to the touch.
We have no pricing on this one as of yet, not any availability, but the other Yoga products announced should be in stores from mid-October, with Harvey Norman and JB HiFi taking the reigns in retail, and Lenovo's online presence letting people shop from their computers and phones.