The Lenovo IdeaCentre AIO 500 series is its premium all-in-one offering available in both 24 and 27-inch sizes. Slim, space-saving and ungradable – perfect for work or home.
I have never been a fan of all-in-ones (AIO) until recently when in down-sizing my life, I realised that space is a most valuable commodity. The Lenovo IdeaCentre AIO 500 series has a tiny footprint – the 24" has 18.5 (D) x 23.5cm (W) plus the monitor that sits on quite an attractive cooper pip arm above – all in a 10.5kg package.
The Lenovo IdeaCentre AIO 500 series is ideal for small desktops, workstations and – well anything really. It looks great as a piece of furniture too with a cool looking copper pipe monitor arm.
What is a Lenovo IdeaCentre AIO 500 series – AIO?
Australian website here
Price: From $1999
AIO refers to the fact that it is an integrated unit – CPU and monitor all-in-one. AIOs are the only real competition to a laptop and external dock/monitor yet offer some expandability and can use far more powerful Intel Core CPUs as they are not constrained by the need to conserve power.
We tested the 24-inch model with – A540-244ICB
Intel Core i5-9400T (option i7-9700T) and other options available with Intel UHD graphics 630
AMD Radeon 540X 2G GDDR5 GPU (560X/4GB available)
23.8", 1920 x 1080, 16:9, 250 nits, 10-point touch screen (touch is increasingly important). Option 27" 4K QHD
2 x 8GB DDR4-2666 DIMM (can use 16GB)
Up to 2TB x 2.5" HDD or 1TB M.2 2280 PCIe NVMe SSD
Wi-Fi AC and BT 5.0
2 x 3W JBL speakers and 5W woofer and Dolby Premium sound
Pull-up 720p camera and dual mics
And a plethora of expansion ports and Qi wireless charging pad base
To shorten reviews (for our mobile readers), we use FAIL, PASS or EXCEED for test parameters.
Screen – 24" 1920 x 1080 – EXCEED
It is a 250nit screen – perhaps not as bright as some external monitors but excellent under typical home or office lighting. Its almost bezel-less on three sides and a pop-up camera ensures its smooth lines. The 93% STBR is mounted on a curved copper pipe arm and has -25/+5° tilt.
Colour accuracy is 89% sRGB – is fine for home and office use. The IPS screen has even brightness. It is a pleasure to use.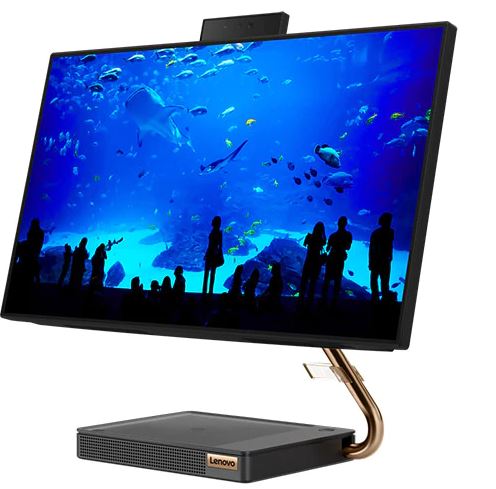 Processor – i5-9400T, 1.8/3.4GHZ – PASS
The T family has a medium power draw of 25-35W meaning Lenovo can use a less active cooling system. It has a PassMark of 9777 putting it on par with an AMD Ryzen 5 3400G. The i7-9700T 2/4.3GHz has a PassMark of 13360 so if you are a power user this is the one to go for.
During regular use, it maintains <40° but during a stress test increases to 60°. Fan noise is negligible.
Graphics – PASS
For regular use, the Intel UHD Graphics 630 chip drives the screen. The Radeon 540X 2GB is a mid-level GPU that can run less demanding games up to DirectX 12.
The Radeon is for external monitor support and supports MOBA type games – although only to casual gamer level.
Storage – EXCEED
It has a 2.5@ SATA 6 HDD user-accessible slot as well as an M.2 2280 PCIe NVMe SSD. The review model had a WD 512GB that had a blazingly fast sequential read/write of 3283/2576MBps. It also handled large files and random read/writes very well.
Ports – PASS
HDMI 1.4 – can be in or out (switchable) to use this as an external monitor
Gigabit Ethernet LAN
2 x USB-A 2.0 5V/1A
3 x USB-A 3.1 Gen 2 (10Gbps) supporting 5V/3A
3.5mm combo audio
SD slot
There is plenty of expansion via ports on the back and side of the monitor. What is missing is a USB-port, but there are three USB-A 3.1 Gen 2 ports that allow high-speed data transfer to external storage.
Sound – EXCEED
The sound is terrific. Maximum volume is 80dB with minimal perceptible distortion or harshness. The JBL sound signature is almost entirely flat allowing Dolby Audio Premium, a software equaliser to customise to movie, music, game, voice or dynamic (default).
It is rare for an AIO to have such good bass building from about 60Hz and such tightly tuned speakers going nearly to 20kHz. Good job Lenovo and JBL.
Keyboard and Mouse (uses Lenovo 2.4GHz USB-A dongle). PASS
Regular readers know that I am a rusted-on mechanical keyboard convert – everything else is inferior. Well the Lenovo KBRFBU71 keyboard is not bad.
It is a full-size keyboard with a numeric keypad and well-spaced keys. Throw is 2.5mm, and actuation is 50g – almost perfect.
The mouse MORFKHO shares the dongle and works equally well on glossy or matte surfaces. I am a little surprised that Lenovo did not use a Bluetooth keyboard and mouse – but it is pretty good.
GadgetGuy's take – Lenovo IdeaCentre AIO 500 series is almost perfect
If you are out shopping for an AIO, then this needs to be at the top of your list. Although I think the i7 model for a few hundred more might tempt me. It is a good looking, well-made AIO with a great screen and sound. I especially like the Qi charge pad on the base.
The only negative is the lack of a USB-C port.
You can read other Lenovo reviews here.
Cool copper pipe monitor arm design
Very small footprint
Heaps of expansion ports